Last Sunday, I lost my marbles.

Completely.

I took this mother of boys thing so far that I don't know if I'll ever return.

But, this love thing? This thing that makes you wanna see your kids happy even if you are gagging over a trash can?

This stuff is strong, man.

Let me show you.

*WARNING*: This is not for the weak. Proceed at your own risk.

My boys and I made a very special lunch together.

I cut up hot dogs, and gave them some spaghetti noodles. Which they poked through the cut up hot dogs. This was serious, serious business to them.
I then defiled my favorite Southern Living platter by filling it with these concoctions. It is still livid.
Then, I upset my new dutch oven by boiling some water and throwing our hot dog concoctions in. She has resolved never to speak to me, again. She's French. She's prone to snobbery.
After 15 minutes and a quick rinse of my platter, I took our hot dog/spaghetti doohickeys out of the water. "Look, Mom. Octopuses."

Let it be noted: I did not gag.
"Ketchup, Momma. Ketchup, Ketchup, Ketchup." Uh, I had not planned on that.

Let it be noted: I did not gag at this point either, though I came very, very close.
And, then they ate them. Their deliciously disgusting, wormy, hot dog octopuses.
That they happily dipped in ketchup. Over and over and over.
Yeah, man. This is the best lunch ever.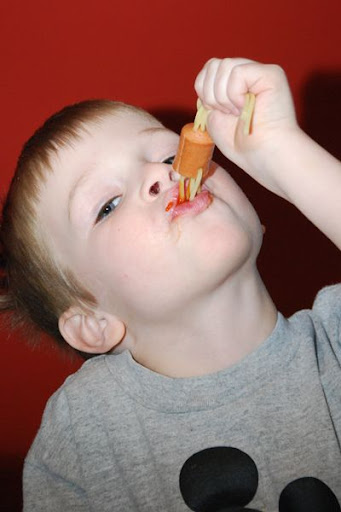 I love my boys. I really, really love my boys. Just in case there was any doubt.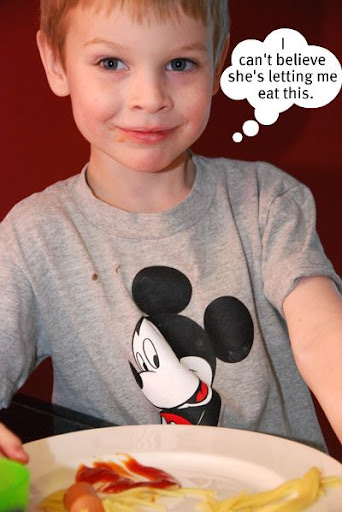 I can't either. Except that I love your smile.

I've come a long, long way since first birthing a son some 5 1/2 years ago.

A long way, baby.

*I can't remember where I first saw this idea, but I tucked it away in the deep recesses of my brain and didn't note the source. I'm not creative or crazy enough to come up with something like this on my own.