I love cobblers.

Cherry.
Peach.
Blueberry.

But, I especially love this recipe for Blackberry Cobbler.

Actually, this recipe can be any type of cobbler that you like. You pick the fruit filling that you like best.

I have been making variations of this recipe for as long as I've been cooking. In fact, I tried to track down where I got it, but wasn't successful. The original recipe is scribbled on an old recipe card, but I've adapted and changed it throughout the years, and it's now one of my favorite desserts.

This is such an easy recipe. It's one of those desserts that requires minimal ingredients and effort, but the finished product seems like it had to have been much more complicated. (I LOVE these kinds of desserts when I'm entertaining - easy, but that make my guests feel really special.)

I always keep a can of pie filling in my pantry. I can then whip up this cobbler any time I need a quick dessert.

Let me show you how to make it.

First, place 6 tablespoons of butter in the bottom of a 9x13 baking dish. (I used a 12x12, but it's essentially the same.) Place it in the oven and set the oven to 350 degrees. *The butter will melt in the bottom of the pan while the oven is preheating and you're mixing up the batter.
Next, mix flour, sugar, baking powder, and salt in a mixing bowl.
Add one cup milk and stir to mix.
Add one teaspoon of vanilla.
And, one quarter teaspoon of cinnamon.
Oh, help. I could just take a running leap into this stuff. (This is where you swipe your finger along the edge and taste this batter. NO EGGS! Not that that's stopped me before, but still. Swipe away.)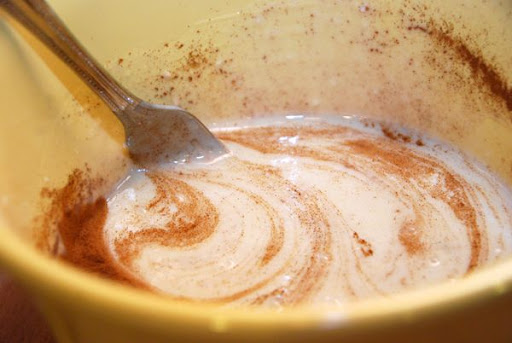 Then, you need one can of pie filling. This is where you get to choose what type of cobbler you want to make: cherry, peach, raspberry, apple, blueberry. It's totally up to you. My favorite: Blackberry.
The butter should be melted in the bottom of the pan and the oven should be preheated. Remove the pan from the oven.
Pour the cinnamony batter over the butter.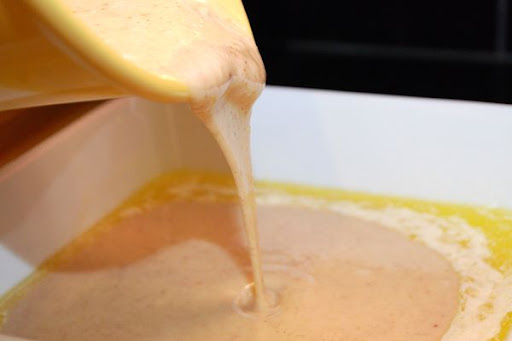 It will look like this. It's supposed to look like this. YES, I know it looks like the batter is swimming in butter, but what's really happened is that the batter has sunk to the bottom and the butter has risen to the top. Don't worry about it! It will turn out just as it should when it bakes.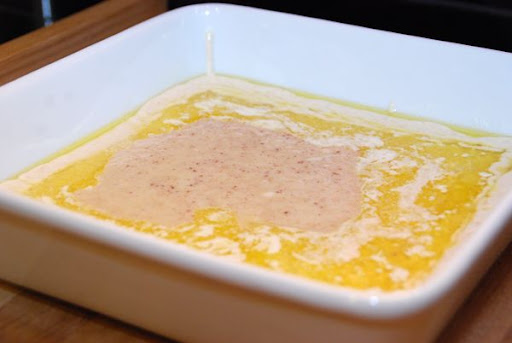 Spoon that glossy, yummy pie filling over the batter. Just randomly. All over the batter.
It will look like this and it's ready to go into the oven, uncovered, for 30 minutes.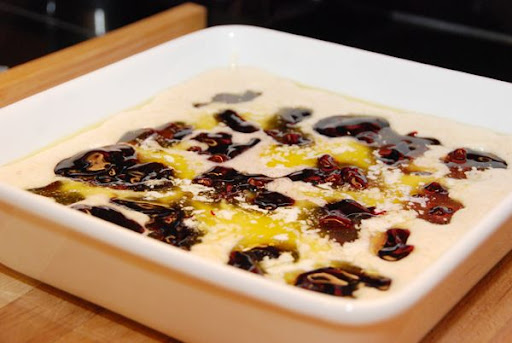 When it comes out, it looks like this. See? That butter has been cooked right into the cobbler. I love this beautiful, golden color.
And, then you serve it. Right out of the oven. It's this perfect mix of fruit and sweet, spongy cake.
And, then you do this. Or you put a big scoop of vanilla ice cream on it.
And, you've just made Blackberry Cobbler.

It's absolutely wonderful.
You will love it.

Your family will love it.

Your guests will love it.

And, until you've run out of types of pie filling, you can make this as many ways as you'd like.

Enjoy!
Blackberry Cobbler

6 tablespoons butter
1 cup flour
1 cup sugar
2 teaspoons baking powder
1/4 teaspoons salt
1 cup milk
1 teaspoon vanilla
1/4 teaspoon cinnamon
1 can pie filling

Place butter in bottom of 9x13 baking dish. Place in oven and set oven to 350 degrees. (Butter will melt while oven is preheating.)

Combine flour, sugar, baking powder, and salt. Pour in milk and mix together with a fork. Add vanilla and cinnamon and stir.

Remove pan with melted butter from oven. Pour batter over butter. Spoon pie filling over batter. Bake for 30 minutes, uncovered, at 350 degrees.

Serve immediately. Top with whipped cream or ice cream.

*You can also use fresh or canned fruit instead of pie filling.

*You can make this cobbler in individual ramekins as well. Melt the butter into the individual dishes and pour the batter evenly into the ramekins. Top with filling and bake until the cake is cooked through - about 20 minutes.