This is my go-to pasta sauce.
Here's the thing. Anyone can go out and buy a jarred spaghetti sauce.

Yes, it's easy. Yes, it's convenient. And, we all love easy and convenient.

BUT, what if you could make a homemade sauce that is just as easy, just as convenient as a jarred sauce, but tastes SO MUCH BETTER?

You're intrigued, right?

Before I show you how to make it, let me tell you what I love about this sauce.

It's "spaghetti night" sauce.
It's lasagna sauce.
It's baked ziti sauce.
It's serve over some penne for a delicious lunch sauce.
It's double the recipe and freeze sauce.

And, it's so fresh, and so delicious, and it has this WONDERFUL secret ingredient that will make "your" sauce taste different (and better) than anyone else's sauce.

Are you ready? Let's make some homemade pasta sauce.

First, pour a couple of tablespoons of olive oil in a sauté pan or pot or whatever you usually make spaghetti sauce in.
Then, add one large diced onion and one pound of sausage (mild, sage, Italian, spicy, Jimmy Dean, Bob Evans, a specialty sausage) - whatever kind of sausage you like. Sausage is one of the key ingredients in this sauce. If you really want to use ground beef, that'll work, too.
Once the sausage is cooked and the onions are tender, add one large can of crushed tomatoes.
And, one large can of diced tomatoes.
Look how beautiful that color is. I love crushed and diced tomatoes. No one has added anything to them, so we get to control all the flavor. I love that about this recipe!
Stir together the sausage and onions and tomatoes until combined into red, saucy goodness.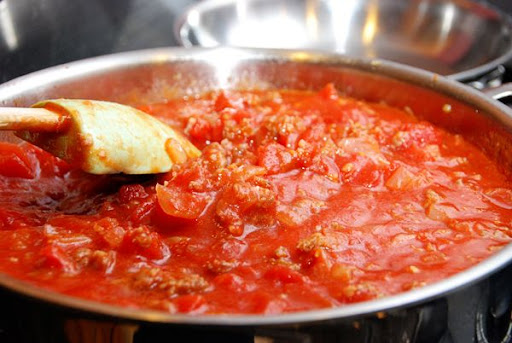 Now, we're gonna add all the flavor.

2 tablespoons of oregano. 1 tablespoon of thyme. Not overpowering, but very Italian flavors.
This part is important - 2 tablespoons of sugar. The tomatoes need this. Trust me. If you want to leave it out, you can, but the sugar is important to bring the tomato flavor to life. I also add 2 teaspoons of salt and 1 teaspoon of ground black pepper at this point.
Now for the secret ingredient.

1/4 teaspoon of cinnamon.

YES, cinnamon. What does the cinnamon do? It pulls this sauce together and makes it sing. That's the best way I can describe it. It's not a sweet cinnamon flavor - like cinnamon/sugar toast or snickerdoodles or the glorious Cinnabon. This is savory cinnamon.

And, it's absolutely delicious in this sauce.
Simmer the sauce for at least 20 minutes, longer if you can. Up to two hours.
And, serve.

Over spaghetti.
Over fettuccine.
Over bow ties.
In lasagna.
In baked ziti.

Or, as I eat it for lunch about once a week - over a small bowl of penne sprinkled with freshly shredded Parmesan cheese.
You will love this sauce. It just might become your go-to pasta sauce, too. And, you can say that you make your pasta sauce from scratch.

Try it. Use sausage. Don't forget the cinnamon.

And, watch this simple, homemade sauce sing.
Simple Homemade Pasta Sauce

1 pound sausage
1 large onion, diced
2 tablespoons olive oil
1 (28 ounce) can crushed tomatoes
1 (28 ounce) can diced tomatoes
2 tablespoons oregano
1 tablespoon thyme
2 tablespoons sugar
2 teaspoons salt
1 teaspoons ground black pepper
1/4 teaspoon cinnamon

Brown onion and sausage in olive oil in sauté pan or pot until sausage is cooked and onions are soft. Add crushed tomatoes, diced tomatoes, oregano, thyme, sugar, salt, pepper, and cinnamon. Simmer over medium-low heat for at least 20 minutes to 2 hours.

*Sometimes I add one clove of fresh, minced garlic along with the onion and sausage - depending on my mood. (Current mood: pregnant and anti-garlic) You can add 2 teaspoons of garlic powder if you want garlic flavor in the sauce as well.

*This recipe makes 3 quarts of sauce - which is 12 cups. This is enough for my family of 5 to have dinner, some leftovers, and I freeze about 1/2 of the sauce in a freezer bag each time I make it.