It's almost strawberry season. Yeah, man.

Well, it is strawberry season down here in the South, and in just a few weeks, strawberries will be ready for the picking all over the country.

So, today, I'm reposting my ALL-TIME favorite strawberry recipe.

Strawberry Pie.

This is my sister's recipe for Strawberry Pie, and it is THE BEST strawberry pie I have ever tasted. It's fresh and delicious and it will make you weep. It's that good.

The BEST thing about this recipe, besides the fact that it will knock the socks off of your taste buds, is that it's only five ingredients.

FIVE INGREDIENTS.

So, it's easy. Easy, easy, easy. But, it also means that the strawberries get to take center stage - where they belong. Forever and ever.

Since strawberries are a most stunning shade of red, and I love cooking and baking with my bff (aka Señor Nikon Short Stop), I brought him along while I made this beeeeeautiful pie last week.

But, I also wanted to photograph and share the process with you because even if you have never made a pie before in your life, you can make this one - and I want to show you how truly easy it is!

And, since I originally posted this recipe, I've also posted a tutorial on How to Make Perfect, Flaky Pie Crust. So, you can make this recipe completely from scratch - from start to finish.

SO, here we go! (full recipe below)

First, you need about two pounds of strawberries. Cut the green tops out of them (I think that's called hulling or somethin'), and place half of them on a cutting board/mat.
Thinly slice your beeeeautiful strawberries.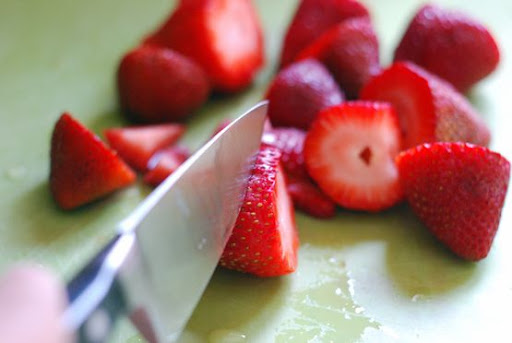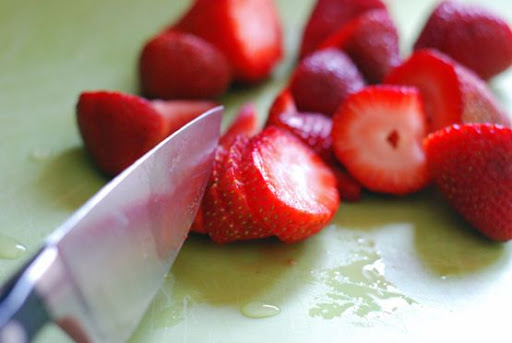 Then, turn them and chop them into small pieces. (I would normally use my food processor for this and would chop them to smithereens. But, since I know not everyone owns a food processor, I want to show you that you can most surely make this recipe without one.)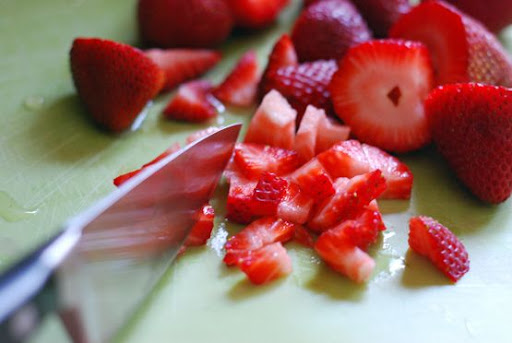 You then have a perfect pile of chopped strawberries.
Place the chopped strawberries into a saute pan. Or pot. Or whatever suits your fancy.
Add one cup of sugar combined with three tablespoons of corn starch. (If your strawberries are very ripe, you might need less sugar. But, one cup should do just fine.)
Cook strawberries and sugar/cornstarch on medium heat. The strawberries will begin to break down. Or break dance. Somethin' like that.
Meanwhile, take one of these beauties.
Cut it in half and add the juice of one half to the pan. Save the other half. You'll be wantin' to make this pie again tomorrow. Because there will be none left at the end of the day.
Using a whisk, crush strawberries as they soften and continue cooking on low heat for 10 minutes. Remove from heat.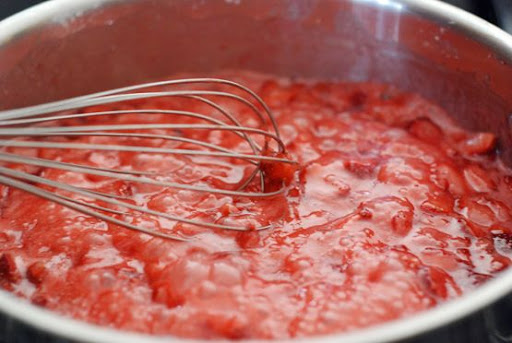 You want a glossy, thick sauce that will stick to your whisk a bit. If it all falls off, keep on a cookin'. This is what the finished sauce should do. Hang on to the whisk for a minute, then give up and join its friends.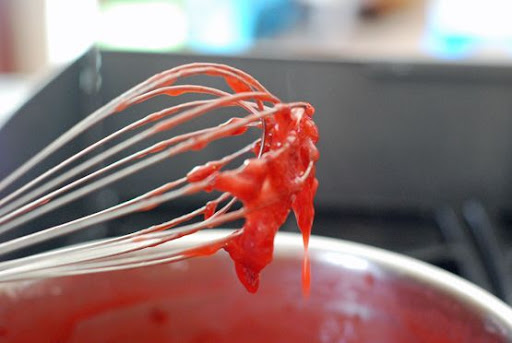 Now, you may stop here and call 'er a day. Because this sauce is perfect on everything from waffles to pancakes to french toast or dribbled over vanilla ice cream. So, pack it up if you want. 'Cause you've just made killer strawberry topping.
But, I like pie crust as much as I like this sauce. I'm addicted to carbs. So, let's continue on.

Take the other half of the strawberries...
And, cut them in half. Only half. No chopping or cutting them smaller. Unless you have the mother of all strawberries in your container, then you may cut it three times. BUT, step away from the knife. You want large pieces. You'll see why in a minute.
I may have eaten a few of these. I may not have been able to help myself.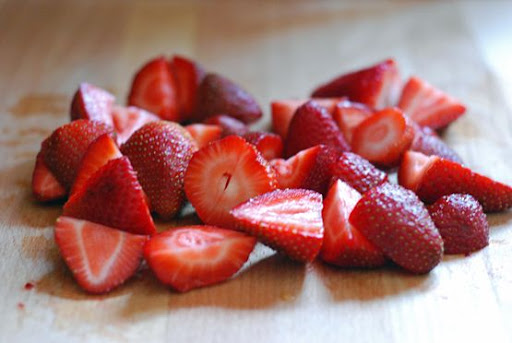 Add the halved (and ONLY halved) strawberries to the sauce.
Combine with a spoonula thingy.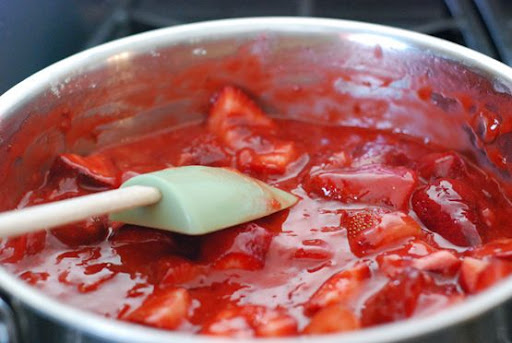 Look! Just look at those strawberries swimmin' in that sauce. Drool.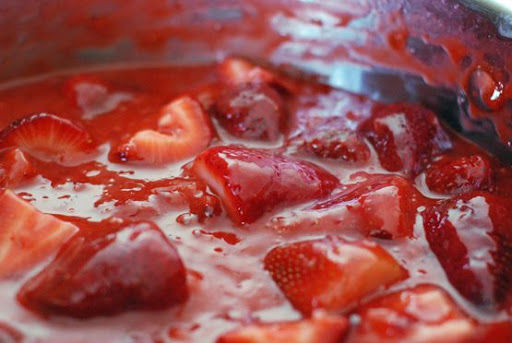 A few of these never made it to the pie. Grabbed a spoon and had a little tasting party.
Once the sauce is finished, you take a pie crust and line a pie plate with it. (I make my own crust, but one from the frozen section of the grocery store works just dandy.) Flute the edges and prick it all over with a fork about 40 times.
Then line the pie crust with foil, gently pressing it around the inside of the pie shell, and fill it with dried beans. Bake it for 10 minutes at 425 degrees.
Remove pie crust from oven. The crust will be partially baked. No brown edges yet. Remove foil and beans, and bake for 5 more minutes.
You end up with a perfectly baked pie crust.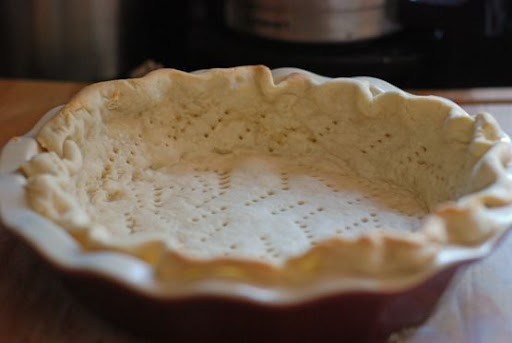 With perfectly golden brown edges.
Pour the strawberry pie filling into your perfectly baked crust. If there's any left, that is. Chill your pie for about 2 hours. If you can wait that long. (Depending on the strawberries, it could take up to overnight to fully set.)

And, VOILA!
A beautiful, deeeeeelicous, fresh, easy strawberry pie. Isn't that color just amazing? Pure freshness, goodness, strawberry-ness. And, nothin' else in the pie tryin' to steal the show.

Trust me. This pie will make you cry for your Momma.

Strawberry Pie
a family recipe...

1 quart (about 2 pounds) fresh strawberries
1 cup sugar
3 tablespoons cornstarch
juice of 1/2 lemon
1 unbaked pie crust
1/2 cup whipping cream, optional

Wash strawberries and hull (removing the green tops and core). Chop 1/2 of the berries with into small pieces or process in food processor.

Place chopped berries into a sauce pan and begin to cook over medium heat. Mix sugar and cornstarch in a small bowl; add to pan with crushed berries. Add lemon juice and cook on low heat for about 10 minutes or until mixture thickens. Remove from heat.

Cut remaining strawberries into halves and mix with the cooked mixture.

Preheat oven to 425 degrees. Place pie crust into 9" or 10" pie plate. Flute edges. Prick with fork all over, about 40 times. Place piece of foil inside pie crust, lightly pressing around inside bottom edges of crust. Fill with dried beans. (The beans allow the pie crust to remain its shape.)

Bake for 10 minutes. Remove from oven and remove beans and foil. Return to oven and bake for 5 minutes until edges are golden brown.

Pour strawberry mixture into baked pie shell. Chill in refrigerator for at least 2 hours, or until pie is set. (May require overnight to fully set.) Serve topped with whipped cream, if desired.

Then slap your hubby, sister, friend, Momma, or mailman a high-five.

Cause you've just made a killer Strawberry Pie!