I first tasted this recipe when one of my friends brought a similar version over for a dinner party.

I immediately fell in love.

Fresh green, red, yellow pepper, red onion, garlic, corn, black beans, and the lightest, most delicious dressing which I would hardly call a dressing because it just melts into the salsa and does something magical to combine all the ingredients into fresh, dreamy, yumminess.

And, then you add fresh cilantro. Lots of fresh cilantro. I used to be a cilantro hater. But, the more I eat it, the more I'm loving it.

This salsa is wonderful with chips all on its own.

But, it would be a great garnish for:

Hamburgers (top with avocado).
A London Broil.
Steak.
Quesadillas.
Burritos.

And, you can add whatever you'd like to this to make it your own. Jalapeno, a fresh, chopped tomato, avocado. Play with this one. I'll share the basic recipe, and you go to town!

*If you're looking for ideas for this weekend, this salsa would be a perfect dish to take to a Memorial Day cookout!

Here's how to make it.

First, take 1/2 each of red pepper.
Yellow pepper.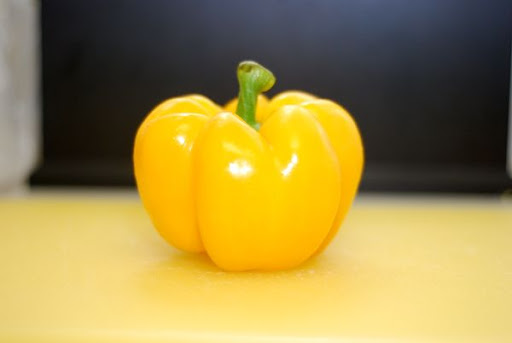 Green pepper.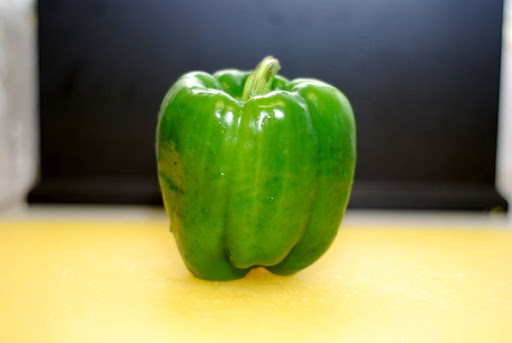 Dice them into small pieces.
And, combine them in a medium mixing bowl.
Chop 1/2 of a red onion.
And, add it to the peppers.
Add two cloves of chopped or minced garlic.
Rinse one can of black beans.
And, one can of corn. (2 cups of frozen or fresh corn would be even better!)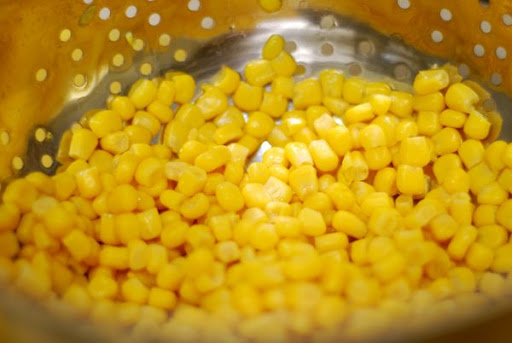 Take one bunch of fresh cilantro and grab off a handful. Chop. (The amount is totally up to you, depending on how much you love it. If you're a cilantro hater, leave it out.)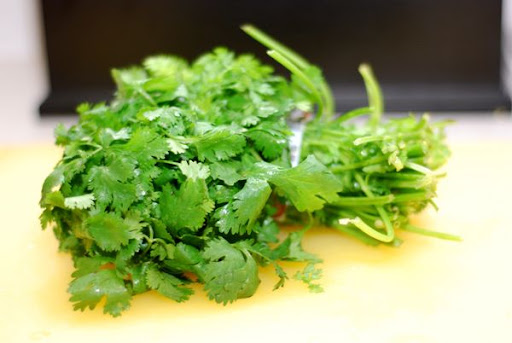 Add the beans, corn, and cilantro to the onions, peppers, and garlic.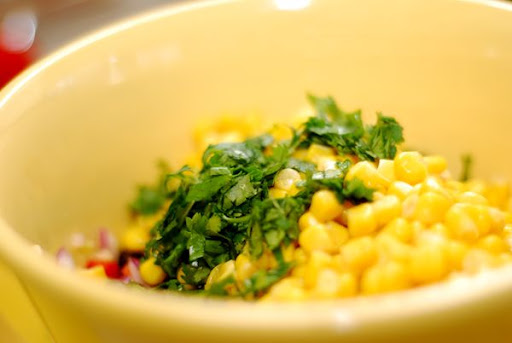 And, mix. Aren't the colors beautiful? I LOVE that about this salsa. So colorful.
Now it's time to make the dressing. Add 1/4 cup of olive oil to a measuring cup.
Add 4 tablespoons of red wine vinegar.
And, the juice of 1/2 lime.
Whisk together. (You can add a bit of salt here, too, if you think it needs it.)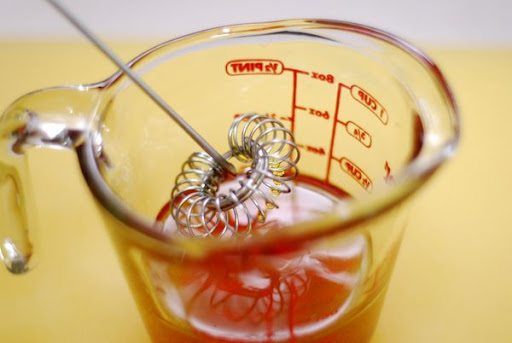 Pour the dressing over the veggies, etc.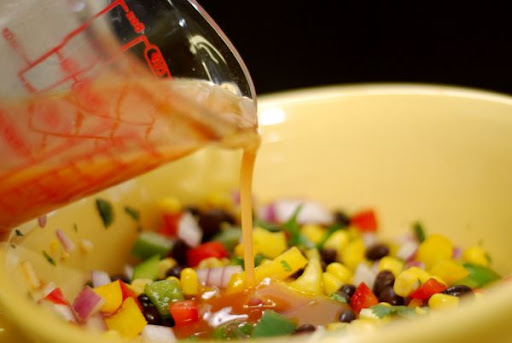 And, mix until it combines into a beautiful, colorful salsa.
To make this salsa really sing, let it sit for several hours or overnight. That's how it will be best.

But, who can resist digging in right away? Uh - not this girl. No way.

This stuff is killer. Fresh, light, tangy - and SO easy!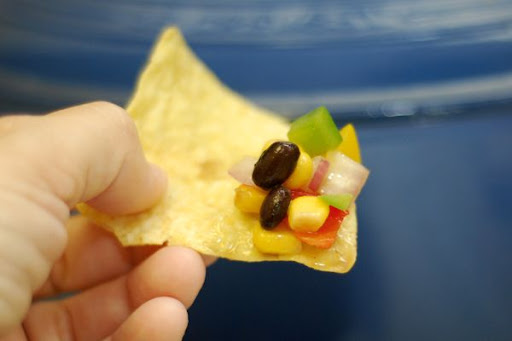 Try this one. You'll love it.

Enjoy!

Black Bean and Corn Salsa
adapted from Bush's...

1/2 red pepper, diced
1/2 green pepper, diced
1/2 yellow pepper, diced
1/2 red onion, chopped
2 cloves garlic, chopped or minced
1 (15 ounce) can corn, drained, or 2 cups fresh or frozen
1 (15 ounce) can black beans, rinsed and drained
1 handful cilantro, chopped, (optional)

Dressing:

1/4 cup olive oil
4 tablespoons red wine vinegar
juice of 1/2 lime
salt, to taste (if needed)

In a medium mixing bowl, combine peppers, onion, garlic, corn, black beans and cilantro. In a small measuring cup, combine olive oil, vinegar, lime juice and salt, if needed. Mix well. Serve with tortilla chips, or as a garnish for burgers, steak, or your favorite Mexican dishes.