I love this ice cream cake.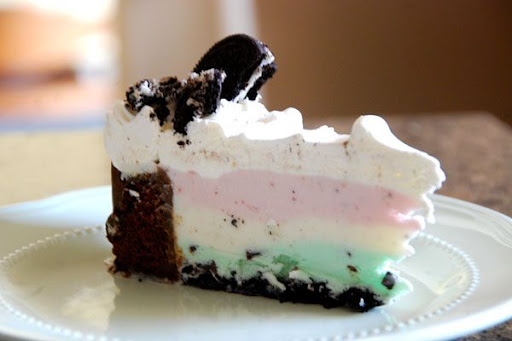 I love how pretty it is, I love how it tastes, and I love that there are endless possibilities for changing up the flavors of ice cream to make it just how you like it.

Coffee.
Chocolate Chip Cookie Dough.
Dulce de Leche.
Peach.
Rocky Road.

Create your own version by choosing your favorite flavor, then add complimenting flavors to make this cake any way you'd like!

My mother-in-law had ripped this recipe out of a magazine and made a version of it while we were visiting last month, and I just had to share it with you.

This combination of vanilla, strawberry, and mint chocolate chip is absolutely perfect. I never would have thought to put those flavors together, but they are divine in this cake. And, it makes a beautiful cake. So much so, that I named it, "The Prettiest Ice Cream Cake You'll Ever Make". Wouldn't it be PERFECT for a baby or wedding shower?

And, the recipe? Really, really easy to put together. There's no baking at all - no heating up the hot oven. Just assemble and it's ready!

So, when you're thinking about what to make for summer get-togethers, cookouts, and parties, try this refreshing ice cream cake. Your family and friends won't believe it didn't come from a bakery!

Enjoy!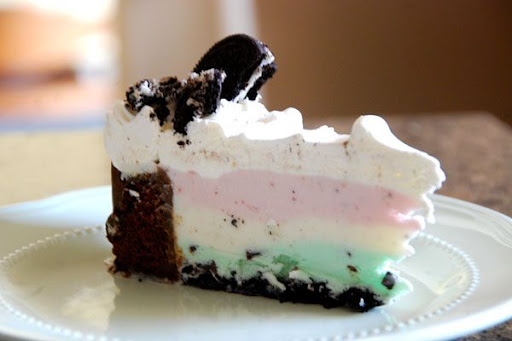 The Prettiest Ice Cream Cake You'll Ever Make

15 Oreo cookies
1 tablespoon milk
8-9 ice cream sandwiches
1 pint mint chocolate chip ice cream
1 pint vanilla ice cream
1 pint strawberry ice cream
1 (8 ounce) container frozen whipped topping, thawed

Finely crush 12 Oreos with a food processor (or with a gallon bag and rolling pin). Add milk; pulse with a food processor or continue to crush in the bag just until mixture holds together. Set aside.

Remove all 3 flavors of ice cream from freezer and let soften for 15 minutes at room temperature.

While ice cream is softening, unwrap 4 ice cream sandwiches. Working quickly, cut each in quarters (cut once horizontally, once vertically). Stack strips of sandwiches on end, packing them snugly together, around wax-paper-lined springform pan. Repeat with remaining sandwiches to form a stand-up edge all around the pan. Spoon cookie crumbs into center of pan; press firmly over bottom. Freeze for 1 hour.

Transfer mint chocolate chip ice cream to a small bowl and stir until of a good spreading consistency. Repeat with vanilla and strawberry. Remove pan from freezer. Spread mint chocolate chip ice cream on bottom, then top with vanilla, then strawberry, spreading each layer as you go. Top with thawed whipped topping.

Crush remaining 3 Oreos and sprinkle over cake. Return to freezer; freeze overnight.

To serve, remove side of springform pan, then remove waxed paper. Cut into wedges.

*For a lite version, you can substitute frozen yogurt for the ice cream.