When I first showed you a few pictures of the inside of our new house, I mentioned a little project we're working on that would require a whole lot of decisions.

And, decision-making is not one of my, um, gifts? I stress. I worry. I waffle back and forth in this land of inbetween for as long as it will have me.

SO, when it comes to decisions regarding our house, to permanent decisions - OH SWEET MERCY, I'm in a state of paralysis.

Well, since we're about to get started, I thought I'd document the process here on my blog. Because then I'll be able to see how far I've come - from point A to point Z, and prove to myself that it is indeed, not as difficult as it seems. And, I'll have this permanent account of what we did in our new kitchen, and why.

And, I thought I'd share with you what we're doing, and see if I can (PLEASE, pretty please!) get y'all to share any advice or opinions or thoughts you might have on a few of the decisions we've got coming up.

And, before I move on, YES, I'm asking for your opinion in these posts! So, fire away.

This is our kitchen.
It's about to go through a bit of change. The cabinets are staying (OH MY WORD, the price of new cabinets!!), and so is the tiled floor. Those (for certain) are the two things that are not changing.

Before we begin, I want to tell you this: We're not paying for ANY of this! The sellers of our house gave us the money to do ALL of this. So, all of this change, it's on them. Otherwise, we'd be happily moving into our house just as it is.

First up: The sink. We have decided on a stainless steel sink. But, I'm not sure what style to choose. I've done some research, but still find myself waffling back and forth between three styles. Each of these end up being the same amount of overall space, so it's really just a matter of what will work best for us.

Sink #1: A 40/60 sink.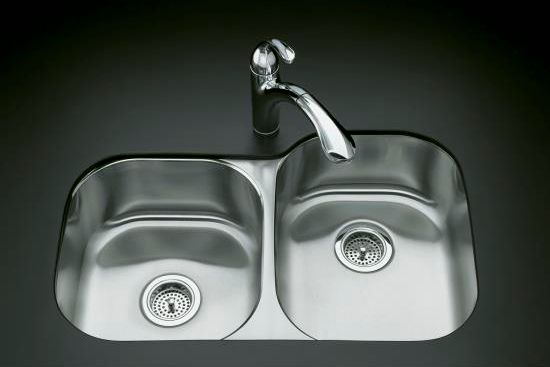 With one side larger than the other, I like this one because the right side can be full of dirty dishes, pots and pans, and the other side can simultaneously be used for washing vegetables or using a colander without having to wash/work around the dirty dishes. I love that. And, the bigger side would be great for washing large pots, cookies sheets, etc. because of its larger size. But, would the smaller side always be wishing it was bigger?

Sink #2: A 50/50 sink.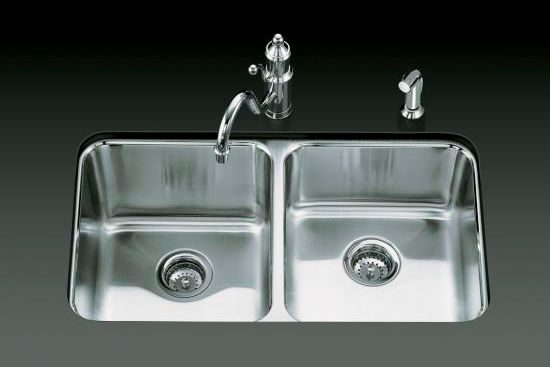 Both sides are equal. Equal size, depth, and width. Upside: Equal work space for food prep, and dishes. And, y'all know I do a lot of food prep. Downside: Will my larger pots be difficult to wash since there isn't really one big space? Not sure.

Sink #3: Single basin sink.
One big, deep, all-purpose sink. My biggest pots, largest cookie sheets, and a whole boatload of dirty dishes will fit down in here. In fact, my large cookie sheets could fit flat down in the bottom to soak. Love that. But, what about prepping, washing veggies around a sink full of dirty dishes? Would I miss not having a separate area for that?

SO.

Three sinks. Each with pros and cons.

Any ideas? Experiences of your own? What do you have? If you were starting from scratch, what would you choose?

I'd LOVE your thoughts!