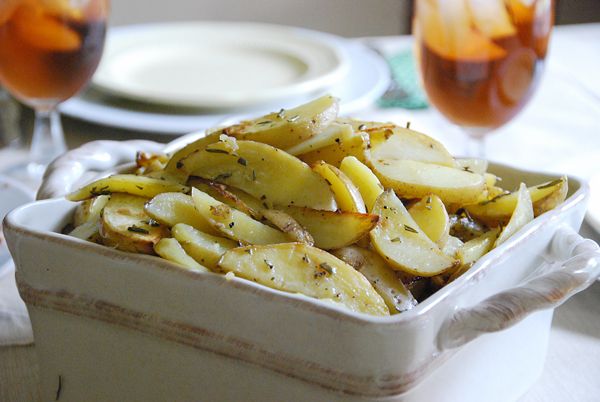 During the summer months, I like to keep our meals simple.

What do I mean by that?

Grilled meats.
Roasted or grilled vegetables.
Fresh fruit salads.

Little fuss. Fresh and light. Easy cleanup.

After all, what we really want to be doing is sitting/playing/relaxing outside enjoying the sunshine. All of us. Me included. As much as I love to cook, I don't want to be tied to the kitchen in the summer.

My mother-in-law made these Roasted Rosemary Potato Wedges while we were visiting this past weekend. They were so simple, so summery, and so delicious that I'll be making them all summer long. The fresh rosemary is what makes them melt-in-your-mouth good. The minute they start roasting, the smell of rosemary permeates the entire kitchen. It's lovely.

And, they fit perfectly into our summertime dinner plans:

Little fuss. Fresh and light. Easy cleanup.

Hope y'all love these, too.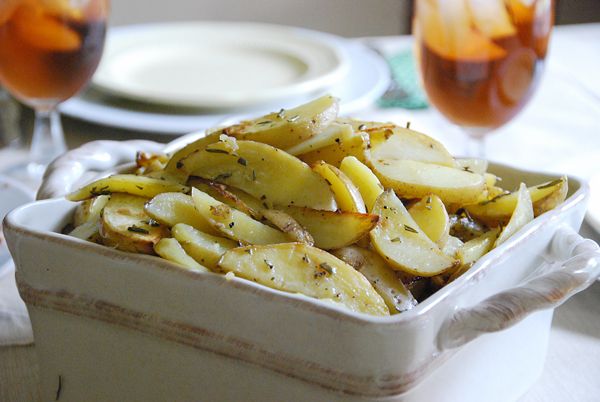 Roasted Rosemary Potato Wedges

3 pounds Yukon Gold Potatoes (These are absolutely the best potatoes to use for this recipe.)
3 tablespoons olive oil
3 tablespoons fresh rosemary, chopped
salt

Cut potatoes into wedges. Place onto a baking sheet/jelly roll pan. Drizzle olive oil over potatoes and toss. Add fresh rosemary. Toss to coat. Sprinkle with salt.

Roast at 400 degrees for 30 minutes, or until potatoes are soft and a bit crispy on the outside.

*You can leave these soft or make them as crispy as you want on the outside. Just leave in the oven until they look to your liking.