Yesterday afternoon, I was passed out laying on the sofa (normal activity for me these days) while my littlest boys napped, when Jack, my five year-old, came to me and told me he was going to "make" a snack in the kitchen.

A few minutes later, he brought me a piece of paper.

"Mom", he said to me wide-eyed and grinning and proud as ever, "I wrote a recipe."

(BE STILL MY HEART - I DIDN'T THINK IT WAS POSSIBLE TO LOVE THAT BOY ANY MORE.)

And, by golly - he had. On his own little recipe card. Complete with his best drawing of every single ingredient in his creation.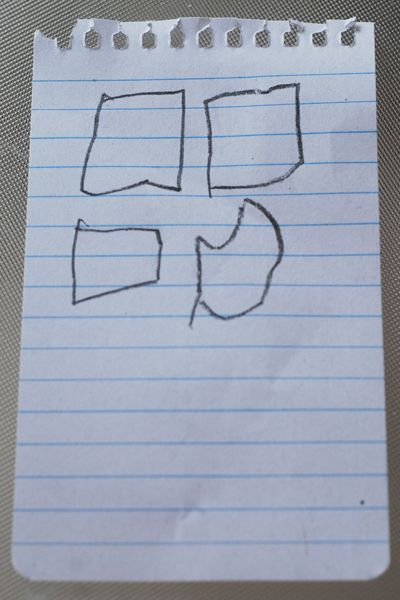 (It always amazes and surprises me that my children watch me so intently that they can mimic what I do perfectly - down to things like using a scrap piece of paper to "write a recipe." Of course, there is a negative side to this incredibly accurate skill of imitation - especially when it involves repeating things I've said to all of Target that I'd rather them not repeat. Ever. OY VEY.)

And, then he brought me what he made.

I wanted to laugh out loud. I wanted to cry. But, I stifled every bit of emotion I could and slowly walked over and picked up my camera and told him that I'd love to take a picture of him.

Well, I do indeed have pictures of my budding little chef's finished product.

But, because I'm weird and quirky and like to play these silly kinds of bloggy interwebby games with y'all, I thought I'd let you try and guess what my creative little five year-old came up with before I show you the rest of the photos.

Each ingredient on his "recipe card" is in his creation. And, everything is edible. Yes - he ate what he made. Sort of.

It is - um, very creative.

SO, what do you see on that card up there? Any ideas what "recipe" my boy created?

*I'll hide your guesses until tonight when I post the rest of the photos.