He placed three slices of pizza onto three paper plates as he made his way around the table. Not a minute later, he slowly poured a small amount of fizzling drink into three red, plastic cups.

All three of them stuck their little noses down into the rim and watched as the light brown foam slowly turned into the liquid treat they don't get very often - that dark brown, "tingly" stuff that tastes oh-so-good with a slice of cheesy, melty, gooey goodness.

The middle one gulped down his cup-o-fizz in record time, and looked up at his Dad with longing eyes and a hopeful smile.

"Max, do you want some more 'pop'?"

Max let out a big sigh. "Dad, it's not called 'pop' in North Carolina. It's called 'soda' here!"

The Mommy at the end of the table spit out her "soda" onto her paper plate.

Her off the cuff remark at Five Guys weeks before had apparently taken hold.

They would indeed raise Southerners.

==============================================

*Note: I found this map at The Pop vs. Soda Page, and thought it was really interesting. Apparently, we're a mixed bag here in North Carolina - a bit of everything, but mostly soda/Coke. Head just south of here, and it's "Coke" land, baby. Michigan - where we came from - nothin' but "pop". Period.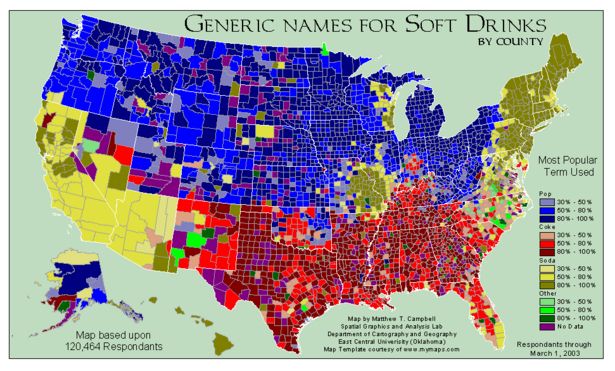 Out of curiosity, what do you call soft drinks?