OH MY WORD.

Can I just tell you how happy I am to write that title up there?

Our Choices. Finally.

First of all, THANK YOU ALL, again and again, for your input, suggestions, opinions and thoughts on the sink and the countertops. You truly gave me SO many things to think about that I never would have thought of before. And, you all helped me tremendously.

SO, THANK YOU!

Late last week, and armed with our questions/concerns (and a whole lot of excitement), we met with an interior designer to help us work through making our decisions.

And, I'm happy to say:

We have finally made all of our choices! The work should be completed on our kitchen within the next two weeks.

SO, what did we choose?

Well, in case you've forgotten, here is our kitchen.
First up: The sink:

After carefully weighing each of the choices, and reading through all of your comments (and picking my poor little sister's brain all hours of the day and night), we decided on the 60/40.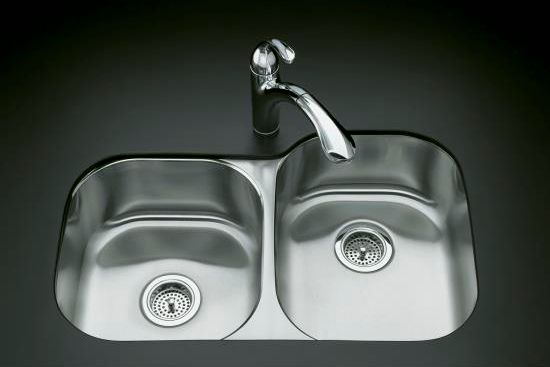 Once in the showroom, we did briefly look at porcelain sinks as well - but, upon hearing, "Glasses, glass bowls, etc. can break very easily if not carefully placed in a porcelain sink", we took one look at each other, saw floating images of our three boys throwing their breakfast dishes into the sink in a hurry, and wisely decided against it.

I think this 60/40 will meet all of our needs perfectly:

A side for prep. A large basin for dishes. And, the little bit of "bounce" that stainless steel provides for our "in a hurry" littles.

*Updated to add: This is the faucet we chose. I love how high it is (lots of room for big pots), and I love the pull out sprayer. It's simple and clean. Just what we were looking for.
Next up: The countertops.

This was definitely the hardest decision.

After reading all of your comments, and talking to the designer, we immediately ruled out black.

Too dark for our kitchen.
And, too ready to show everything under the sun for our current lifestyle.
So, this is where I was torn. Not only were you all divided on the brown/black and gold/beige, so was I. And, for many of the same reasons you all listed.

I did not want a washed out kitchen.
I did not want a dark kitchen.
Or a busy one.
Or a plain one.
Or builder grade.
Or too fancy schmancy.

When we sat down with the designer, I expressed all of these concerns to her.

Primarily, this:

Brown/black feels too dark and a bit too traditional.
Gold/beige feels too light.
She absolutely agreed.

And, then she said, "We got a shipment from the quarry in a style that I know you ruled out originally because it's too brown. And, too orange."

(This is what it looked like in the sample we'd seen previously. Yes, way too orangy. Much too brown. Too much going on. Neither of us liked it.)
Then she continued, "Well, the batch we just got in is very, very light. I have never seen it like this before. It has the creams and the blacks you like, but also has a good deal of warmth without the orange tones."

And, then she brought me this:
Oh, heavens - I was immediately in love.

This is a chunk off of the actual slab that we chose, and I could not love it more.

It is the perfect compromise: Creamy, with a good deal of black throughout, and a warmth that really complements the cabinets.

It's absolutely beautiful.

And, I think it will be perfect in our kitchen.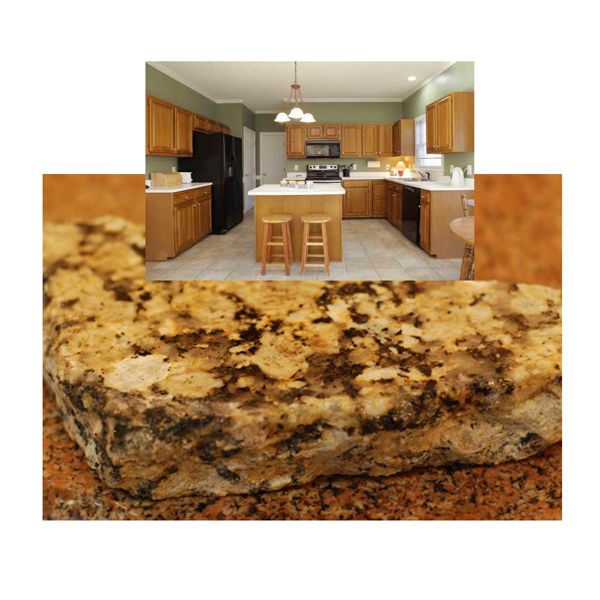 We also chose a very simple backsplash tile that will go in between the countertops and the cabinets.

We haven't yet decided on the paint color for the kitchen. The green works for now, and I didn't want to make any of our decisions based on paint - as we can change that at any point. The rest - it's permanent.

I loved the color of a porcelain sink we considered. I'm thinking maybe that color family will be perfect for our kitchen. Perhaps just a bit lighter.

Here is a taste of all of our choices together:
What a process. WHEW! It feels so good to have made the choices, and to have really found just the look we wanted.

I'm so excited to see it all come together.

And, I promise I'll show it to you when it's finished.

Thank you SO MUCH for your help. You all were invaluable to me.