I made cookies on Saturday.

Actually, in about 10 minutes, I made this whole batch of cookies. Do you recognize them?
If you don't, they're the famous No Bake Cookies that are this amazing combination of oats, peanut butter, and chocolate. My mom made these for us on occasion when I was a child, and to this day, I still absolutely love them.

The problem is this.

I make a 10-minute batch of No Bake Cookies, and before they've even set, I just can't help myself.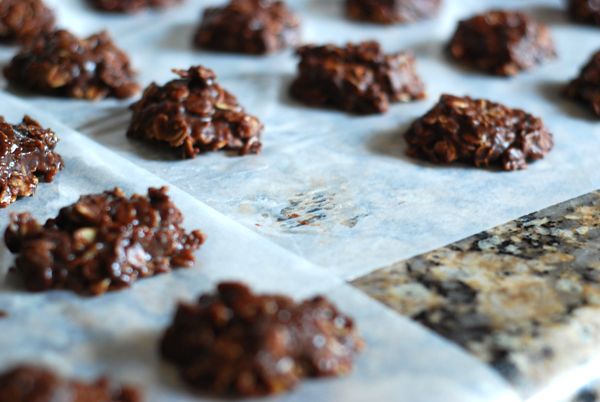 I mean, I really, really, really can't help myself. These little suckers rope me in with their chocolatey peanut butter-ness and I'm a goner.

So are they.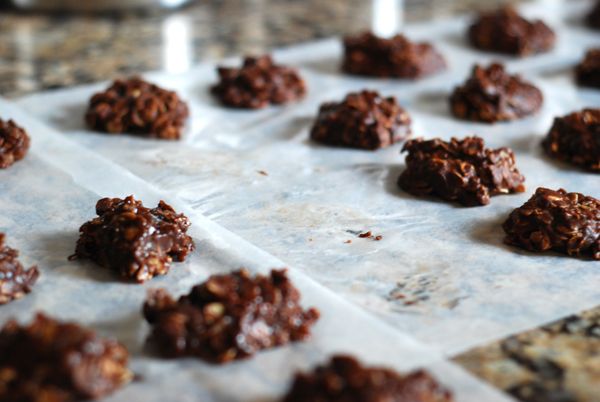 I'm guessing that just about everyone has made these or has a relative with a similar No Bake Cookie recipe. And, they're about the easiest cookies on the planet to make.

But, every once in a while, I'll see these served at a church potluck or on a cookie table somewhere, and they are crumbly and dry, or spread out and flat. I'll share the recipe below, but there is something that I really want to say about making these cookies. A tip, if you will. A very important part of making chewy, delicious No Bake Cookies. Every. Single. Time.

*You must boil the milk/butter/sugar/cocoa mixture for exactly 1 minute. And, 1 minute only. And, using a timer. Any less, and they will not set up right and become flat as pancakes. Any more, and they'll be dry and crumbly. Which also means that if you make these in the microwave - which I know is easy, and I've heard that people do - you can't really tell when the mixture starts boiling so this 1 minute tip to perfectly chewy No Bake Cookies? It won't help.

On Saturday, as I stared at this batch of wonderfully delicious cookies - I came up with a plan.

My sister and her family were coming for Sunday dinner - (Can I just tell you how much joy it brings me to type that, "My sister and her family were coming for Sunday dinner?" It's a dream come true.), and I thought I'd create something special for dessert using my freshly made cookies.

So, I took one dozen of my No Bake Cookies and saved them from myself put them in the freezer to harden.

Then I pulled out my trusty ice cream maker.
And, I made a batch of very simple, Sweet Cream Ice Cream (recipe below). Sweet Cream Ice Cream is so very easy to make - it's just cream, milk, and sugar. That's it. It is always ready to accept whatever you wanna throw into it! And, just so, SO good.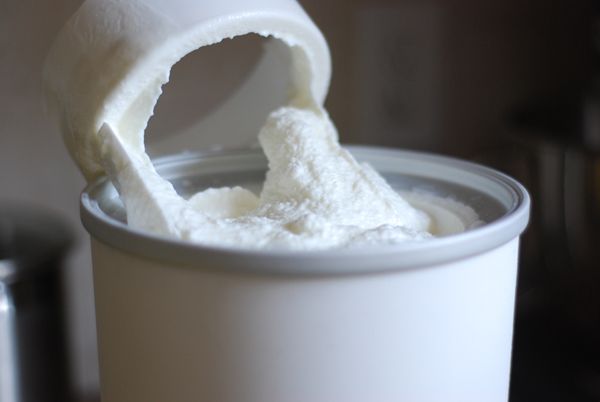 When the cookies had hardened, I took them out of the freezer, and put them on a cutting board.
I chopped them into chunks. Not itty bitty pieces. But, big ol' chunks. Kind of like what you'd really like to get in a Dairy Queen Blizzard, but you settle for the bits.
I put the Sweet Cream Ice Cream into a bowl...
And, added the big chunks of No Bake Cookies.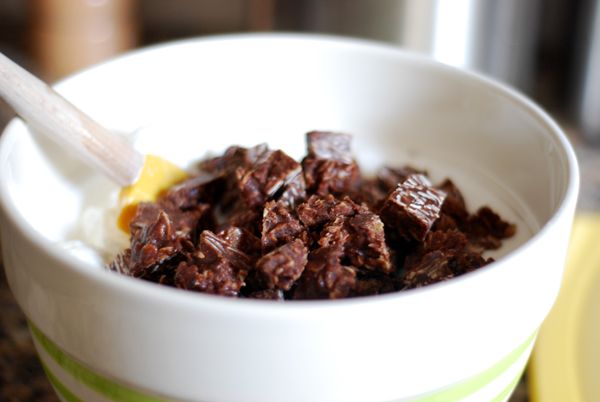 I stirred it all together...
And, then put it into a container to freeze and harden. (Homemade ice cream will get soft very quickly, so you have to work fast and then get it back in the freezer to set up.) Of course, you could just eat it right then and there.
Three hours later, and I pulled it out of the freezer.
What is that big ol' hole, you ask? A girl's gotta taste throughout the freeze time to make sure it's just right, doesn't she?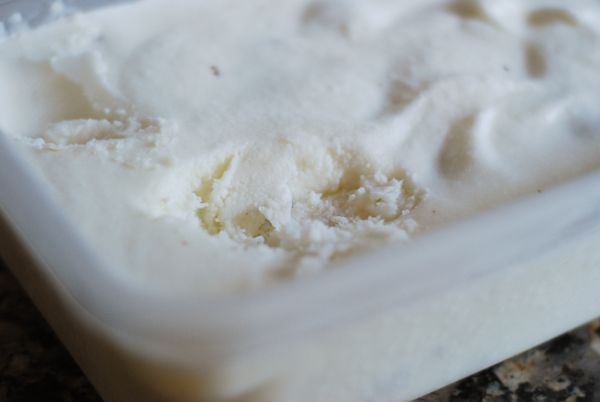 It was the BEST ice cream. By freezing the cookies in advance, they didn't break down into bits, but stayed chunky. And, the cocoa from the cookies swirled throughout the ice cream just enough to add a beautiful, chocolate swirl.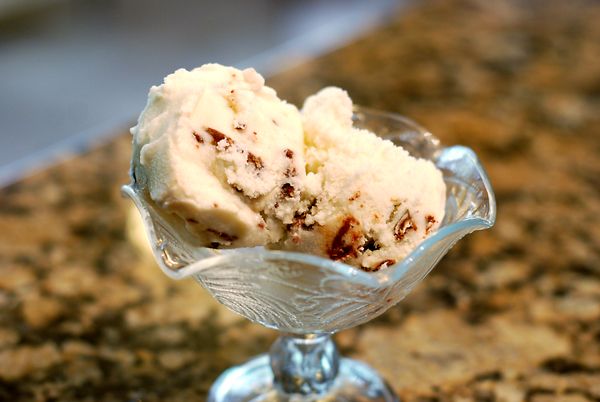 No Bake Cookie Ice Cream. If I were having a dinner party, I'd make it in advance, and serve it just like this. With one of Mom's No Bake Cookies on top.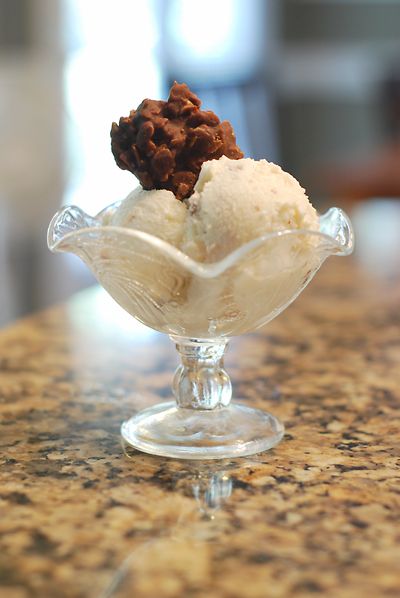 Here are all the recipes, my friends.

Enjoy!

No Bake Cookie Ice Cream

1 dozen Mom's No Bake Cookies
2 quarts Sweet Cream Ice Cream

Freeze cookies for 1 hour or until hardened. Chop into large chunks. Add to ice cream and stir. For softer ice cream, serve immediately. For firmer ice cream, freeze for 3 hours.

Mom's No Bake Cookies

1/2 cup milk
1 stick butter
4 (heaping) tablespoons cocoa
2 cups sugar
3 cups old-fashioned oats
1/2 cup peanut butter
1 teaspoon vanilla

Combine milk, butter, cocoa and sugar in large saucepan. Bring to a
boil, stirring constantly, and boil for exactly 1 minute. Remove from heat.

Add oats, peanut butter, and vanilla and mix well. Drop by teaspoonsful
on waxed paper. Let set until firm. Makes 2 1/2 dozen.

Sweet Cream Ice Cream

2 cups whole milk
2 cups heavy cream
1 cup sugar

Combine milk, cream and sugar in a medium mixing bowl. Whisk together. Add to ice cream maker, and churn for 25 minutes. Makes 2 quarts.