I love chicken salad.

But, I hardly ever order it out at a restaurant or purchase it from a deli. And, for one reason.

Most chicken salads you get out are swimming in mayonnaise. A particular chicken salad might have the most delicious combination of unique flavors, but if they're hidden in a sea of mayonnaise, I have a hard time enjoying it.

As I've made chicken salad time after time over the years, I've come to the conclusion that I actually prefer a chicken salad with no mayonnaise at all.

Instead, I now use whipping cream. (Not Cool Whip. Heavy Whipping Cream. Big difference.)

My recipe for SG's Chicken Salad is made with roasted chicken, chopped celery and red onion, grapes, dried cranberries, and toasted almonds. Each of these flavors gets to take center stage because instead of being masked by mayonnaise, they're combined together with heavy cream that's been whipped into heavenly deliciousness.

Served on croissants, this chicken salad makes the most wonderful lunch! It's fresh and chunky, and so very simple to pull together.

Here's how to make it.

First take one small package (1/2 cup) of sliced almonds.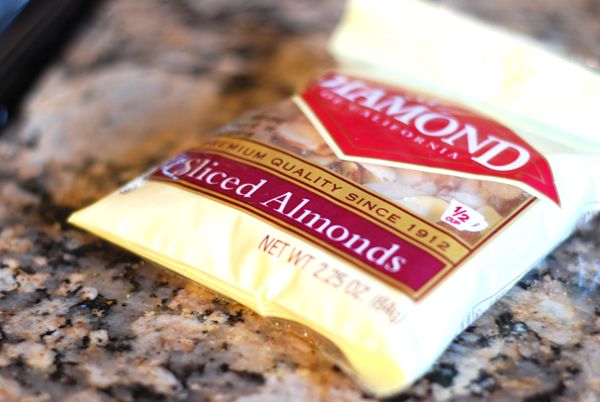 And, toast them at 400 degrees for 5-6 minutes. (Toasting them really makes the flavor so much better!)
Next, add 1 1/2 cups of heavy whipping cream to a mixing bowl, and beat on high with an electric mixer until it sticks to the whisk. (You can use a hand mixer, too.) Set it aside.
Place 4 cups of roasted, chopped chicken breast into a medium bowl. (I almost always use chicken I've roasted earlier in the week. HUGE time saver.)
Add two stalks of chopped celery.
And, 1/2 of a chopped red onion. Stir together.
Next, add 1/2 of the whipped cream to the bowl.
Stir to combine.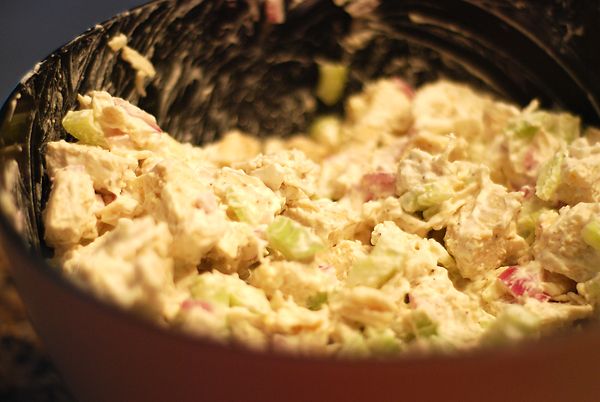 Then, take a large bunch of grapes.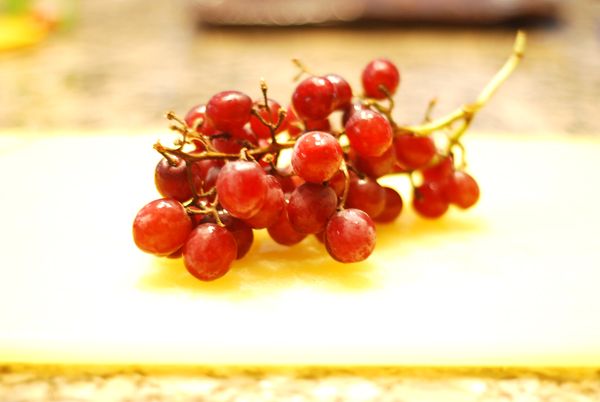 And, cut them in halves.
One of my favorite things in this chicken salad is the addition of dried cranberries. They're tart and sweet and the texture adds something unique and wonderful to this salad. You could also use dried cherries.
Add 1 cup to the bowl.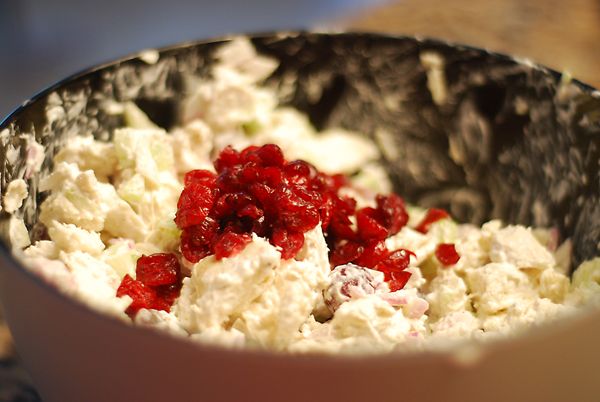 Add the toasted almonds.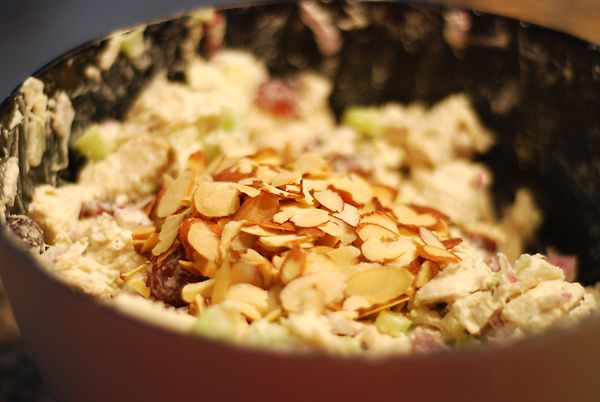 Stir everything together. Add salt and pepper to taste. The mixture will seem a bit dry at this point.
Then add the remainder of the whipped cream. This will pull the salad all together and combine everything into creamy, dreamy deliciousness.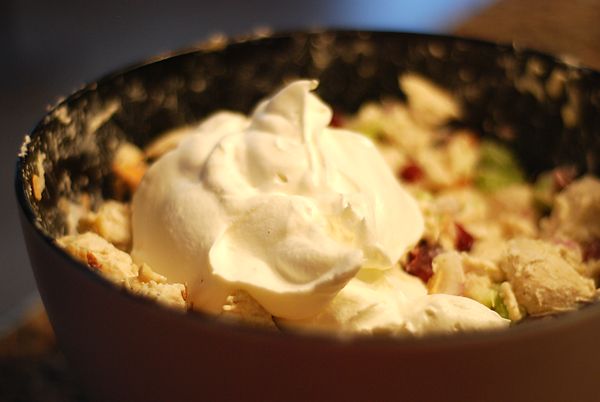 One word: YUM!
I almost always serve this chicken salad on croissants. They're buttery and soft and the perfect complement to this chicken salad.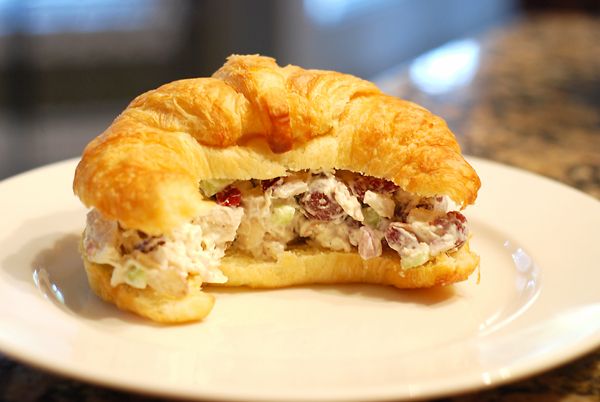 I forgot to mention that this chicken salad is great for children who have egg allergies and can't have mayonnaise. And, of course, for those of us who prefer the chicken and other ingredients to be what we're tasting when eating chicken salad - not a bowl of mayonnaise.

For me, I just really love this recipe because it's fresh and chunky and sweet and savory. I love this combination of flavors. It's one of my favorite things to eat all by myself - or to share with friends when they come over.

Enjoy!

SG's Chicken Salad

4 boneless, skinless chicken breasts, roasted and chopped
1/2 cup sliced almonds
1 1/2 cups whipping cream
2 stalks celery, chopped
1/2 red onion, finely chopped
1 cup grapes, halved
1 cup dried cranberries (or cherries)
salt, to taste
pepper, to taste

Toast almonds at 400 degrees on a baking sheet for 5-6 minutes. Set aside.

Beat heavy cream with an electric mixer on high until peaks form and it sticks to the beater. Set aside.

Add chicken breast to a medium mixing bowl. Add celery and onion. Stir to combine. Add one half of the whipped cream and stir together. Add grapes, dried cranberries, and almonds. Add salt and pepper to taste. Stir together. (Mixture will be a bit dry.) Add remainder of whipped cream and stir to combine.

Serve on croissants, bread, or on lettuce.

*Often times when I serve this chicken salad, I'll place a small bowl of mayonnaise on the side. It can then be spread on the croissant or bread for those who might like to do so.