My husband has never been a big fan of barbecue sauce.

He'll eat it, and there is nothing easier than throwing a bottle of Sweet Baby Ray's over some chicken and baking it or grilling it up. And, I do that sometimes - especially on weeknights when I've just been too busy to give dinner much thought.

But, the other night, while we were looking for an alternative to barbecue sauce, we came across Paula Deen's recipe for Daddy's Tangy Grilling Sauce.

Worcestershire sauce.
Butter.
Lemon.

That's it. Really?

So, we gave it a try - only changing it by adding some fresh minced onion to the sauce. Because we love the flavor of minced onion as it grills onto chicken. And, OH MY SWEET HEAVENS, we were blown away by the flavor. Especially for chicken that hadn't marinated. At all.

We grilled split chicken breasts, which were on sale for $.89/lb last week.

And, also grilled some drumsticks for our buddies.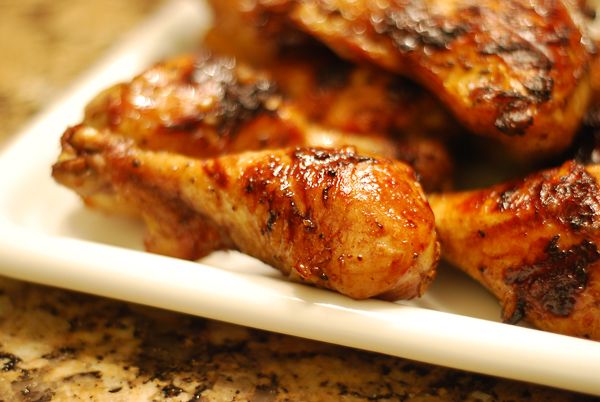 Our kids devoured this chicken.

Case in point. (You know it's good when you eat it like a caveman and have it on your face and arms and don't give a hoot.)
Dinnertime is always very entertaining at our house.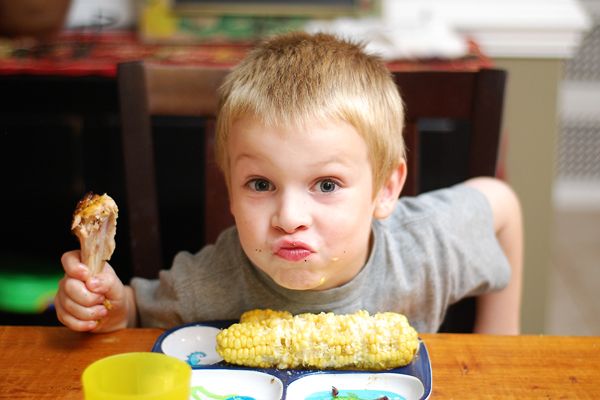 I served this chicken with 10-Herb Roasted Potatoes and some sweet corn. All of us loved it. And, it couldn't have been easier to prepare.

Try it. I bet you'll love it, too.
Grilled Chicken with Daddy's Tangy Grilling Sauce
recipe slightly adapted from Paula Deen...

1 cup Worcestershire sauce
8 tablespoons (1 stick) butter
Juice of 2 lemons
1/2 onion, minced

Mix ingredients together and simmer for 10 minutes.

Baste onto chicken and grill for 25-30 minutes, or until the juices run clear.