Fact:

Mint + chocolate = BFFs

Now that's a math equation I can get behind. (UGH - math. My worst and most hated subject in school. Terrible.)

Whoever first put mint and chocolate together is some kind of freaky genius. Because really? Is there anything better?

A few of my faves:

Starbucks Peppermint Mocha. LOVE.

Peppermint Hot Chocolate. Double LOVE.

Breyer's Mint Chocolate Chip Ice Cream. No pregnancy test needed. The minute I start craving it day and night, I know.

Mint and chocolate were just MFEO.

Because I love mint and chocolate with a fierce passion, I took one of my easiest and favorite cookies, and mint-erized them. Then I made them into something so good, so messy, so insanely delicious that you might just lick your arm from your wrist all the way down to your elbow.

WHA??

Let me show you. Follow me.

First, make simple, chocolate Cake Mix Cookies.

Take one box of chocolate cake mix and add it to a mixing bowl.
Then add one egg and one stick of butter.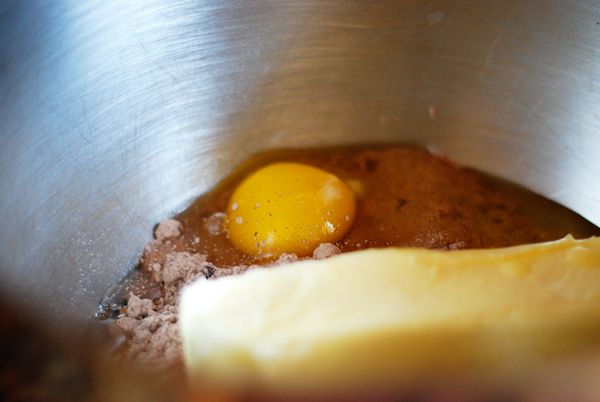 Add three tablespoons of water and beat it all together until...
...it looks just like this.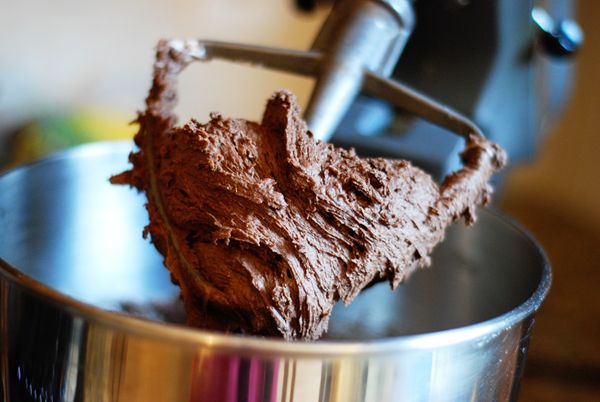 Using a small cookie scoop or two spoons, drop batter by tablespoons onto an ungreased cookie sheet.
Then bake at 350 degrees for 9-12 minutes. (Cookies should be soft in the middle.)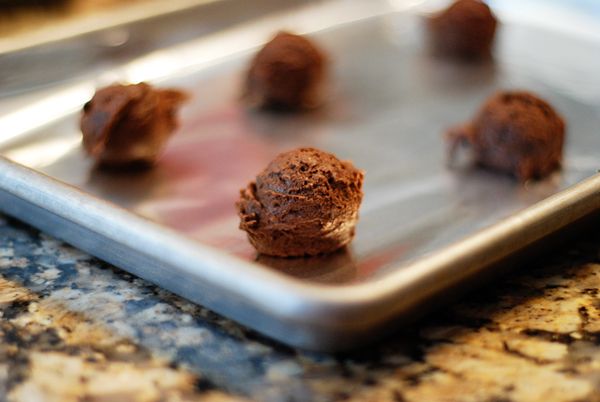 They should look like this when you take them out.

You could stop here. I have eaten dozens of these cookies since I started making them a few years ago. They are perfectly delicious just as they are.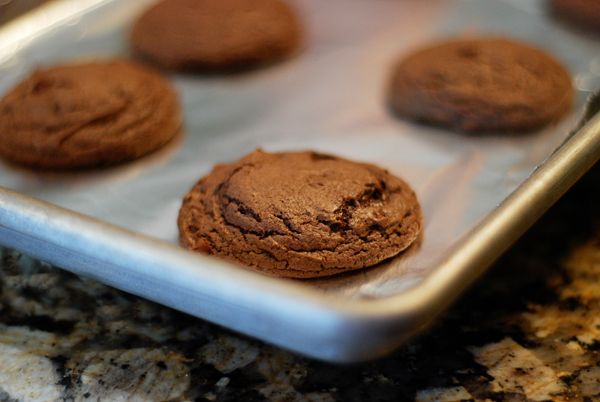 But, since I LOVE mint and chocolate, I put good ol' Andes mints to work on my tried and true cookies.
Put one Andes mint on top of each cookie while they are still warm.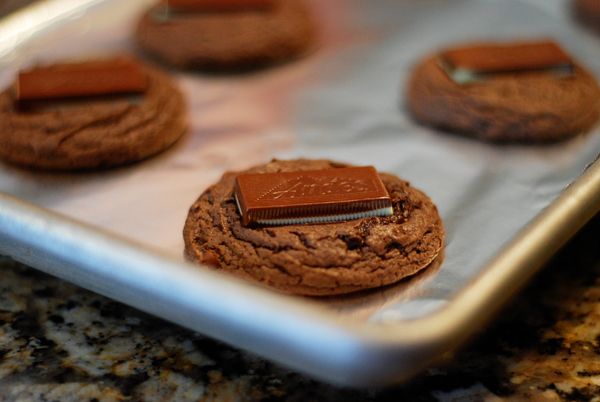 Once the mint has melted, spread it around with a fork.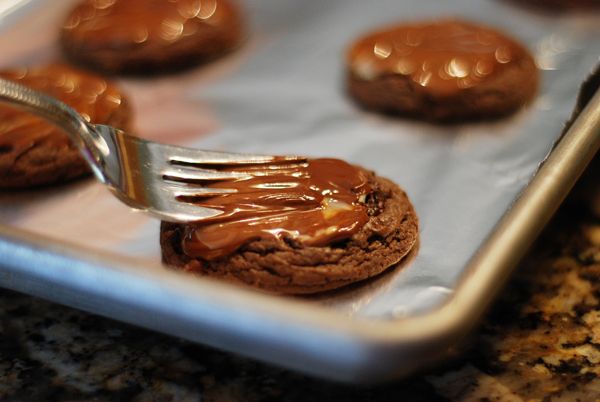 I only ate six of these right off the cookie sheet. Then I guzzled two glasses of milk and took a nap.
Again, you could stop here. These are very similar to a popular Christmas cookie and are freaky good.

BUT, I had bigger plans for these bad boys, so let's continue on.
Once the cookies have cooled and the mint "icing" has hardened, place two cookies on a plate with the mint side up. (Very important that they be mint side up - unless you want mint "icing" covered fingers in a minute.)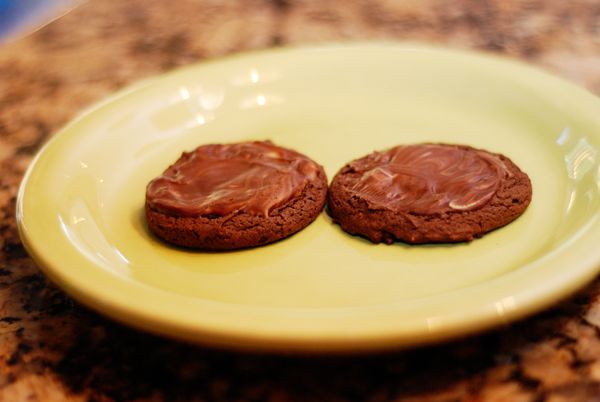 Take one scoop of vanilla ice cream (or any other flavor that suits your fancy)...
...and place it on top of one of the cookies.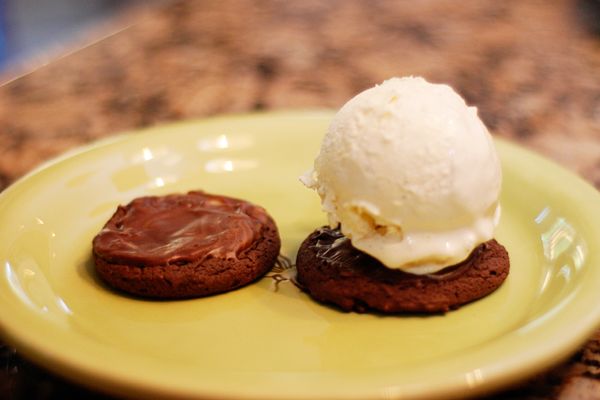 Flip the other cookie, mint side down, onto the ice cream and squish. Slowly.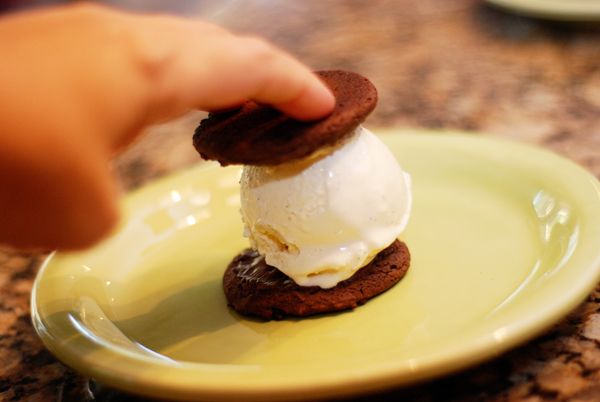 How do I love thee? Let me count the ways.

But, DO NOT STOP HERE. No matter how much you wanna pick it up and hork it down, it's about to get even better.
Pour some mini chocolate chips onto a plate.
Yep. Roll it, baby.
And, there it is. A Mint Chocolate Chip Ice Cream Sandwich.
That will be so utterly irresistible that you will immediately hack into it and before you've finished, ice cream will dribble down your hand, onto your wrist, and down your arm to your elbow.

Which might then cause you to lick your arm from your wrist to your elbow as not to let one OUNCE of goodness go to waste.

At least that's what I've heard. *ahem*

Wrap 'em up in plastic wrap and throw them in the freezer. Pull one out every time you've got a craving for something minty and chocolately.

Of course, you could share them.

I know, I know.

Whatevs.

Enjoy!

Mint Chocolate Chip Ice Cream Sandwiches

One (18.25 ounce) box chocolate cake mix
1/2 cup (1 stick) butter, softened
1 egg
3 tablespoons water
One box Andes Mints
1/2 gallon vanilla ice cream
mini chocolate chips

Preheat oven to 350 degrees. Combine all ingredients in a mixing bowl and beat with electric mixer until well combined.

Drop by spoonfuls onto ungreased cookie sheets and bake at 350 degrees for 9-12 minutes.

While cookies are still warm, place one Andes mint on top of each cookie. Allow to sit for one minute. Using a fork, spread melted mint onto cookie. Cool.

Place one scoop of ice cream, mint side up, onto one cookie. Top, mint side down, with another cookie. Squish together to make an ice cream sandwich. Roll edges onto plate of mini chocolate chips.

Serve immediately, or wrap in plastic wrap and store in freezer.