*Finishing up Whitman's birth story today.
Part 1 is here.
Part 2 is here.

The day after Whitman was born, Jason's parents brought the boys to the hospital so that they could meet the new baby.

Throughout my pregnancy, the boys would go back and forth between "girl baby" and "boy baby". I think they would have been just as happy with either, but as the time grew closer to the baby's birth, "boy baby" became the baby of choice.

I asked Max when I was pregnant, "How will you know if it's a girl baby or a boy baby?" He responded, "Well, we'll just have to see what kind of clothes it's wearing." (This sent Jason and I into hysterics. I suppose with not having any sisters - no other indicators came to mind.) So, we made sure that Whitman was wearing his knitted blue cap when they arrived!

All morning, Jason and I were anticipating their visit. And, finally, we got the call that they were on their way!

Jason went down to meet them at the front lobby. And, because I have these amazingly wonderful in-laws, they helped the boys pick out flowers to bring their Momma!

Two observations:

1) Jack and Max will make light sabers out of ANYTHING! Including plants.
2) Lincoln looks totally confused and not sure about this whole "new baby" thing.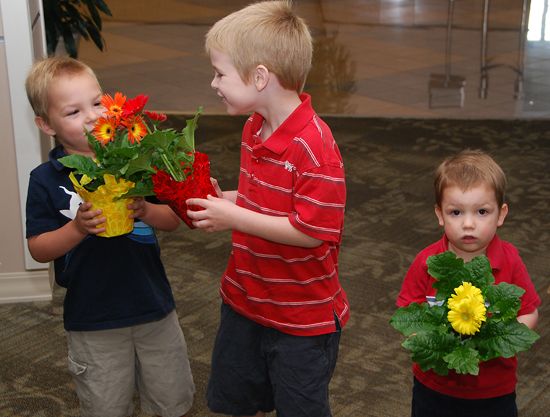 They came walking through the door and I was so happy to see them. They looked so precious with their flowers in hand for me. (Lincoln wiped out on the way down the hall. His flowers didn't quite survive their tumble.)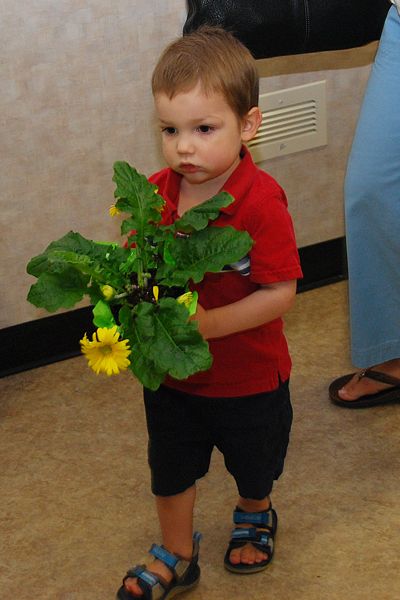 All three of them stood and stared at the bassinet for a while.
This is how Max reacted when he saw that blue cap. He shouted, "HE'S A BOY BABY!" I loved this moment.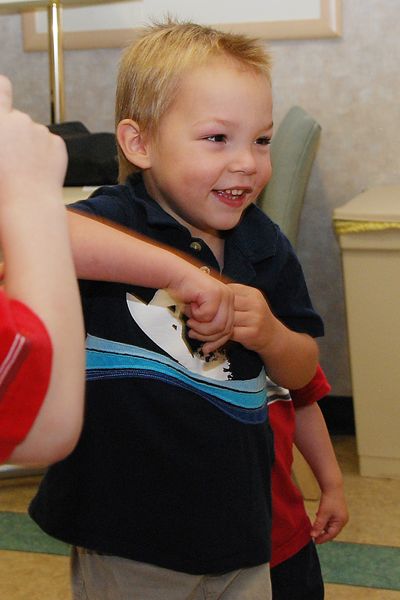 Max was the first to "touch" the baby. One finger on the bassinet. That was all he was braving at that point. Jack, surprisingly, was feeling shy.
Jason sat down on a chair and let the boys discover and explore as they felt comfortable. One by one, they crept up to Whitman.

"Look Jack, his hair is the same color as yours!" Jack loved that.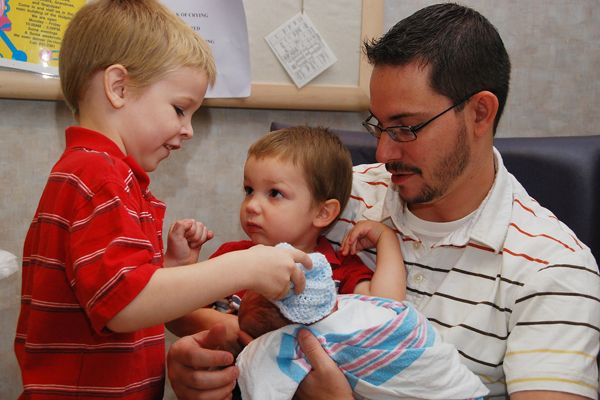 We were most concerned about how Lincoln would respond. He wasn't sure at first about this new little creature in Daddy's arms.
But, one assuring look and smile from Momma...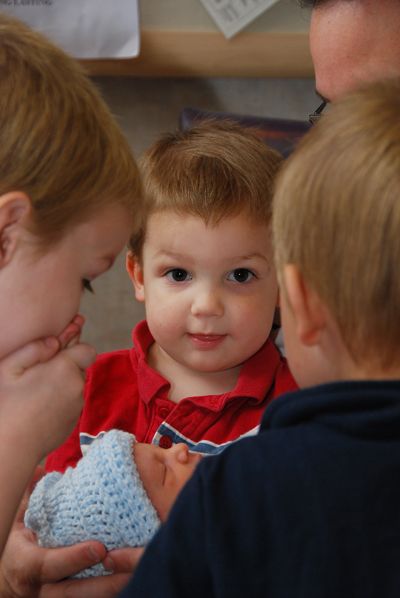 ...and he warmed right up to him.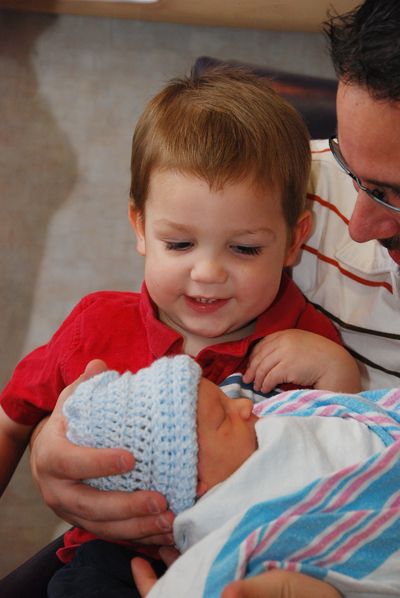 Jack wanted to hold Whitman all by himself. And, since he's a pro at being a big brother, we happily obliged.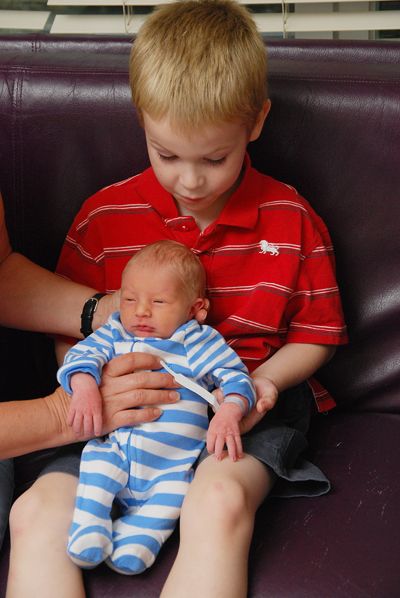 His facial expressions were priceless.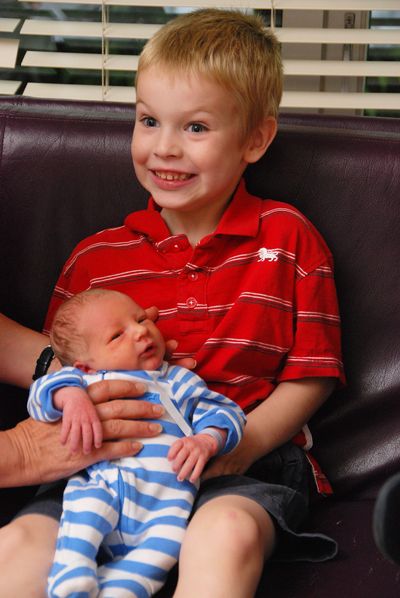 He was interested in every little thing about Whitman - his hands, his eyes, his hair, his mouth. And, he still is today - three weeks later. He asks to hold him the moment he gets home from school every day.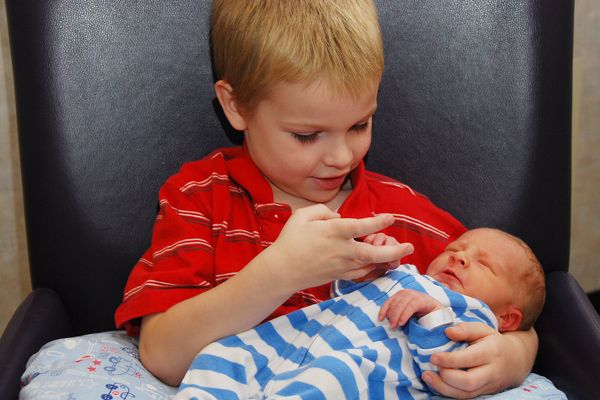 It's our tradition to have the new baby give the older siblings a gift. This time, the baby gave them LEGOS! They were a huge hit and - as is the case with most things - each one of them reacted in his own way.

Jack freaked.
Max was happy and grateful.
And, Lincoln just quietly stared at his box.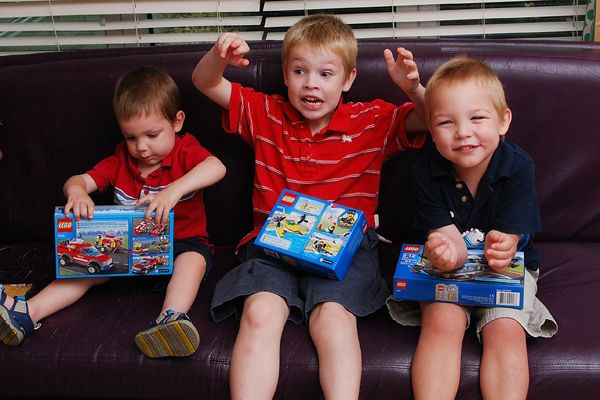 This is my favorite picture of the day. Whit started to whimper and Jack - well, he did what he had to do. We'll be laughing at this one for years to come.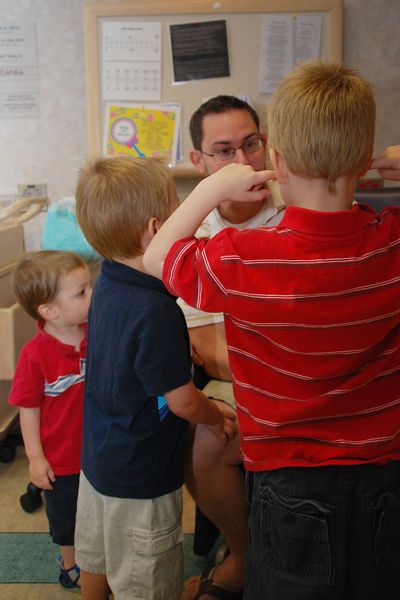 It was a crazy, fun, tiring, laugh-filled visit. It was a precious time for me - as their mother - watching all four of my children together for the first time.

I have four boys! I can't believe it!

Well, really, I have five. One that I love more than anything in the world, and four little ones that fill my life with joy and craziness and love.

These are my boys. God is so good!