Three weeks ago, I gave birth to our Whitman.

My pregnancy with him was different than each of my others. This time, it was a family event. Jack, Max, and Lincoln ALL understood that Momma had a baby in her belly and they shared in, commented on, and lived my pregnancy along with me and my husband.

You know, I might have carried the baby. But, really - my boys carried me. Their joy, their anticipation, their wonder as my belly grew and our baby's birthday got closer - they made my pregnancy joyful and it flew by. I was so blessed by each one of them.

In order to remember Whit's birthday, and to celebrate what his arrival meant to our family, all this week I'll share the story and pictures of his birth, and all the goodness that followed. It'll take me more than one post - I've got this new little boy who's wanting to eat every two hours!

If you're wondering how we're doing - we are doing great. I have had my easiest recovery I've ever had that followed the easiest of my four pregnancies. Whitman is eating about every two hours, is an incredibly content baby, has to be woken at night to eat, and has fit into our family like he's truly meant to be part of us.

He's a precious gift from God.

Here is the story of his birth.

From the beginning...

My c-section was scheduled for 7:30am. That doesn't seem too early, now does it?

Except that 7:30 is the time they actually rolled me into the delivery room. I had to be at the hospital two hours earlier. I was excited to deliver my new baby, but 4:30am is early. Very, very early. And, that's what time my husband and I rolled out of bed.

We snuck out of the house while the boys and their grandparents slept upstairs and I updated this here blog before we left and my Facebook status once we arrived at the hospital:

Baby day! At the hospital w/Jason. Excited and ready to meet our baby! We covet your prayers for us and our little one.

It's our tradition to take a photo of me right before I put on that beautiful, booty-bearing, hospital-issued gown.

Here I am. 5:45am. I was still sleepy.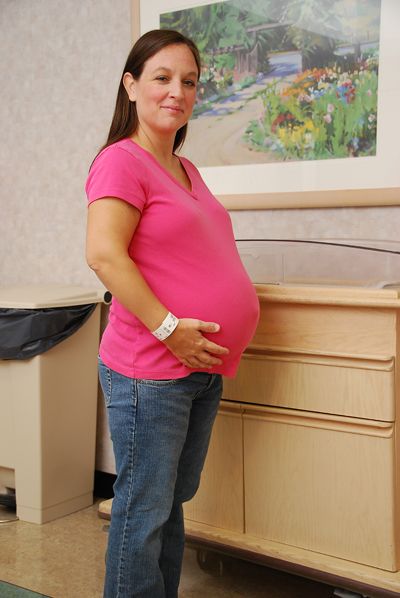 Because this is the year 2010, I played BrickBreaker on my BlackBerry while we waited for 7:30 to come around.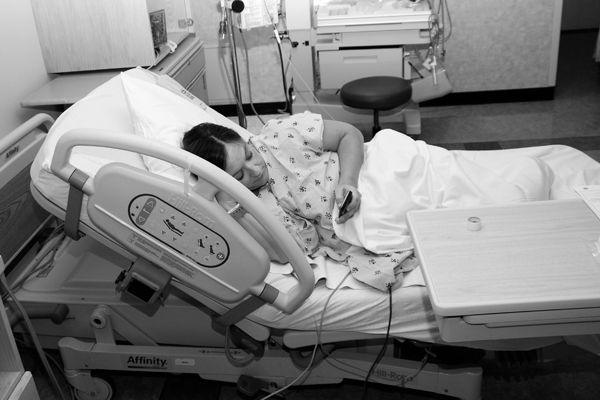 Every so often I'd look up at Jason, who was playing Angry Birds on his iPad. We had said all that we wanted to say to one another. We had said it over and over. At this point, we both just needed distraction from the sloooooowly ticking clock.

I might look cool as a cucumber. But, I'm a big, fat faker. I was about to burst with emotion. Boy or girl? Boy or girl? Boy or girl? I love being surprised by our babies' gender on baby day, but those last few moments before meeting the baby - the adrenaline, the anticipation, the not knowing who's coming out - it's amazing and I love it. But, WHOA NELLY, I felt like I needed a tranquilizer.
Two hours later, at 8:05 am, Whitman James was born.

The interesting thing about a c-section is that you're lying there, totally paralyzed, and you can't really see anything because this big, blue sheet is blocking your view.

But, I heard what I needed to hear. Crying. Sweet, new baby cries. More beautiful music hasn't been written. At least not to a mother's ear.

A few moments later, I got to meet my fourth son. I don't have words for what I felt at that moment. Another healthy child. Another son. Another precious gift from God.

My Whitman James.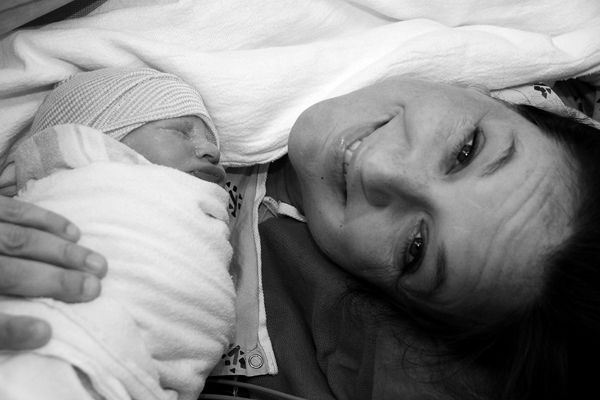 Then came the difficult - very difficult - part.

I found out earlier that morning from the nurse that even if my child was completely healthy, that due to his/her early arrival (due to my health issues), my baby would have to go to the NICU for four hours for observation after he/she was born. And, since I'd need care, too - I wouldn't be able to visit him during that time.

Whitman was healthy. But, he had to go. So, I kissed his little face, and they wheeled him away.

I spent two hours in recovery, and then got transferred up to my room. I thought I'd want to call my family, but as I sat there - without my baby boy - I just wanted to cry. I wanted to hold him and kiss him and stare at his little face. A glance - that's all I'd been given. I couldn't share the news without my baby in my arms and without knowing what he really looked like. So, my husband and I waited to share the news of Whit's arrival with family and friends.

I laid in my hospital bed and cried for my baby.

Then, I did what I had to do. I sent my husband up to the NICU with orders to return with pictures of our boy. I just had to "see" him since I couldn't see him.

He returned 15 minutes later with this. A picture of a perfectly content, sleeping Whitman.
I stared at those pouty, red lips and kissed my camera screen and told him that his Momma was waiting for him.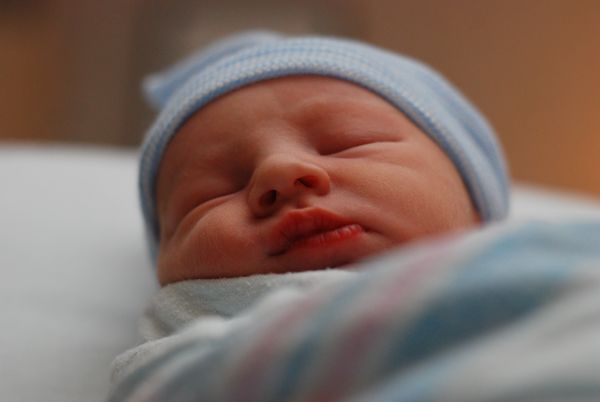 I wasn't holding my baby, but it was enough. It was enough to get me through the next two hours until they wheeled him into our room.

And, then I got to hold him for the first time. And, just as precious to me, I got to look up and see my husband holding him...

Part 2 - tomorrow.