*Oh, man, I had a hard time choosing this time! You all submitted some great titles. The winning title now sitting on top of this post - "Do I have something in my teeth?" - was submitted by Davesgirl. She happens to know my husband quite well - being one of his childhood friends - and her title was perfect for this photo of Jason's little mini-me.

Thanks to all who participated. I always have so much fun reading your entries in these contests! I'll do another one soon.

===========================================================================

This week, we made applesauce together. Me and my boys.

Yesterday, I made more. I am currently obsessed with making applesauce. I am filling my freezer with as many quart sized bags of applesauce as it will hold. But, that really has nothing to do with today's post.

After my boys and I finished making our (first batch of) applesauce on Sunday, I left my splattered kitchen a disaster and hurried off to feed Whitman.

When my baby was fed and burped and happily swingin' away, I came back to clean up, and found my oldest boy...

Just. like. this.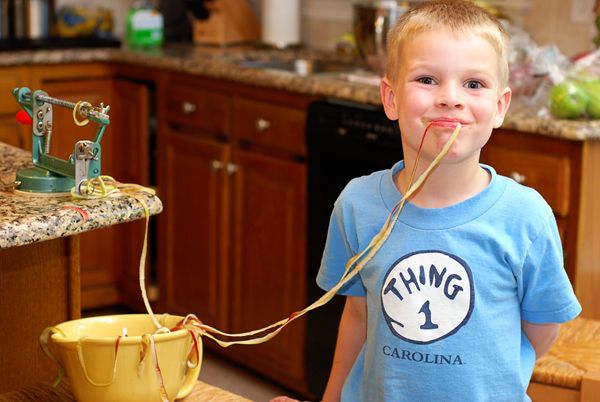 This picture tells a story all on its own. Only I can't seem to pin it down in a few words for a title.

SO, today - I thought we'd play another round of [You Pick the Title] and I'll let you all choose the title for this photo.

Leave a funny, profound, silly, serious, whatever-suits-your-fancy title in the comments. If you've got more than one, feel free to leave as many as you'd like. I'll sort through them and pick a winner and post the winning title up top later tonight!

Happy Wednesday, y'all.