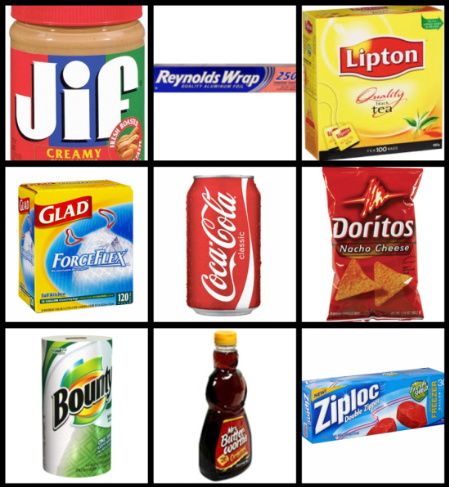 My sister and I met at Chick-fil-A yesterday morning. Our little buddies ran around the play area for two hours while we chatted and laughed and tried to decide if the breakfast burrito was good or not. We kept going back and forth.

Total toss up.

I think I'm just not a breakfast burrito person. Somethin' just ain't right about it. Maybe I'll give it another whirl, but for now, I'm sticking with the local Mexican place for all things burrito.

We got on the subject of saving money at the grocery store. We talk about that a lot. Between the two of us, we've got 8 boys to feed - two big ones, and 6 littles.

Both of us shop at a variety of places - Target, Walmart, BJ's, two different grocery stores, Trader Joe's, Aldi's, and Whole Foods. And, we buy different things at different places - store brands and name brands.

So, I asked her, "OK, so what are the name brand items you're willing to splurge on? You know, generic won't cut it. It's got to be the name brand."

She immediately shouted, "FOIL!"

To which I sounded a hearty, "AMEN!" Reynolds Wrap, baby. ONLY Reynolds Wrap.

She followed up immediately with "TRASH BAGS!" Yes. Absolutely. Glad or Hefty. One ripped, cheap trash bag leaking all over the kitchen is not worth the savings. Period.

Later that afternoon, I really gave it some good thought.

What are the name brands that I buy - faithfully - even if the store brand is cheaper or another brand is on sale?

I immediately thought of a few:

Jif Peanut Butter.
Lipton Tea Bags.
Doritos.
Bounty Paper Towels.
Coke.
Ziploc Freezer Bags.
Mrs. Butterworth's Syrup.

So, what about you? What are the brand names you consistently buy - even if you'd save money on the store brand or another brand's on sale?

Let's discuss.