I post a lot of recipes here on Short Stop.

According to my sidebar, I've posted 163 recipes in the three and half years I've been blogging! That's a lot of grub.

You might think it would be difficult to choose a favorite recipe from all of the food I post on here. Wouldn't you? I mean, how could I choose just one?

Well, today - I'm posting my hands-down, all-time, most favorite recipe!

Today, I'm sharing our family recipe for Stuffed French Toast.

If I could only serve ONE dish to company for the rest of my life, it would be Stuffed French Toast.

If I could only have one thing for breakfast for the rest of my life, it would be Stuffed French Toast.

If I could get you to make just ONE dish from this site, and then come back and tell me what you thought of it, it would be Stuffed French Toast. Because I know, absolutely know, that you will love this recipe.

Italian bread is stuffed with a sweet cream cheese filling, then dipped in eggs, cream, and vanilla, then sprinkled with cinnamon and grilled to toasty perfection - then topped with warm apricot syrup.

Sounds pretty good, huh? Oh, it is! It is incredibly good!

I normally don't post this many pictures for one recipe, but because I want ALL of you, newbie cooks as well as experienced chefs, to be able to make it, I'm posting every single step. If you are a newbie cook, you will be a ROCK STAR if you serve this to your friends or family. I promise!

Let's get to makin' it.

First, make the cream cheese filling. In a medium mixing bowl, combine one package of softened cream cheese...
Two tablespoons of sugar...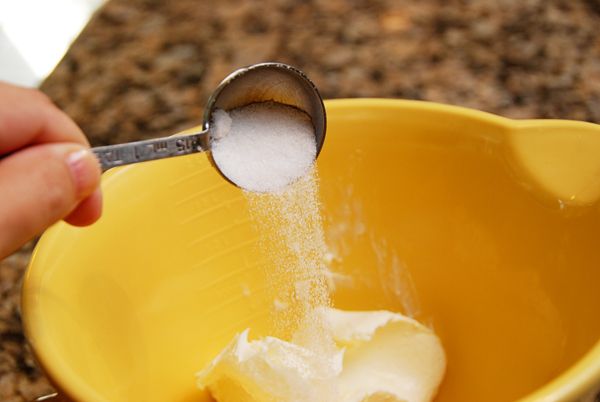 And, one teaspoon of vanilla.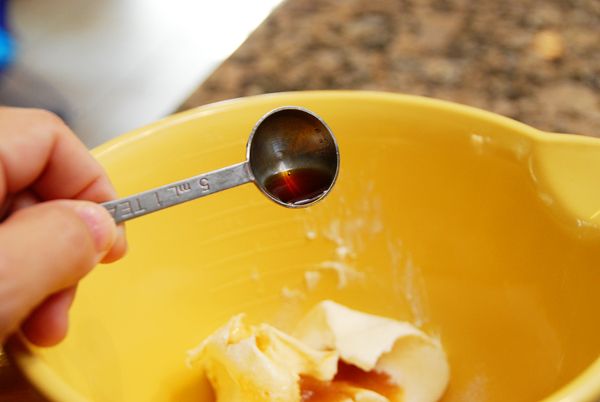 Using a hand mixer, beat until smooth and fluffy. Set aside and DO NOT begin eating it. It'll be too hard to put down and then you'll have to make up another batch to finish the recipe.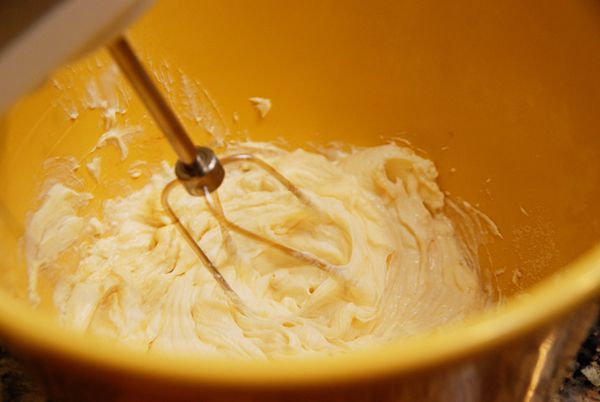 Next, prepare the egg/cream mixture. Add four eggs (I used five this time because I was going by memory and well...) to a shallow dish.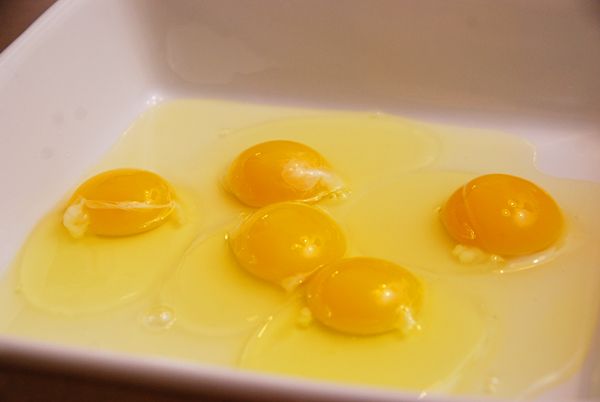 Add one cup of heavy cream or half and half. (Either works fine. I use whatever I have on hand.)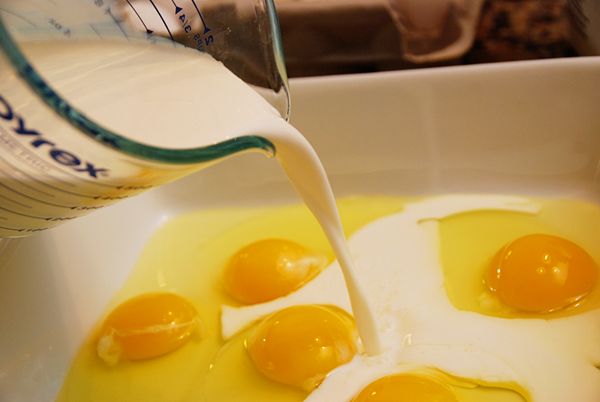 And, add 1/2 teaspoon of vanilla.
Beat with a whisk until combined.
Next, it's time to prepare the bread. You will need one loaf of Italian bread. You want bread from the bakery section that comes in one whole loaf, not sliced. You'll see why in a minute.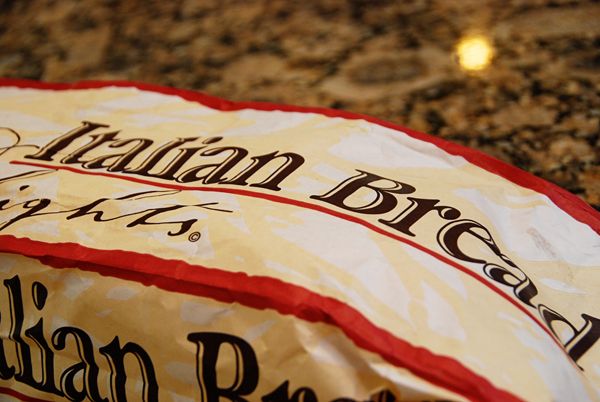 First, start by cutting the bread into 1 1/2-inch slices.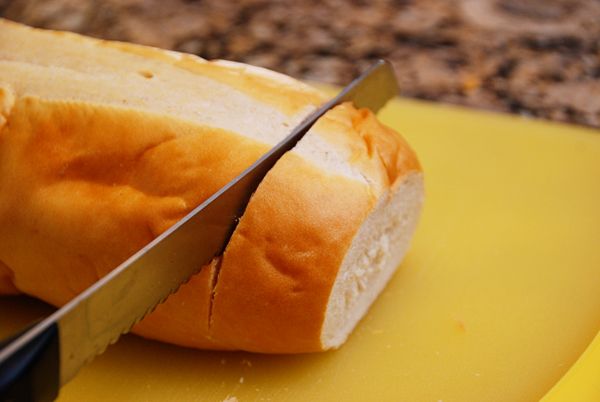 This next step is really important. Begin to cut the slices in half, but ONLY slice 3/4 of the way down.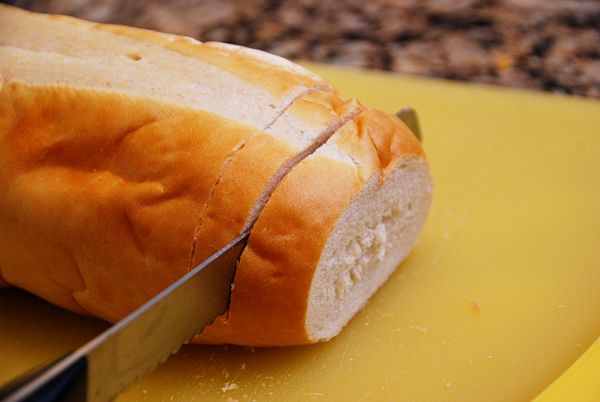 Essentially what you're doing is creating a pocket in each slice. Perfect for stuffing so that the filling won't fall out when you grill it.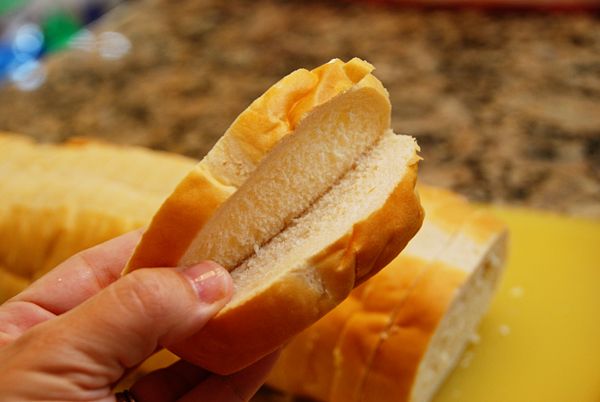 Once you're finished, you have an entire loaf of french toast ready to be stuffed.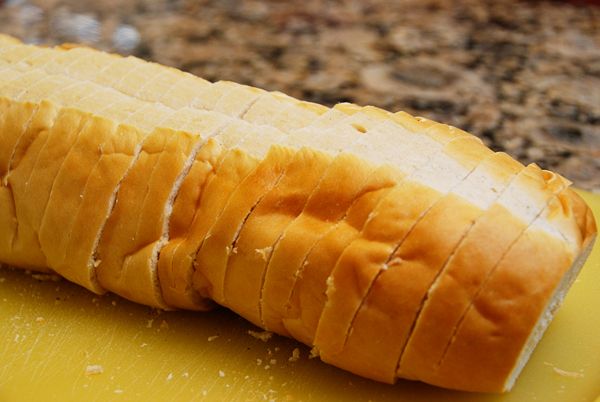 Time to stuff! Spread a couple of tablespoons of cream cheese filling evenly inside each pocket.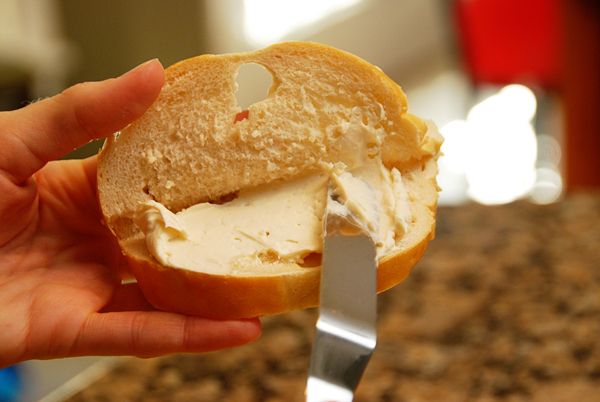 This is one loaf, stuffed and ready to go - about 12 slices.
These are my sweet little bowl scrapers - they LOVE this filling! I LOVE them! :)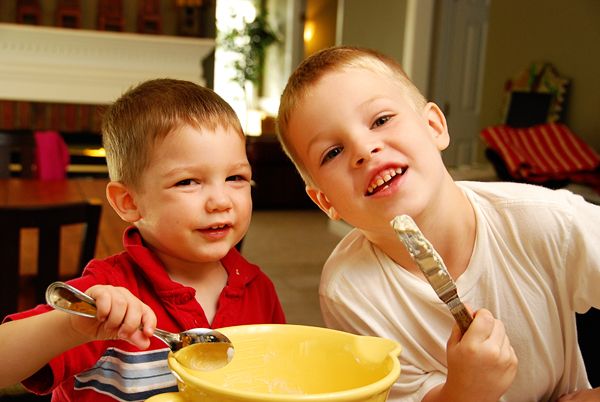 Now it's time to grill them. Put a couple of tablespoons of butter on a griddle/frying pan, whatever you use to make pancakes or french toast, and heat over medium heat. Dip each slice of stuffed bread into the egg/cream mixture and coat on both sides.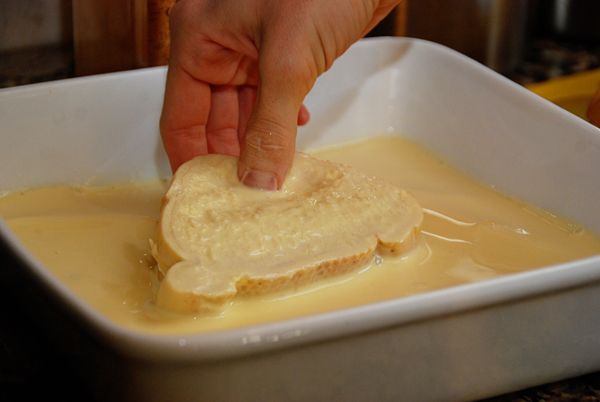 Place bread onto hot pan.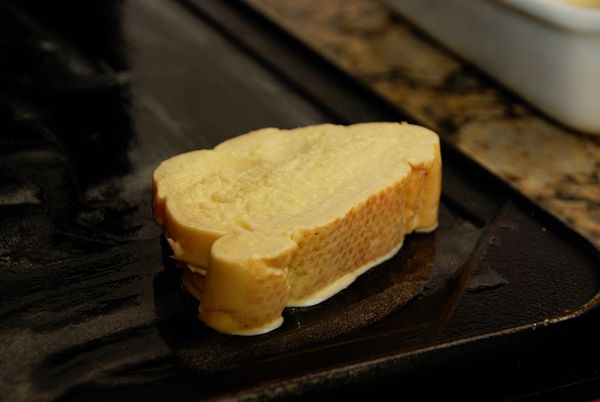 Once you've fit as many as you can onto your pan, sprinkle the upsides with cinnamon.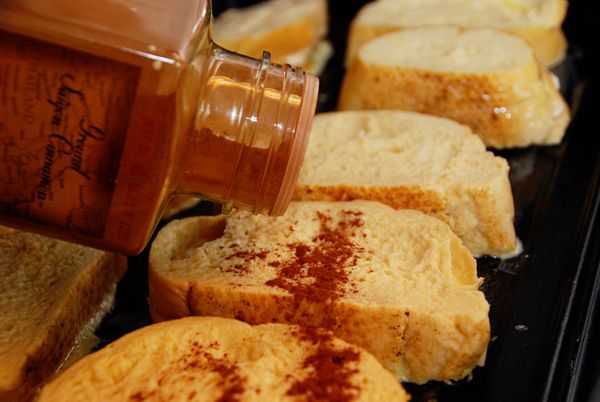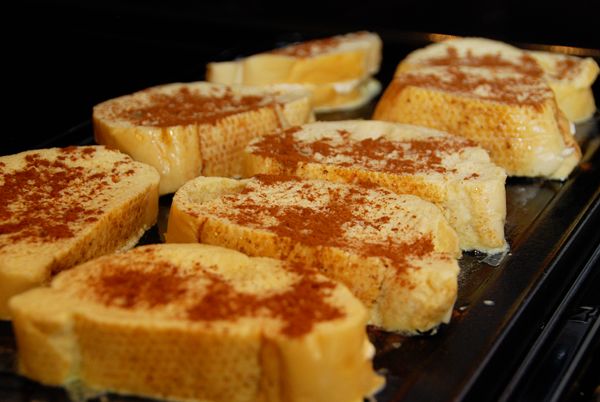 After cooking for 2-3 minutes on the first side, flip 'em. You don't need to put cinnamon on this side.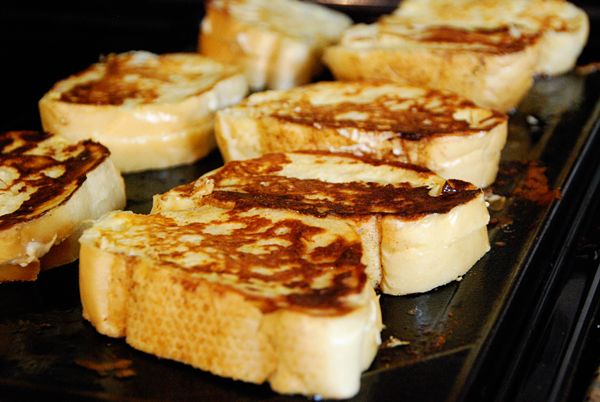 Once you've completed grilling all of the bread, you have one large platter of Stuffed French Toast.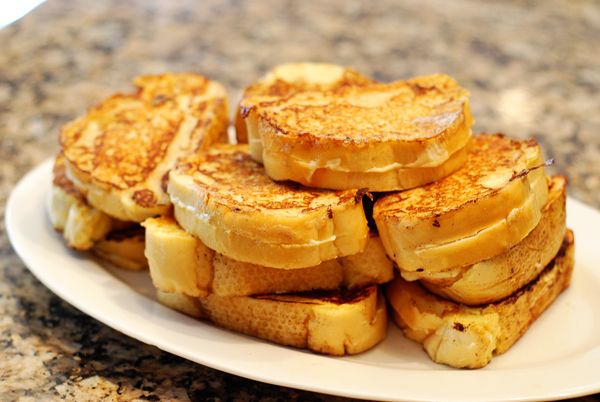 Now for the topping. (And, I usually do this and let it heat up while I'm cooking my french toast.) Take one jar of apricot preserves.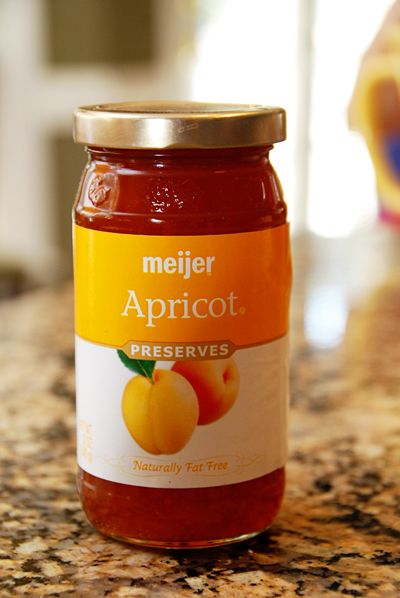 ,
And, combine it with 1/2 cup of orange juice.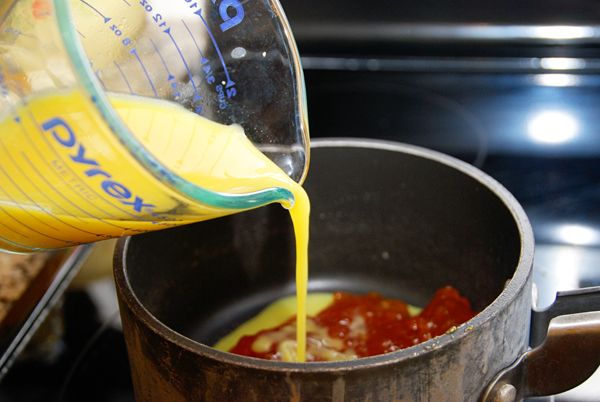 Heat over low heat, stirring occasionally, until warm and smooth.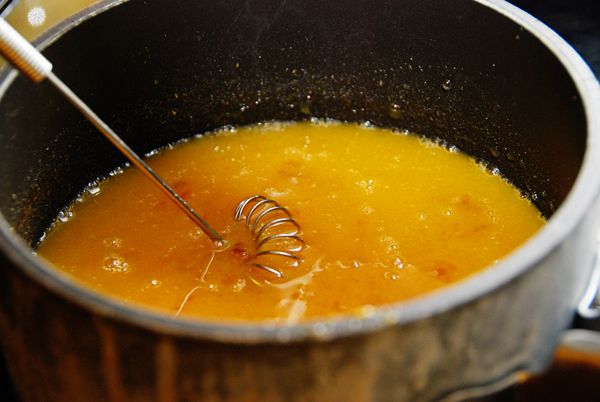 This is how you put it together. Take one (or four!) slice(s) of stuffed french toast...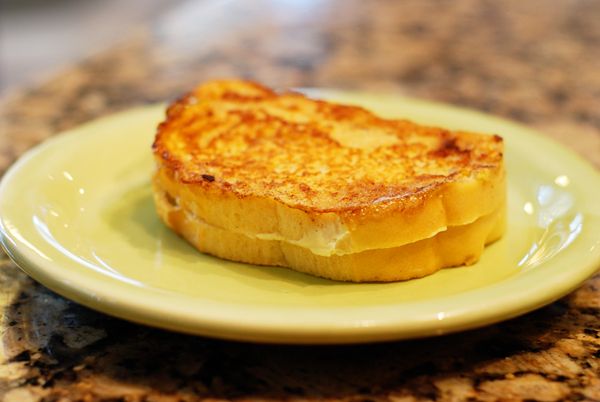 And, pour the warm apricot topping over the french toast. You will not find better french toast. Anywhere. YUM!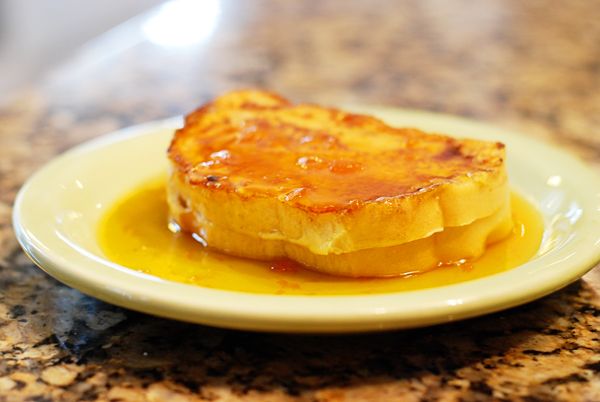 Or, if you prefer, you can top it with syrup.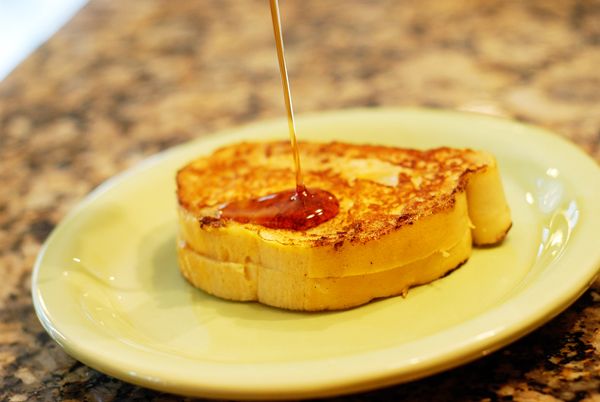 My kids like it this way.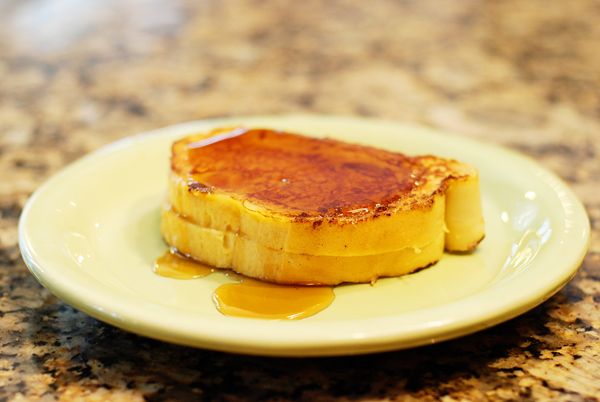 But, really - this is Stuffed French Toast. Warm french toast, stuffed with sweet cream cheese filling, and topped with warm apricot sauce.

Absolutely divine.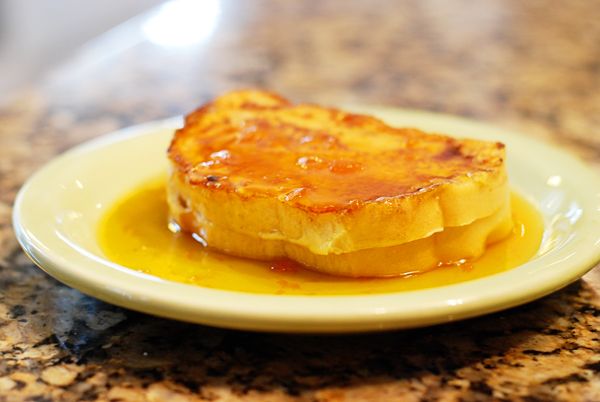 With the holidays approaching, I wanted to share this recipe with you so that you could make it for your friends and family this year. Served alongside some bacon and sausagge, Christmas just wouldn't be Christmas at our house without it.

I love this recipe. I know you will, too!

Enjoy!

Stuffed French Toast

1 loaf Italian Bread
8 oz. cream cheese, softened
2 tablespoons sugar
1 teaspoon vanilla
4 eggs
1 cup whipping cream or half and half
1/2 teaspoon vanilla
cinnamon

Combine cream cheese, sugar, and 1 teaspoon vanilla and beat until smooth and fluffy.

Slice bread into 12, 1 1/2-inch slices and then cut a slit down the middle for filling.

In a shallow dish, beat together eggs, whipping cream (or half and half), and 1/2 teaspoon vanilla.

Fill each bread slice with 2 tablespoons of cream cheese mixture. Dip stuffed bread slices into egg mixture and cook on greased griddle or pan. Sprinkle one side of bread with cinnamon before flipping. Cook until golden brown. Serve with syrup or fruit topping.

Fruit Topping

1 (12 ounce) jar apricot preserves
1/2 cup orange juice

Heat preserves and juice together in a small saucepan on low and drizzle over hot french toast.

I submitted this post as part of We Are That Family's Works For Me Wednesday.