My husband and I are crazy about Mexican food.

And, so are my littles.

Which is why there are so many Mexican recipes on this blog:
Date Night Fajita Nachos.
Chicken Tortilla Soup.
Chipotle Grilled Chicken Quesadillas.
SG's Chili Cheese Potato Skins.
Chicken Empanadas.
Black Bean and Corn Chicken Chili.
Triple Pepper Overstuffed Chicken Quesadillas.
Black Bean and Corn Salsa.

So, when my mother-in-law asked me to make a Mexican themed appetizer for my sister-in-law's baby shower last month, I couldn't wait to get started.

I have been toying around with the idea of a Mexican breakfast casserole, but haven't experimented enough yet to have a recipe to post here. But, I love the idea of eggs and cream paired with black beans, veggies, and Mexican spices.

Because I needed a tapas-type recipe for the shower, I took what I'd come up with for the Mexican casserole, and used it to adapt a recipe into Mini Mexican Quiches. They are savory and flavorful and melt-in-your-mouth yummy. Filled with red pepper, green chilies, and black beans - they are perfectly Mexican, perfectly cheesy, and perfectly bite-sized.

Here's how to make 'em.

First, make the dough and the egg/cream mixture. (see recipe below)

Once the dough has chilled, press balls of the dough into the bottoms of mini muffin pans to create little crusts.
Fill each crust with one teaspoon of finely chopped red pepper and one teaspoon of chopped green chilies.
Top with a few black beans.
Then spoon the egg and cream mixture into each shell. Don't worry if you spill, make a mess, dribble. I never worry about such things.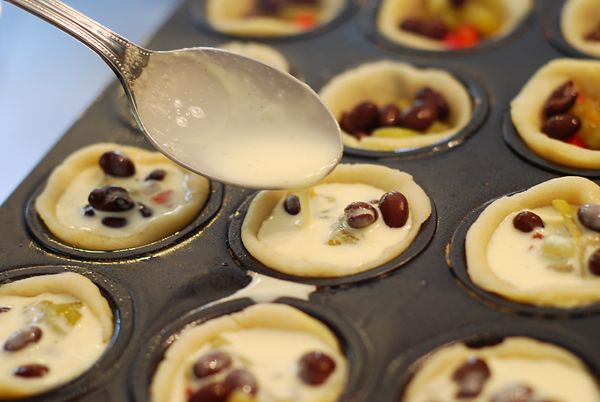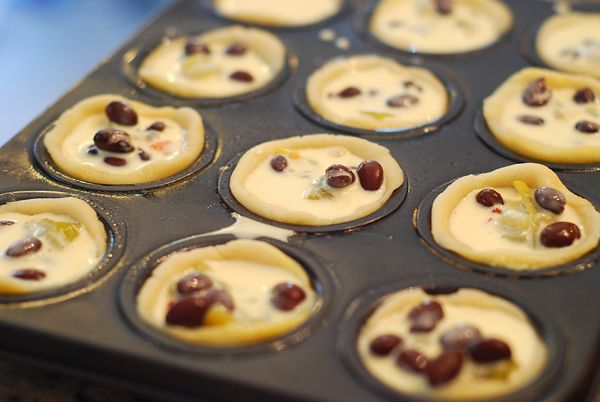 Top each shell with cheese.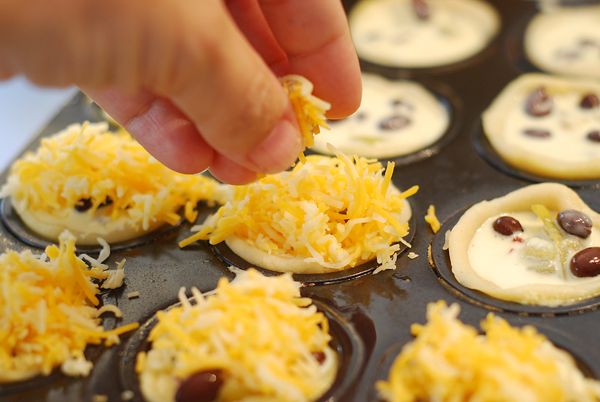 Bake at 350 degrees for 30 minutes.

Out come beautiful Mini Mexican Quiches.


If you like cilantro (of which we just had a lengthy discussion) , you can serve them with Amy's Cilantro Cream Sauce. *I posted that recipe in a post just below this one.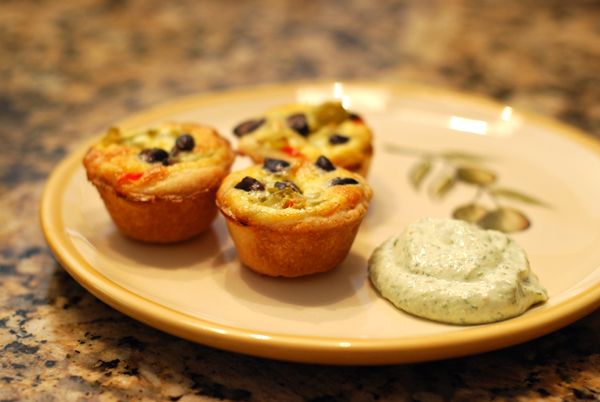 If you don't like cilantro, you can make up this easy dip.

Combine 1/2 cup of sour cream...
And one cup of Salsa Verde. Feel free to spice it up with some garlic powder, cumin, cayenne pepper, etc.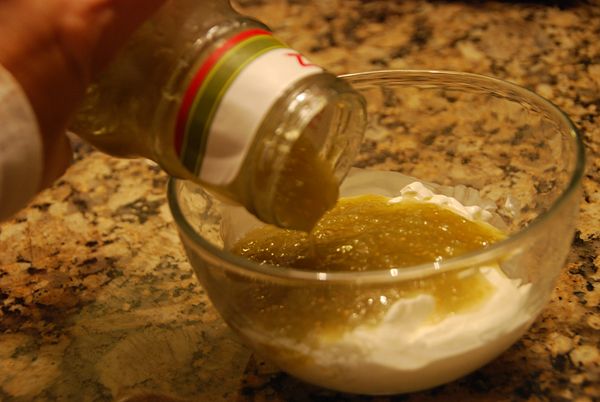 It makes a cool, delicious dip to serve alongside these little quiches.

And, there's NO cilantro!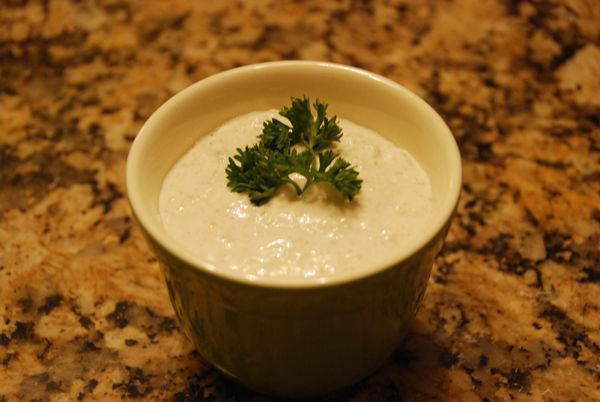 I hope you make these for your family or take them along to your next party or get-together. I loved them and will be making them, again, soon!

Mini Mexican Quiches
adapted from allrecipes.com...

1/2 cup butter, softened
1 (3 ounce) package cream cheese, softened
1 cup flour
1 (15 ounce) can black beans, drained
1/2 red pepper, finely chopped
1 cup Monterey Jack cheese, shredded
1 (4 ounce) can chopped green chilies, drained
2 eggs
1/2 cup whipping cream
1/4 teaspoon salt
1/8 teaspoon pepper

Dipping Sauce:

1/2 cup sour cream
1 cup salsa verde
1/2 teaspoon garlic powder, optional
1/2 teaspoon cumin, optional
pinch cayenne pepper, optional

In a small mixing bowl, cream butter and cream cheese. Add flour. Beat until well blended. Shape into 24 balls; cover and refrigerate for 1 hour. In a bowl, beat eggs, cream, salt and pepper. Set aside.

Press balls onto the bottom and up the sides of greased mini muffin cups. Sprinkle 1 teaspoon finely chopped red pepper, 1 teaspoon green chilies, and a few black beans into each shell. Spoon egg and cream mixture over beans and veggies. Top with cheese.

Bake at 350 degrees for 30 minutes or until golden brown. Remove from muffin pans and let sit for 5 minutes before serving.

*These freeze perfectly. Just bake as directed, then cool and freeze until needed. When ready to serve, bake for 10-15 minutes at 350 degrees until heated through.