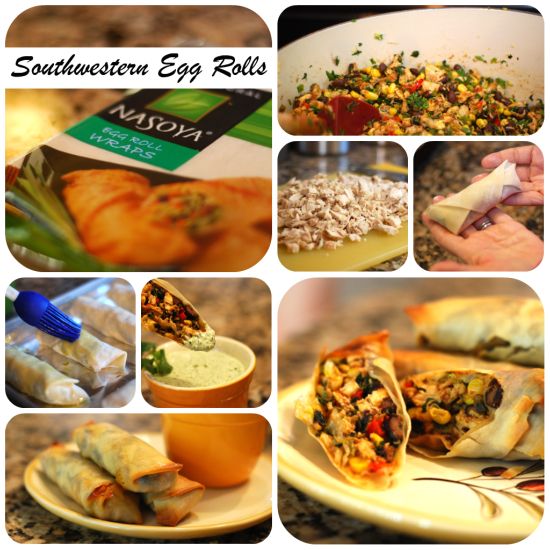 As I mentioned last week, we love Mexican food at our house.

And, this recipe is our new favorite.

There is a restaurant in Baltimore called Bill Bateman's Bistro. BB's has killer buffalo wings.

And, the best Southwestern Egg Rolls. E-VAH!

So, when my mother-in-law made this homemade version of those savory, spicy, flavorful delights, my husband and I took one bite, looked at each other and said, "BILL BATEMAN'S"!

These Southwestern Egg Rolls are just as good, if not better, than the ones we'd order at Bill Bateman's. The ones at the chain restaurant that starts with Ch- and ends with -ili's - well, these blow those out of the water.

I submit to you that these are among the BEST football game eats on earth. I've been making them every week since I first tasted them. Every week. So not kidding .

And, I've got no plans to stop. They're just so good.

All or some of them can go right into the freezer - for you to pull out whenever you feel like having one. Husband out of town? These are a MAJOR score for me who usually eats the leftovers off of my kids plates of mac & cheese when he's gone.

Let's get to makin' 'em!

First, heat two tablespoons of vegetable oil in a large pot and sauté some red pepper and green onion for five minutes.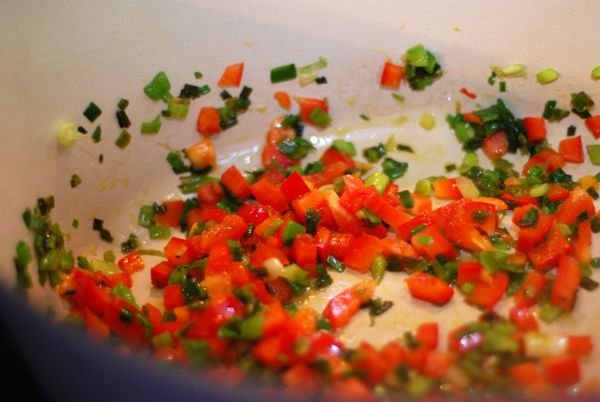 Chop up one pound of roasted chicken breast and add it to the pot. (Click here for instructions on roasting chicken breast, if you need them.)
Then, start adding all the other ingredients - just stirring as you go along.

First, add chopped jalapeno. As much or as little as you like. (This recipe makes them mildly spicy. I always add a little more.)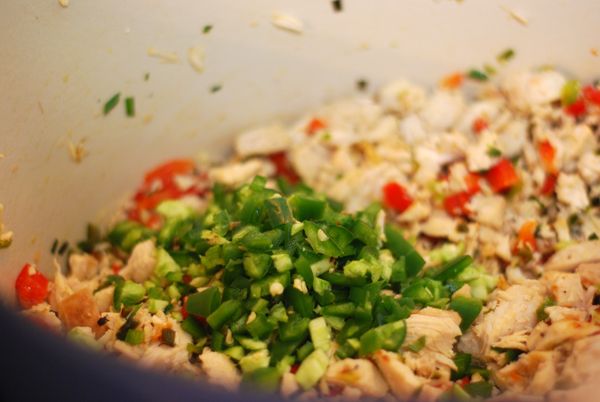 Frozen corn. (Yes, frozen - right out of the bag!)
Black beans.
Spinach. (Frozen - but defrosted.)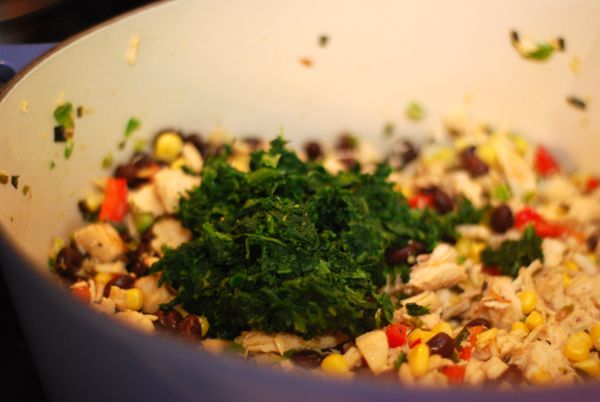 Now to spice it up and give it some marvelous flavor. Add parsley, cumin, chili powder, salt, and cayenne pepper.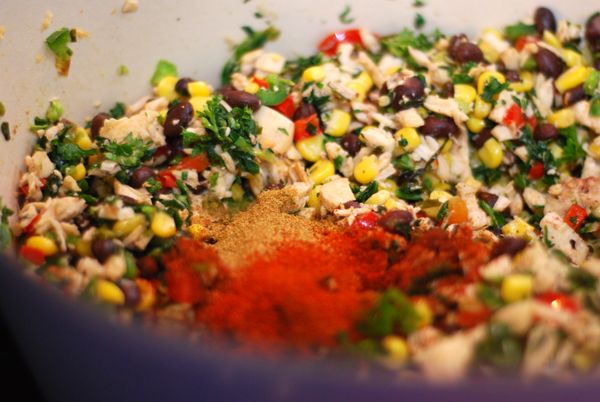 Stir it all together over medium heat to really combine the spices with the rest of the ingredients. Remove from heat.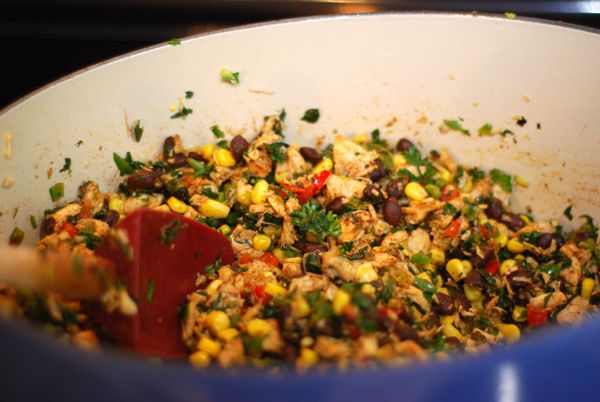 Next, add three cups of cheese. I used sharp white cheddar, but you can use Monterey Jack, Mexican Blend, mild cheddar - whatever you like.
Oh, my. This stuff is good.
Now that the filling is finished, it's time to make the egg rolls.

Here are egg roll wraps. You can get them at just about any grocery store. I also found them at my Super Target in the produce section.
Lay one wrapper onto a flat surface with a corner of the wrapper facing towards you. Place several tablespoons of filling into the wrap.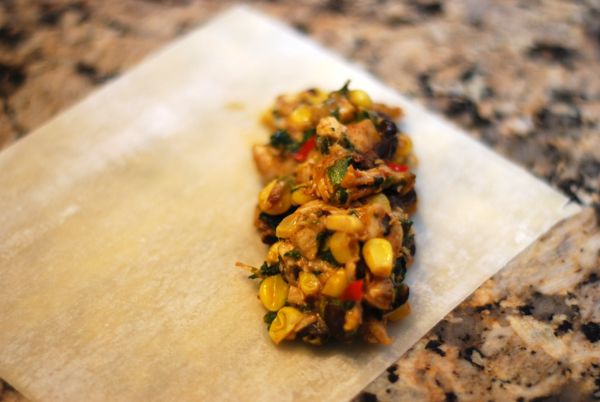 Slowly roll up the wrapper starting at the point.
And tuck under the filling as you're rolling.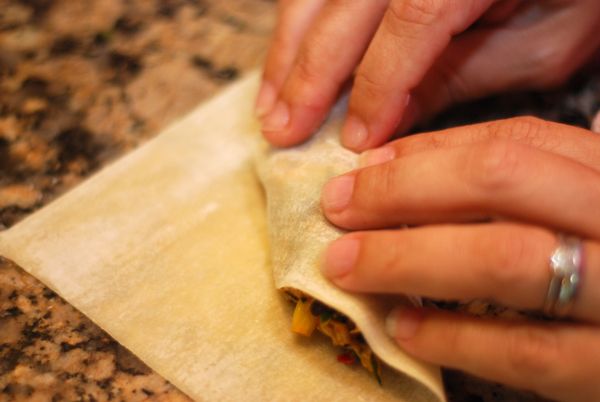 Once you get to the center of the wrapper, tuck in the sides.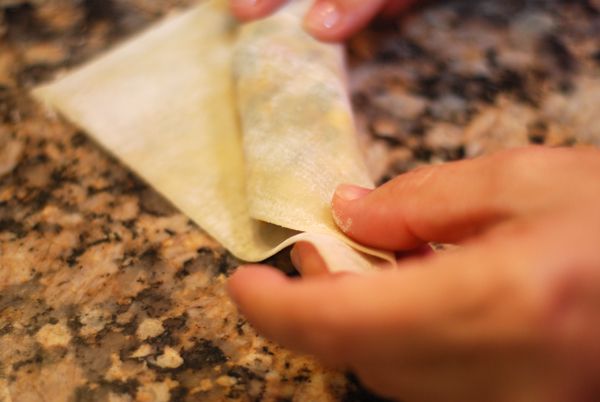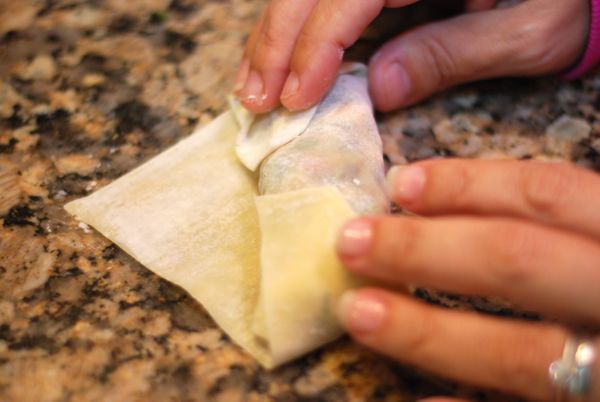 Dab your finger into a cup of water and dab the end of the wrapper with water. This will help seal the wrapper when you finish rolling.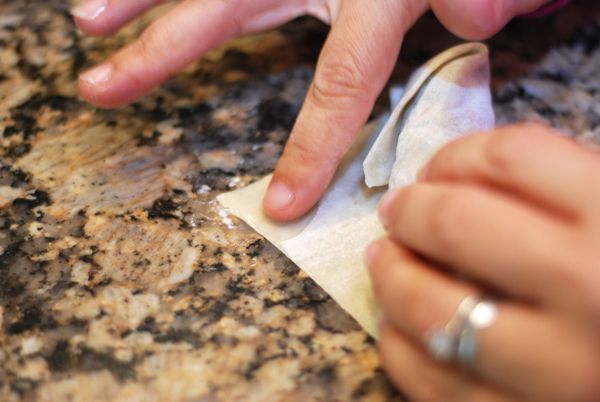 Here is the upside of a finished, wrapped egg roll.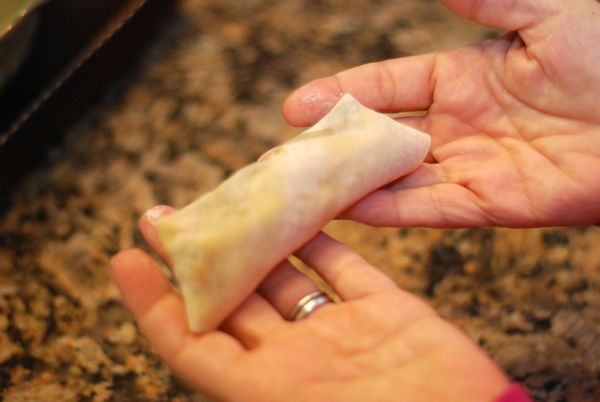 And, here is the underside - with the sealed corner and edges keeping everything inside.
If you don't need to eat all of them now - place whatever you don't need onto a cookie sheet and into the freezer. Once they're frozen, put them into a freezer bag. LOVE recipes where I can do that!

If you're ready to eat these suckers, place them on a cookie sheet/jelly roll pan - whatever size pans fits what you need.
Brush them with vegetable oil - on the top and bottom. (I tried brushing them with olive oil for one batch - much better with vegetable oil.)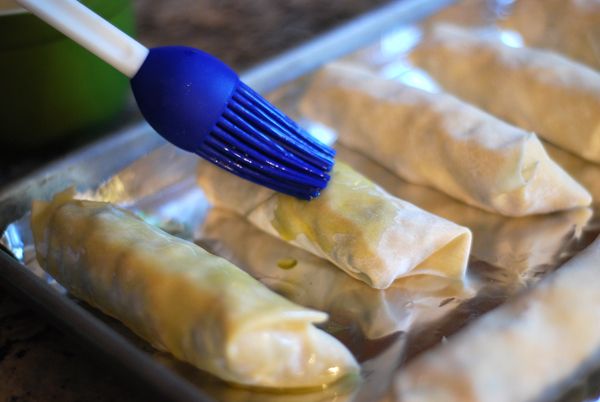 The original recipe calls for deep frying flour tortillas, but why deep fry when you can achieve the same, crispy outside by baking egg roll wrappers?

Bake, babies, bake!
Presenting: Southwestern Egg Rolls - all wrapped up and waiting to be devoured.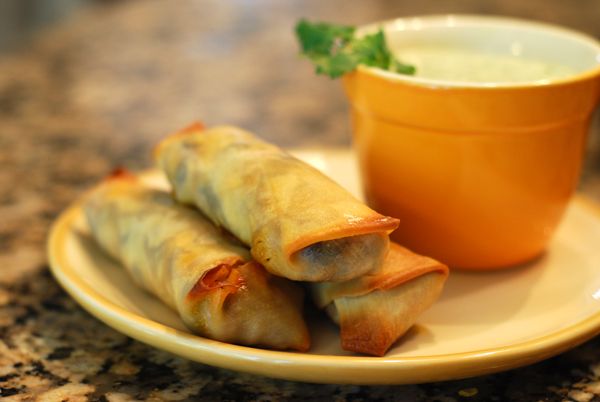 Wanna see the inside? Of course you do!

I sliced them on a steep diagonal. They look all professional-like cut this way.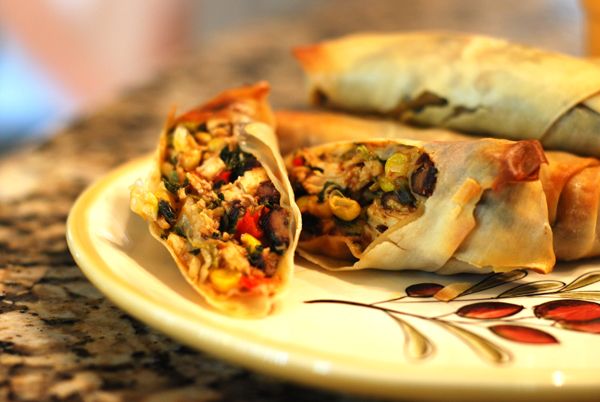 These are delicious all on their own. But, if you want the BEST dipping sauce for them, make Amy's Cilantro Cream Sauce that I posted last week. That's what we have with them. (Of course, if you are a cilantro-hater, you can use the dip I posted on the Mini Mexican Quiches recipe.)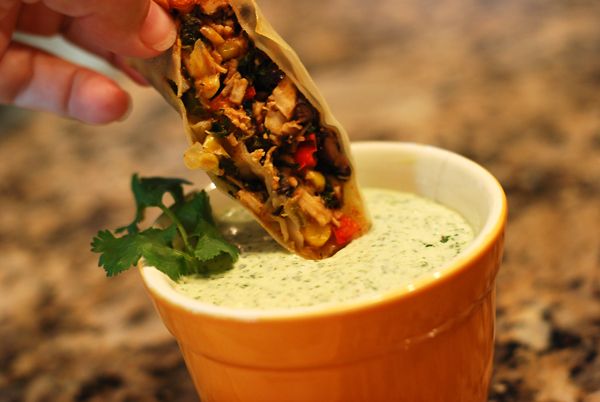 Yeah, baby. Some of the best Mexican eats we've had 'round these parts in a long time.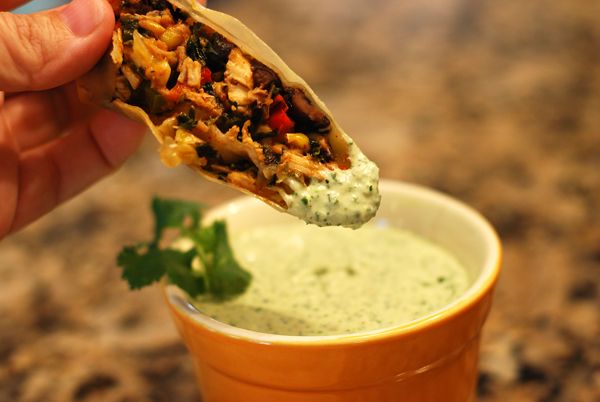 Make these for your friends. Take 'em to a party. Have 'em for dinner with some Mexican rice. Store them in the freezer and just have 'em when you want 'em.

I know you'll love these! (And, PLEASE don't look below, see the written recipe, and say, "Too many ingredients." You're just dumping everything in a pot, stirring and rolling up. That's it!)

Enjoy!

Southwestern Egg Rolls
adapted from allrecipes.com.

2 tablespoons vegetable oil
1 pound chicken breast, roasted
1/4 cup green onion, finely chopped
1/2 red bell pepper, finely chopped
1 cup frozen corn kernels
1 (15 ounce) can black beans, rinsed and drained
1/4 cup frozen chopped spinach, thawed and drained
1/8 cup jalapenos, finely chopped (or to taste)
2 tablespoons fresh parsley, minced
2 teaspoons cumin
2 teaspoons chili powder
1 1/2 teaspoons salt
1/4 teaspoon ground cayenne pepper
2 cups shredded Monterey Jack or cheddar cheese
1 pack (24/pack) egg roll wraps
vegetable oil

Heat 2 tablespoons vegetable oil in a medium/large saucepan or pot over medium heat. Stir in green onion and red pepper. Cook and stir 5 minutes, until tender.

Dice chicken and mix into the pan with onion and red pepper. Mix in frozen corn, black beans, spinach, jalapeno peppers, parsley, cumin, chili powder, salt and cayenne pepper. Cook and stir 5 minutes, until well blended. Remove from heat and stir in cheese until it is thoroughly incorporated and melted.

Spoon even amounts of the mixture into each egg roll wrap. Starting at one corner, roll up wrap and fold in sides. Dab a small amount of water on opposite corner and secure wrap. Arrange on a baking sheet. Brush with vegetable oil on all sides.

Bake at 450 degrees for 10-12 minutes, or until egg roll wraps are crispy on the outside.

*Updated to add: We recently bought a deep fryer, and tried deep frying these. They do get crispier on the outside and have more of the deep-fried crunch and flavor of egg rolls served in restaurants. But, baking is still the healthier option and easier when needing a large amount ready at the same time.

*If making from frozen, bake at 400 degrees for 20 minutes, or until filling in the center is heated through and outside is crispy.