Do you know what happens when you have four young children?

Family invitations to dinner, to parties, to get-togethers, to people's houses - they dwindle down to about nothin' as your family grows.

Maybe the two oldest can come over to play? Hey, would you all like to go out to dinner - leave the kiddos at home? How about we meet at the park sometime - where it's not so crazy?

I get it. I totally get it. Kids are rowdy. They're whiny. They're crazy and needy and they make a mess. Multiply that by four, add in two parents who try to smile and nod nicely while discreetly trying to wipe off mashed potatoes that one of their children has smeared under the table - and well, it's not really a "dinner party". It's a "chaos" party. It's a "lay it all out there for everyone to see" party.

It's a "No wonder no one wants to invite us over" party.

As my husband and I have contemplated this, we've decided that while we're raising our young children, we're gonna embrace the chaos.

We're having parties!

We're going to swing open the doors of our home, and invite our friends over who have oodles of children - just like we do.

And, we're going to lay our lives open in the spirit of loving one another during this season of life, loving our friends' children, and just sharing life together.

So, this past weekend, we threw a Gingerbread House Decorating Party for our friends.

10 adults.
14 children.

Yes. FOURTEEN children - all under age 10.

Do we live in a mansion? No.
Do we have nannies and maids to clean up? No.
Did we have a herd of teenage babysitters on hand to help? Nope.

It was our family. Our friends. And, all of their children.

We asked each family to bring a Gingerbread house. I made a big pot of macaroni and cheese (the boxed kind that kids LOVE!) and two large pots of chili and our friends brought the fixin's. It was a perfect, easy meal. Paper plates, paper cups, plastic bowls, a red marker - I kept it really simple.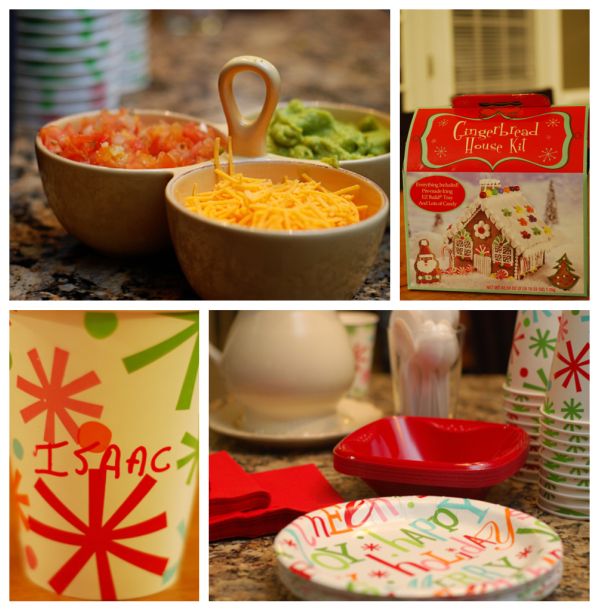 We ate - very casually - sitting and standing all over the kitchen and family room.

Then we broke into our Gingerbread houses.

We set up stations all over our kitchen - three families at our kitchen table, one at the island, and one at our white kids' table.

And, we decorated. Oh, did we decorate.

Candies.
Peppermints.
Candy Canes.

We had a blast!
Creativity was at work all over the room. Icicles, Santas...sliding roofs? We just laughed and went with it.
We coated the place in icing. We laughed. We encouraged our kids. We passed the baby around. We made fun of the engineers and their meticulousness.

We didn't care about pretenses. We didn't worry about being judged. We were...we ARE all in the same crazy boat.

At the end of the night, our five families each had a Gingerbread House.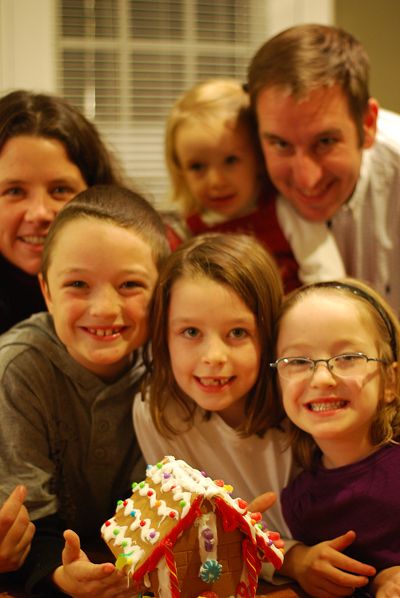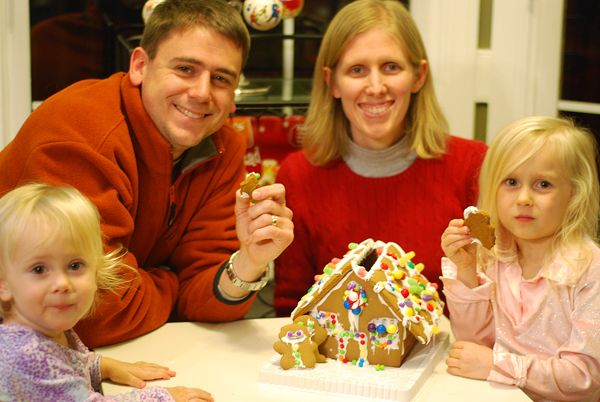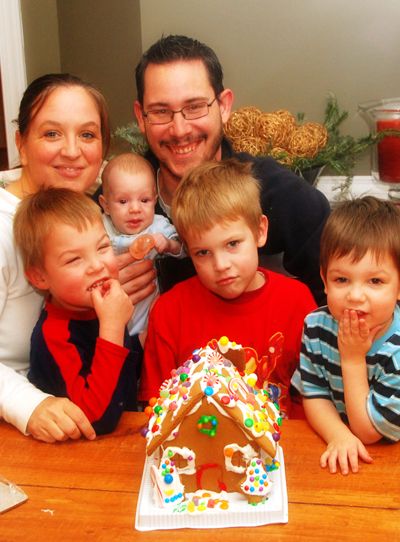 A high five to Beth and Jeremy and their family - who we all agree created the prettiest, most perfect Gingerbread house of the night! Yes, Jeremy is an engineer. We felt compelled to make fun of him. We all had Gingerbread House envy.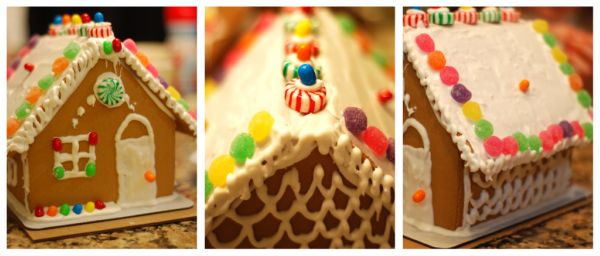 But, even more than our decorated houses - we left with memories of a night filled with fun and laughter - in our new town with our new friends and all of our children.

All 24 of us - embracing the crazy and spending an evening together - eating, decorating, drinking coffee - and celebrating our friendship this Christmas season.
And, these precious little faces?

What a treat for them. What gifts they are to us and our kids.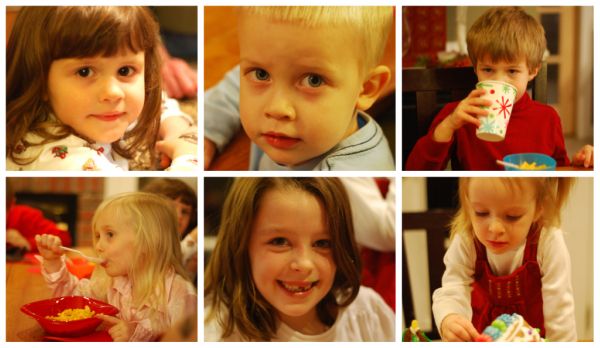 We loved having them in our home. We plan on having them here a whole bunch more.