Preface: I do not delight in the crying, weeping, and wailing of my children.

Except when they're newborn babies in the bathtub. And, perhaps a small handful of other circumstances.

After all, bathtime is short-lived, it's for their own good, and because I'm on top of my A game every time I have a baby, they get bathed at least once a month day.

All four of my little whippersnappers - from the now-almost-as-tall-as-I-am 6-year-old to my tiny, little, wrinkly newborn - have cried and carried on in the bath during their first few months of life as if it were the worst torture known to man.

It's quite a spectacle.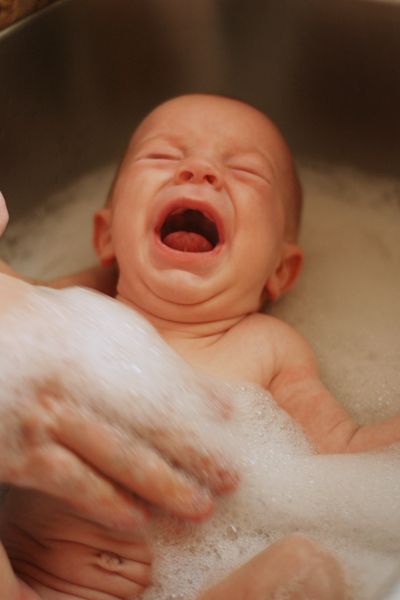 Daddy, why? Why are you doing this to me?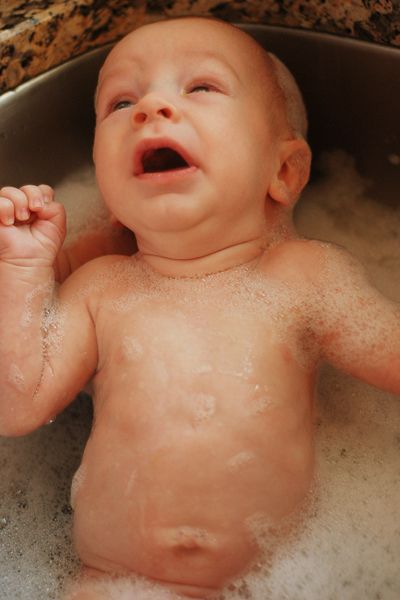 God, why did you send me down to these cruel, cruel people?
Is no one listening to me?
Bathtime typically ends like this. Oh, the injustice of it all.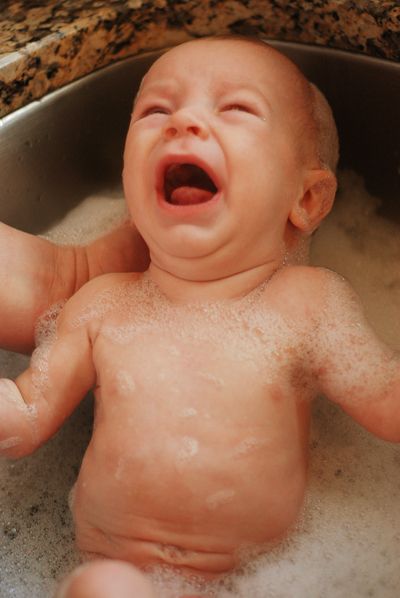 Because he's so tiny, and since we have our new fancy schmancy sink, we (meaning: my husband with me standing idly by with my camera) decided to bathe Whit in the kitchen sink this past weekend instead of setting up the baby bathtub on the kitchen table.

Well, the moment I turned on the faucet, the crying immediately ceased.

He was enamored.
So, I nudged my partner in crime aside and scooped up my baby and stuck him under the faucet. I thought maybe he'd like it.

It was not Whit's idea of a rip-roarin' good time.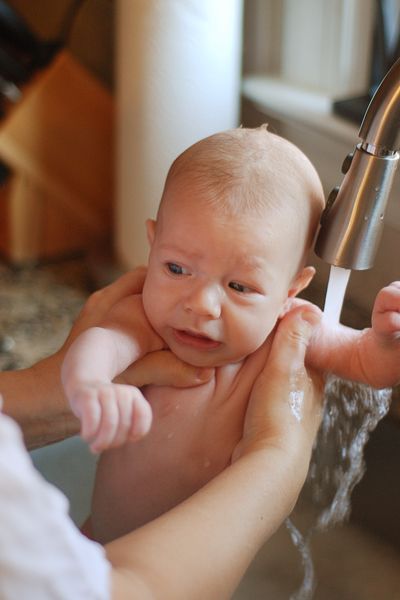 It was during this faucet debacle that it happened.

He spotted me.

And, realized that I was part of the torture he was suffering.

He shot my husband a look of absolute horror, of shock, of utter betrayal.

She is part of this, too? My Momma - the one who snuggles me and loves on me and changes me and feeds me and ...

I thought an all out return to the weeping and gnashing of teeth was about to rear its ugly head again.
I handed him back to his Daddy so that I could return to my picture-taking duties of the meltdown that was about to occur, and that's when it happened...

He spotted them.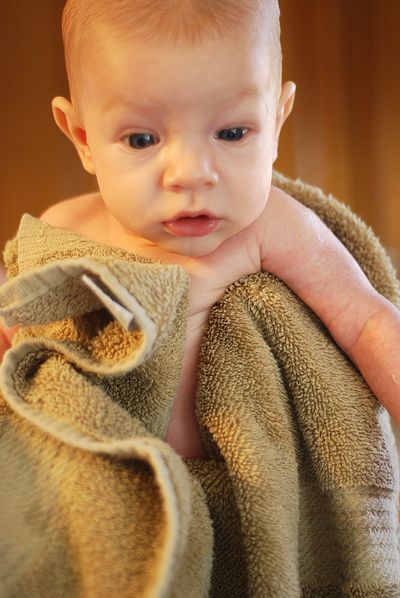 The horrors of bathtime and the sting of betrayal by his Momma were quickly forgotten, and all was right in his world, again.

Happiness and joy and hope were all wrapped up in just one word.

Bo*obs Lunch.