This picture of my husband is one of my favorites of him.

Sleeves rolled up, loading the dishwasher.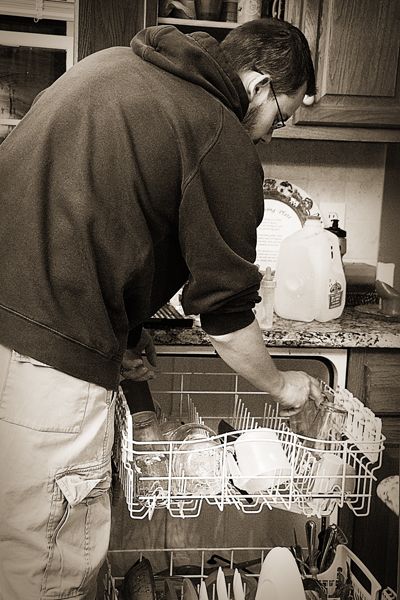 It speaks volumes to me, as his wife.

Love.
Grace.
Tender care.
Servanthood.
Humility.

I grew up in a household where men didn't do those things. My Dad did the yardwork. He took out the trash. He spent Saturdays out back with my brothers - cleaning up trash in the yard and mowing and then they went fishing.

After dinner, he laid on the sofa and read the newspaper. He didn't wash the dishes.

Did he work hard? Oh my, yes. Sometimes after school, I would ride my bike down to the courthouse, slip into the back row, and watch him while he questioned witnesses and waved his arms about making his case. If he spotted me, he'd wink at me. He worked really hard for us.

But, he didn't do the dishes. That was my mom's job, my sisters' job.

A woman's work. It was how he was raised.

When my husband and I returned from our honeymoon and settled into our life as newlyweds, he did something I never expected him to do.

We'd finish dinner, and he'd pick up the plates, take them to the sink, rinse them, load them into the dishwasher, and start washing the pots and pans. He'd shew me into the family room with a magazine.

I'd sit on the sofa and read.

It was all shades of backwards. Shouldn't I be doing the dishes? Shouldn't he be the one reading? Who is this man?

As I sat at the dining room table at my in-law's this Christmas, taking pictures of my baby while I chatted with my mother-in-law and sisters, I looked up into the kitchen.

And, I saw what I know my husband has seen modeled hundreds of times before.

Love.
Grace.
Tender care.
Servanthood.
Humility.
This is my father-in-law - doing what he always does after dinner. Caring for and loving Mom - while she relaxes and chats with her daughters. Humbly loving his family. Modeling for his sons, and now his grandsons what true servant leadership looks like.
Since God chose you to be the holy people he loves, you must clothe yourselves with tenderhearted mercy, kindness, humility, gentleness, and patience.
Colossians 3:12
I have four sons.

My prayer for them is that they are watching their father - just as he watched his. That when they begin families of their own, they embody grace, tender care, selfless giving. That their love for their wives compels them to find ways that they can serve and love her.

That one day, they pass onto their sons this legacy of love, grace, and tender care that began many generations before them.