So, you're going to a party, (maybe a Super Bowl party), and you need to bring an appetizer.

But, you want something different.

You want something easy.

You want something that will make everyone's eyes scan the room as they holler over the crowd, "WHO BROUGHT THIS CHEESE STUFF?"

This recipe, that my mother-in-law often makes when we come to visit, fits that bill perfectly. We often have it as a Thanksgiving or Christmas appetizer, but it is perfect year-round.

I love cheese and crackers. It's one of the first things I go for on a table - even before I reach for a hot dip.

This recipe just takes that simple concept to another level: Cream cheese and cheddar cheese - sliced and layered alternately and covered in a delicious herby marinade - soaked overnight until absolutely divine.

Yes, please. Over and over. Yes, please.

I love how pretty it is - no matter where it's placed on the table. And, no matter what the view.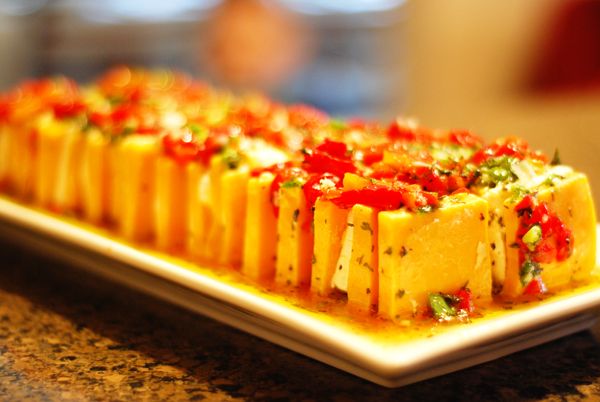 I could eat this stuff all day long. So delicious.

Here are a few tips and change-ups:

1. Got fresh basil? Add it instead of dried.

2. Like a little kick? Add a bit of crushed red pepper to the marinade. OR, use pepper jack cheese instead of cheddar.

3. Play with the cheese selection: white cheddar, Monterey jack, pepper jack, Swiss. Create the combination you like!

4. Serve with sliced baguette instead of crackers. YUM!

Try this recipe next time you're throwing a party or heading to a friend's house. This one will become a great addition to your take-a-long appetizer collection.

Enjoy!
Marinated Cheese

1/2 cup olive oil
1/2 cup white wine vinegar
3 tablespoon chopped fresh parsley
3 tablespoon minced green onions
1 teaspoon sugar
3/4 teaspoon dried basil
1/2 teaspoon salt
1/2 teaspoon freshly ground pepper
3 cloves garlic minced
1 (2 ounce) jar diced pimento, drained
1 (8 ounce) block sharp cheddar cheese (8 oz), chilled
1 (8 ounce) pkg cream cheese, chilled

Combine first 10 ingredients in a jar or dish with a lid; cover tightly, and shake vigorously. Set mixture aside.

Cut block of cheddar cheese in half lengthwise. Cut crosswise into 1/4- inch-thick slices. Set aside. Repeat with cream cheese. Arrange slices alternately in a shallow baking dish, standing slices on edges. Pour marinade over cheese slices. Cover and marinade for at least 8 hours.

Transfer cheese slices to a serving platter in the same alternating pattern,reserving marinade. Spoon marinade over cheese slices.

Serve with assorted crackers.