My Jack started Kindergarten this year.

All day. Every day.

Let's just say it's been quite an adjustment.

(For his Momma.)

But, it has been such a joy to watch my boy grow and develop and learn and change and thrive in Kindergarten. It has been a HUGE blessing in his life. Some days, I look at him and I can't believe he's the same kid that he was last summer.

I love being the Mom of a Kindergartner. He goes to a fantastic school, and they've done some really fun things this year.

(The writing of his name and the 20 names of his classmates on valentines last week excluded. That one has been filed under "pain in the toosh".)

This past weekend, we worked on his 100th Day of School Project. He was sent home with a large blue poster with a big "100" in the middle, and a set of instructions to glue or paste 100 things onto the poster - sorted in groups of 10 where the lines divided. The only other instructions were to allow him to use his creativity.

We thought about candies, pasta, pom-poms, cereal...none of them really made us excited to work on it.

There are two things that encompass the majority of my boy's world: Star Wars and Legos.

He is obsessed. Literally obsessed. With both.

Much to the joy, happiness, and glee of his father.

As we started to brainstorm, we knew that Jack had 100 Star Wars Lego pieces in his arsenal. Based on the number of times I've stepped on them, it's probably more like 1,000. But, there was no way on God's green earth those things were going to school. Even glued to a poster.

So, we came up with a way to incorporate both Star Wars and Legos those into his 100th Day of School project.

First, we covered up the simple 100 in the middle of the poster with a printout of a large Lego Millennium Falcon. Using Photoshop, we (operating word: I) placed a transparent 100 in the middle.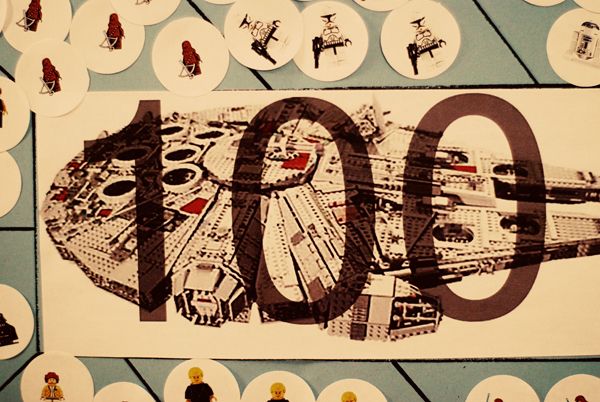 Then we found images of 10 of the Lego Star Wars characters on the web, created an 8 1/2" x 11" sheet containing the images of each character - then printed it out 10 times.

Using the 1 1/4" side of the Creative Memories Circle Maker, we punched out each character.

Next, we sorted them into piles, and arranged them onto his poster, and using a tape runner, he (without help) pasted them into place.

It was SO much fun! For both of us.

"We seem to be made to suffer. It's our lot in life."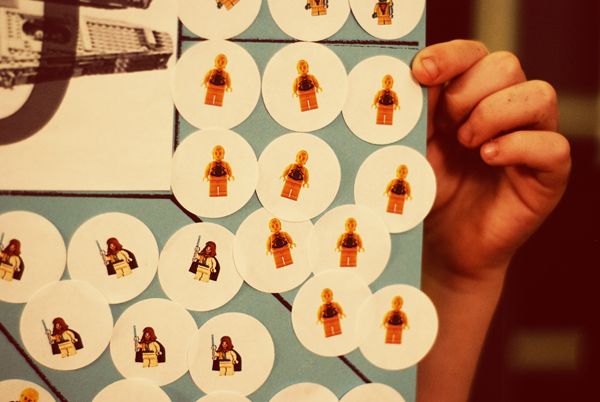 "Beep-Beep. Fweep. Weee-ooo."
"Size matters not. Look at me. Judge me by size, do you?"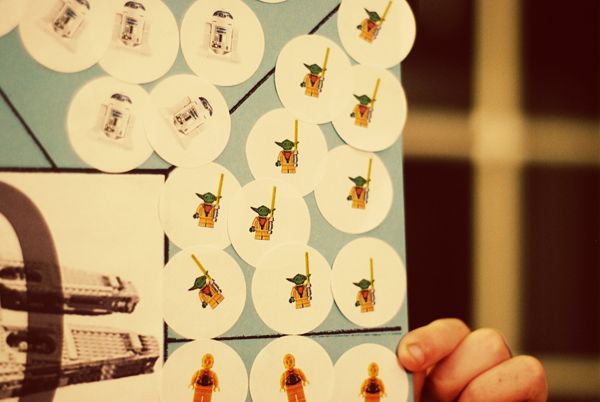 "I haven't gone by the name of Obi-Wan since...oh, before you were born."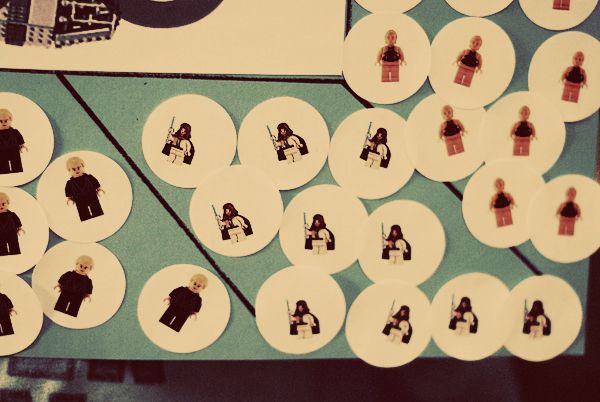 "I sense something, a presence I've not felt since......."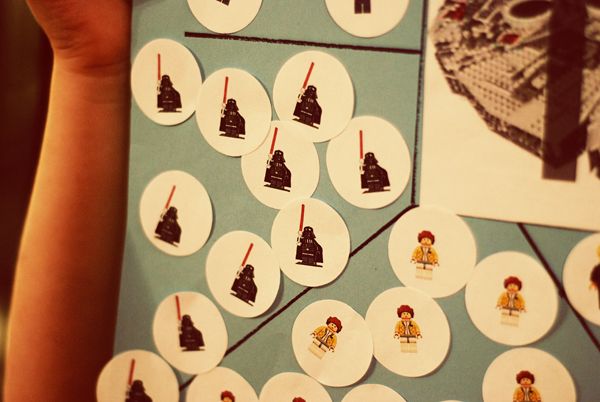 "These aren't the droids we're looking for."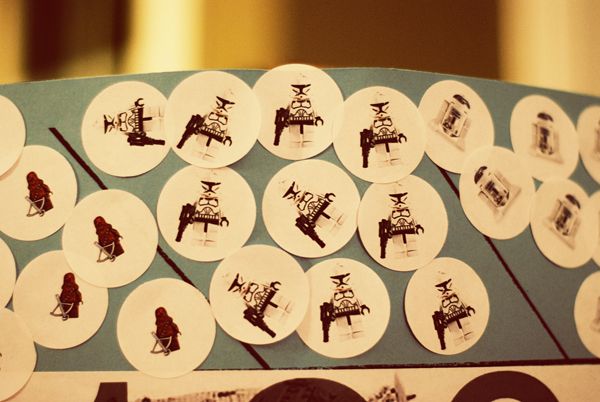 "But I was going into Tosche Station to pick up some power converters!"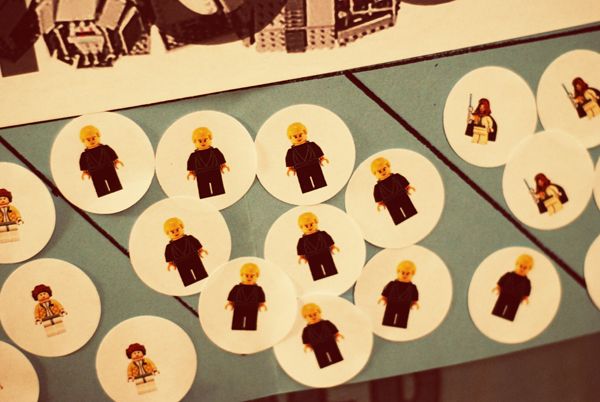 Would you believe that before I met my husband, I'd NEVER seen Star Wars? My boys (big and small) have turned me into a junkie.

(God is chuckling. I hear it from time to time.)

And, here is my Jack.

Holding up his finished project.

Hiding from my camera - which is happening more and more these days. There is this strange shyness that's come about him this year. A sense of reserve. A little less exhibitionist toddler and a little more "please don't look at me" boy.

Don't tell him you know, but behind that poster, is the sweetest, proudest, happiest Star Wars Lego-loving Kindergartner you've ever seen.
*Want the printables from this project? You can find a link to my album containing all of the Star Wars Lego figures and Millennium Falcon in this project by clicking here.

*These cut-outs would be great for invitations, homemade cards, or glued to a white popsicle stick inserted into cupcakes. My boys are loving just playing with these - sorting, imagining, and creating stories.