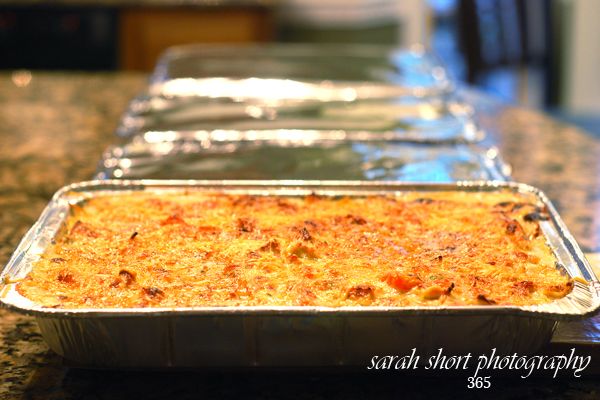 Every time I make dishes that are freezer-friendly, I make enough for that night's dinner, and at least one extra to put in the freezer.

Thinking ahead - taking that bit of extra time - really saves me on so many days when dinner seems utterly overwhelming and we would otherwise have to order pizza or go out.

Chicken Tetrazzini is the exception. I always make FOUR batches.

One for tonight. Three more for those crazy, overwhelming days.

It's my favorite freeze ahead meal - everybody in our family loves it. And, it is just as easy to make four pans of it as it is to make one. Some freezer meals aren't like that - a double batch being all I can muster the time and energy for, but Chicken Tetrazzini is as easy to quadruple as it is to make just one.

So tonight, my family is happily fed with one of our most favorite dishes. And, for three other nights this month, on days when I'm tired or overwhelmed or just can't deal with dinner, we'll have one of our favorites. And, I won't have to cook!

Or better yet, I have a meal ready to invite over some friends on a whim, or to take someone in need a good, home-cooked dinner.

Blessing my family.
Blessing others.
Getting a much needed break.

That's what I love about freezer cooking!

*I included the freezing instructions for our family's Chicken Tetrazzini at the end of the recipe. You'll find both the recipe and freezing instructions here.