This is me.

At the hair salon.

On July 16, 2010.

235 days ago. 7 months, 20 days ago.

I was 8 months pregnant with Whitman.

That was a loooong time ago.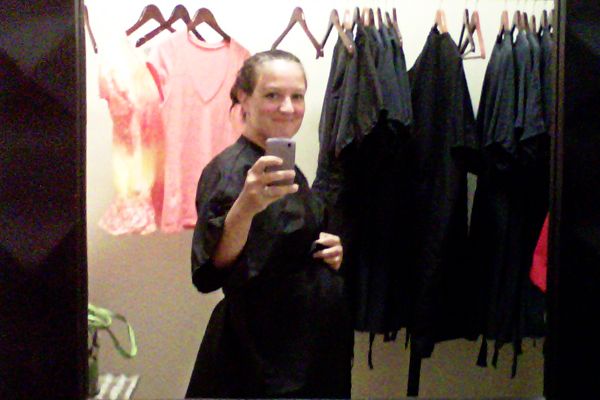 That was the last time I got my hair cut. Or had my grey covered. Or read People magazine while I sipped a Starbucks mocha in absolute peace. Or laid back in a comfy chair and had my hair washed.

I didn't really plan on waiting this long. It's just expensive and I have kind of boring hair - long, straight, and other than the fact that grey is colonizing and expanding from east to west and north to south all over my head, heading to the salon is generally not something I think about much.

I'm going to get my haircut today, and saying "goodbye" to the grey. I'm really looking forward to a few hours of pampering. As I made my appointment last week, I started to think about how little I do things like this. And, how every time I come home from a few hours away from all of my children, my husband, and all of my responsibilities - I feel so wonderfully refreshed.

But, I just don't take time to get away very often.

I am very, very rarely away from my children and husband to do something "for myself".

That is in part - very deliberate. I love being at home. My hobbies and activities and things that I really enjoy - are all things centered around home. Cooking, baking, blogging, even photography - I don't need to venture out much to enjoy those things.

And, while my hobbies center around home, I know that's not the case for everybody. I think one of the best things mothers can do is to have a hobby or two - one or two things that remind us (and our husbands) that we're not just "worn out, tired, baby carrot-coated Mommies".

But, there is something, a way of thinking about time away, that has always rubbed me the wrong way.

It goes something like this:

- "Well, my husband just KNOWS that I need a break and WE JUST HAVE THIS AGREEMENT that I'm getting out two nights a week."

- "I have got to have "ME" time!"

- "When he gets home from work, I hand the kids over and I'm OUTTA there."

- "I called him at work and said, 'Don't even bother turning the car off when you pull into the garage. I'm leaving to get out of here the minute you get home.'"

I have heard (or overheard), verbatim, every single one of those statements. And, some of them from women I really respect as mothers.

I understand those statements. I do. I understand, most of all, what's behind them. Motherhood is exhausting, labor-intensive, mentally challenging, emotionally draining work. Every day. Every minute.

But, I just can't be like that. I don't want to be like that. There is an attitude expressed in those statements that communicates an entitlement that I'm not convinced a mother is - well, entitled to.

Regular, twice-a-week outings with friends?

Dumping the kids on my "just pulled into the driveway", hard-working husband?

Me. Me. And, oh yeah, ME?

There must be a grace-filled way to approach a mother's desire for time away. There must be a way - somewhere in between "exasperated entitlement", and very, very rarely.

I guess this is the question I've been struggling to answer:

How, as a Mom, can I find times of refreshment - time that serves to nurture a healthy, loving, and gracious attitude towards my family that is only strengthened through time away from them?

I know that these times make me a better mother. They make me grateful for my family, they help me to feel like a woman when motherhood drains that. They remind me that I'm Jason's wife and lover, a friend and sister, a girl who has fun shopping for new clothes and who loves to belly laugh and can I get a WHOOP WHOOP? - I'm a girl who loves to GET MY ROOTS DONE!

So, in the spirit of wanting to hear some different perspectives on "time away", can I ask you:

What kinds of things do you do to find "refreshment"? Do you have regularly scheduled time away from your kids? How often? To my friends who are more experienced Moms, do you have some wisdom to share on this?

As I walk out the door for some much needed refreshment of my own, I'd love to hear your thoughts.