*Comments are now closed. Winners announced Monday.

For several years now, my husband has been reading The Jesus Storybook Bible to my children.

In fact, our first original copy was read so often that it began to fall apart after several years of being truly, truly loved by precious little two, three, and four year-old hands.

In December of 2009, we got the Deluxe Edition - a newly designed version of the Jesus Storybook Bible that also came with an audio CD of the stories. My boys listen to those at night before bed, at naptime, in the car - they are wonderfully narrated and the boys love listening to them.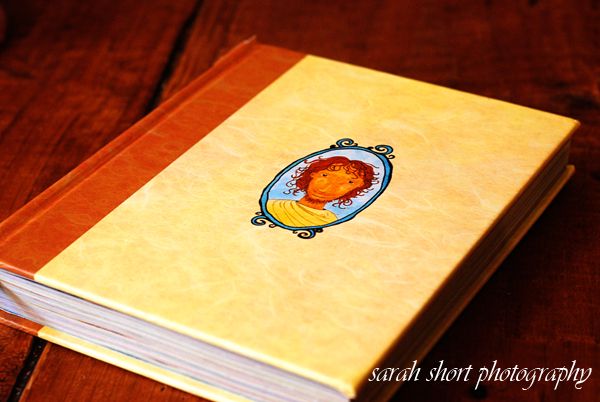 We started a new tradition this year of reading a story every night after dinner. It has been a rewarding time for our family - as the boys ask more and more probing questions, and stare wide-eyed at the pictures they've seen hundreds of times.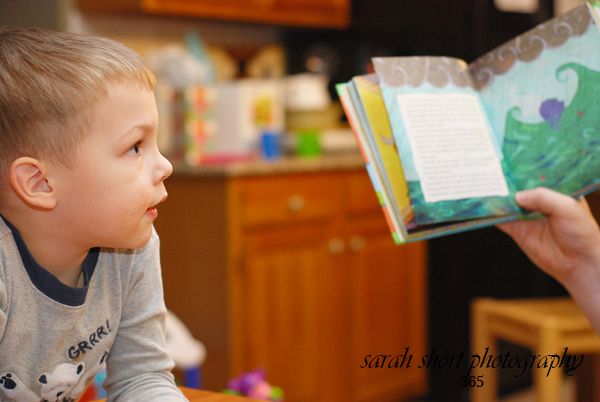 So you can imagine my excitement when two weeks ago, we received the brand new Large Trim Jesus Storybook Bible. This larger, keepsake version is 8.5" wide x 10" high - and it is perfect for reading aloud.
Here is our Deluxe Edition sitting next to the NEW Large Trim edition.

You can really see the difference in size.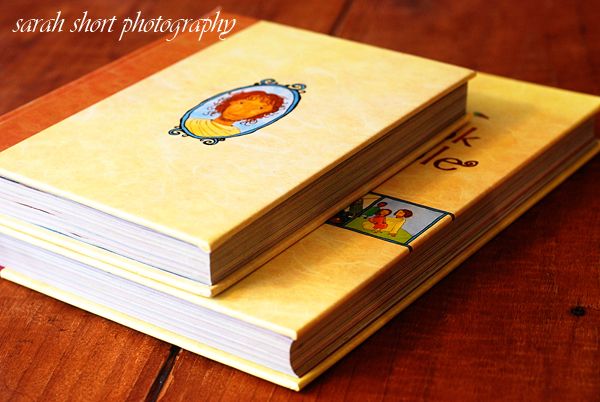 I also love the cover of the Large Trim. The illustrations are amazing in this book, and I love seeing a snapshot of them on the cover. This newer version is great for a coffee table - where little ones and their parents can sit and read and snuggle together.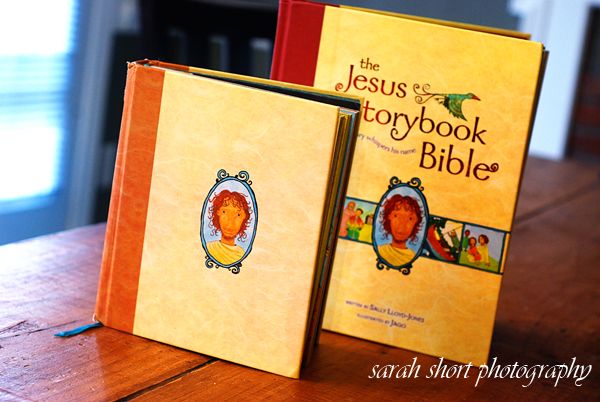 The Large Trim also has gorgeous foil lettering on the cover. I might not have noticed it, except that my boys constantly point out, "It sparkles, Momma!" I love that.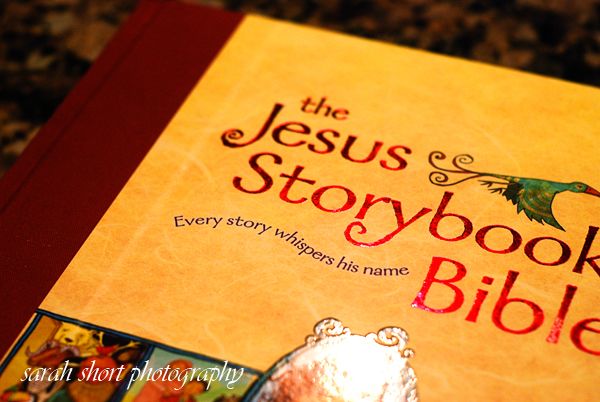 While the older, smaller versions contain the same illustrations as the new Large Trim edition, somehow, the bigger size just brings them even more to life.
This rainbow? You feel like you're right there, looking straight up at it.

"And there, in the clouds - just where the storm meets the sun - was a beautiful bow made of light.

It was a new beginning in God's world."
"Goliath walked towards David. THUD. THUD. THUD. 'You?' Goliath peered down at the small boy.

'I'm little!' David shouted up to him. "But God is great!'"

I love how these larger illustrations make that "THUD. THUD. THUD." even more powerful.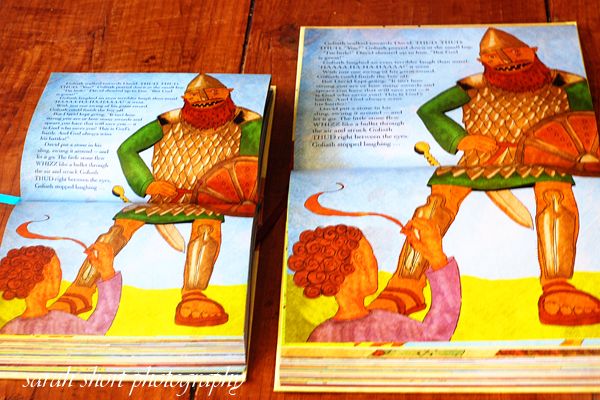 "Wherever Jesus went, lots of people went, too. They loved being near him. Old people. Young people. All kinds of people came to see Jesus."
This story, "The Singer", adapted from The Sermon on The Mount, is one of my favorites. I absolutely love the illustrations in this one.
Since I know that so many of you not only love Jesus, but LOVE The Jesus Storybook Bible, I want to share this wonderful new book with you.

So, today - I'm giving away 10 COPIES of The NEW! Large Trim Jesus Storybook Bible.

If you are unfamiliar with this great book and why we love it so much, you can learn more by reading my interview with Sally Lloyd-Jones and Jago, the illustrator of the book. You can read that interview here.

All you have to do to enter is to leave a comment on this post saying you'd like to be entered.

To give you some more chances to win, you can get up to FIVE EXTRA ENTRIES by doing any or all of the following:

1. Subscribe to Short Stop via email or RSS. The form is on my sidebar. (If you're already a subscriber, let me know in the comments.)
2. Become a fan on Facebook - http://facebook.com/shortstopblog. (If you're already a fan, leave a comment letting me know.)
3. Become a fan of The Jesus Storybook Bible on Facebook. (If you're already a fan, leave a comment letting me know!)
4. Post a link to this giveaway on Twitter.
5. Post a link to this giveaway on your Facebook page.

You MUST leave an additional comment for EACH of these things that you do so that the random thingy will count each of your entries. If you only leave one comment letting me know all of the things you did, you'll only get one entry. BOOOOOO! This giveaway will be open until Sunday night, March 20th at 8pm. I'll let the random thingy choose a winner and I'll announce the winner on Monday mornin'.

*If you're one of the winners, you can have this book shipped to anyone you'd like. With Easter approaching, I can think of so many people in my life that I'd love to give this book to. This has become my go-to new baby gift - and it would make a wonderful gift for grandchildren, nieces and nephews, or friends with little ones.

I have loved sharing this book with you over the last four years. I know you will love this new, larger version, too!

*Disclosure: I was provided with 10 copies of this book by Zondervan - to happily give away to you!