*I'm reposting this recipe, since it was deleted by Blogger during its outage, and I'm not sure if the original post will reappear.
I have this love/hate relationship with scones.

Love: When they're soft inside.
Hate: When they're hockey pucks.

Love: A crispy outside with a bit of crunch.
Hate: Hello, crumbly biscuit.

Love: A subtle sweetness.
Hate: I should have just ordered a cookie.

Good scones are really, really good. Bad scones can be really, really bad.

This recipe, that I got from my mother-in-law, is EVERYTHING good.

Had Goldilocks found scones instead of oatmeal at Casa Bear, she would have chosen *this* scone. It is just right.

The just-a-bit-of-crunch texture of the outside, combined with a soft, melt-in-your-mouth inside is what I love most about these.

They are so, so delicious.
And, this recipe is completely adaptable to what you like. Choose your favorite dried fruits, the ones that you love, and mix them in. Or just use one type of fruit. Omit the nuts, if you don't like them.

Play around with these. Just make them exactly how you like them.

But, the combination of all of these fruits makes for really beautiful scones - that are full of flavor, and makes each bite surprising and different.

If you've never made scones before, this recipe is very easy. And, because you bake them in a pie plate - in a circle - the inside stays soft, and outer crust gets just a tad crispy.

Perfect brunch food.
Perfect afternoon snack.
Perfect make-ahead and freeze for when company visits.

Enjoy!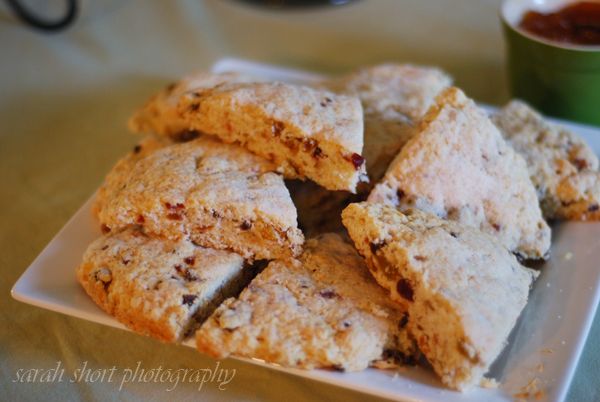 Mixed Fruit Scones

2 cups all-purpose flour
1/4 cup sugar
4 teaspoons baking powder
Pinch salt
1/4 cup dried apricots
1/4 cup dried apples
1/4 cup chopped dried tart red cherries or cranberries
1/4 cup golden raisins
1/4 cup finely chopped walnuts
1 1/2 to 1 3/4 cups heavy cream
3 tablespoons butter, melted
2 tablespoons sugar

Butter two 9-inch pie plates. Preheat oven to 350 degrees.

In large bowl, combine flour, 1/4 cup sugar, baking powder, and salt. Mix well. Add all dried fruit and nuts. Toss until coated.

Gradually add cream, stirring with a fork until soft dough forms and dough cleans sides of bowl. Turn out on floured surface. Knead dough gently with fingertips 10 times.

Divide dough in half. Roll each half of dough to a 7-inch circle, about 1/2 inch thick. Place dough in pie plates.

Brush top of dough generously with butter and sprinkle with 2 tablespoons sugar.

Using a sharp knife, score each circle of dough into 6 wedges.

Bake at 350 for 25 to 30 minutes until nicely browned. Allow to cool slightly.

To serve:

Cut scones into wedges along scored lines.

Serve warm with whipped cream, lemon curd, or fruit preserves.