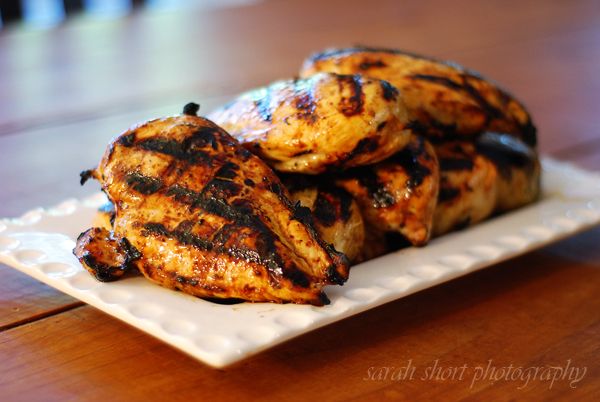 During the winter months, I roast chicken breast on Mondays to use throughout the week. The hot oven warms up my house, and I love having roasted chicken breast to use all week long.

In the Spring/Summer, I also like having chicken breast to use all week. BUT, I DO NOT want to turn on my oven NOR do I want to warm up my house.

So, I went huntin' for a good marinade/recipe for chicken breast - that I could use as an all-purpose, not-turnin'-on-the-oven, have it whenever I need it chicken!

I had one requirement. If we're going to grill chicken, I want it FULL of flavor and I want to eat it straight off the grill that night. But, I also want to grill a whole bunch of it and use it the rest of week for all of my favorite recipes that use roasted/grilled/cooked chicken.

Dinner tonight. Dinner starter the rest of the week.

This recipe for Garlic Lime Chicken is my answer. It only has to marinate for 30 minutes before it's ready. And, right off the grill, is totally delicious. It's full of flavor and perfect served with whatever sides I feel like making.

But, the flavor isn't overwhelming - so it's grilled chicken that can be used all week long. The citrus of the lime juice gives it a very slight Caribbean/Mexican flair - so it's great used in recipes like my favorite quesadillas and Southwestern Eggrolls, "Date Night" Fajita Nachos, and Chicken Tortilla Soup. But, the soy sauce adds this salty, Asian flavor that comes out to play when making Ina Garten's delicious Chinese Chicken Salad - one of the few Asian inspired recipes I make at home.

And, yet - the flavors aren't too overpowering to be used in recipes where you want standard chicken breast - like SG's Chicken Salad, Chicken Bacon Caesar Calzones, Sherried Chicken and Broccoli Shells and Chicken Caesar Salad.

So, make a kickin' dinner with grilled Garlic Lime Chicken and some sides, then use the rest of the chicken all week long for wraps, paninis, quesadillas, calzones, eggrolls, salads or whatever recipes you love that need some ready-to-go chicken!

Enjoy!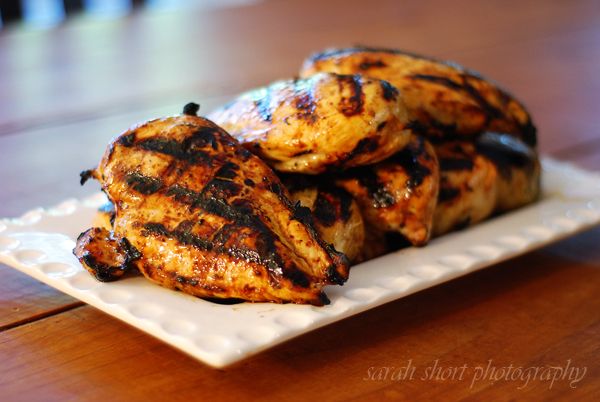 Garlic Lime Chicken
adapted from allrecipes.com

8 chicken breasts
1/4 cup soy sauce
3 tablespoons honey
3 tablespoons vegetable oil
3 tablespoons lime juice
2 teaspoons garlic, minced
dash cayenne pepper, optional

In gallon freezer bag or baking dish, blend soy sauce, honey, vegetable oil, lime juice, and garlic. Place chicken breasts into the mixture, and turn to coat. Close bag or cover baking dish, and marinate in the refrigerator at least 30 minutes.

Preheat an outdoor grill for high heat.

Lightly oil the grill grate. Discard marinade, and grill chicken 6 to 8 minutes on each side, until juices run clear.