This is what I had for breakfast this morning. And, for dessert last night. And, for a snack yesterday afternoon.

A heavenly slice of Fresh Blueberry Pie.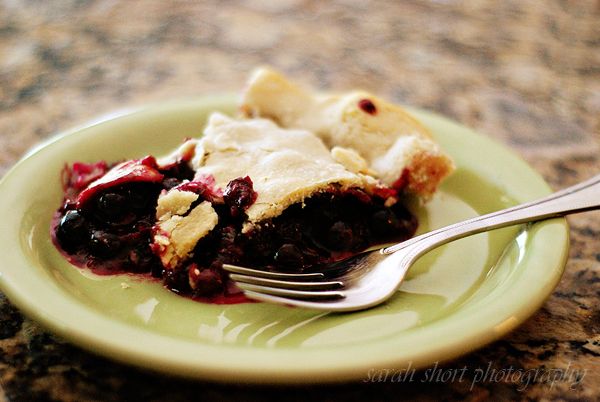 I baked this pie yesterday - because I'm currently using pie baking as therapy. It's calming for me - and it gives me a sense of control in this crazy life of mine.

This recipe is very simple. The more I bake and EAT, the more I am loving simple foods - with simple ingredients. If you have good ingredients, they don't need to be masked with a whole lot of other spices and flavors. In this case, it's all about the blueberries. And, with the exception of pulling them together into pie form (with sugar, of course!), this pie is almost entirely JUST blueberries.

Here's how to make it:

You need about six cups of blueberries. If you have five, use five. Or four, use four. Just adjust the sugar, etc. down as needed.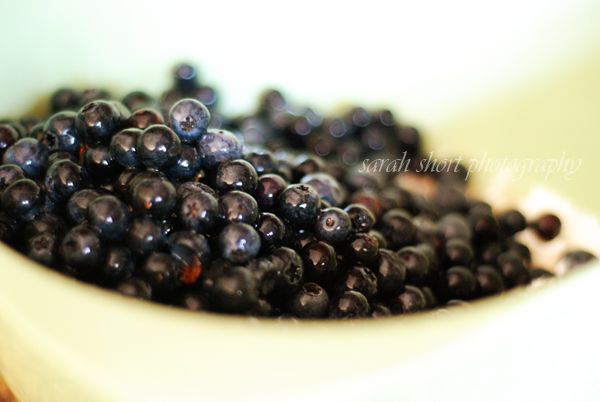 Place them in a bowl with 3/4 cup sugar and 1/2 cup flour. Stir to coat. (If your three year-old is around, he will start popping them like candy right out of the bowl. And, he probably looks really cute doing it.)
Place the blueberries into an unbaked pie shell and sprinkle with lemon juice. (You can make the pie crust from scratch - my recipe and tutorial is here - or you can use a store bought crust. Either way works!)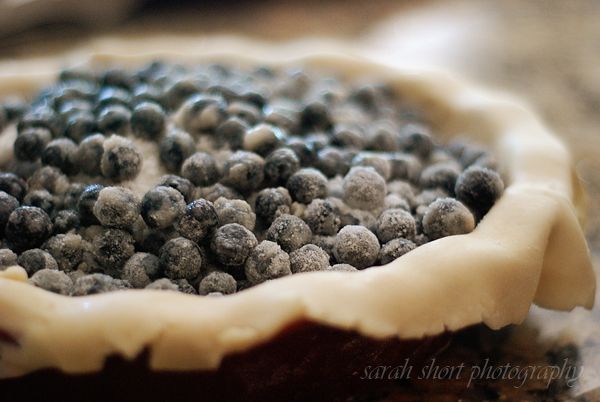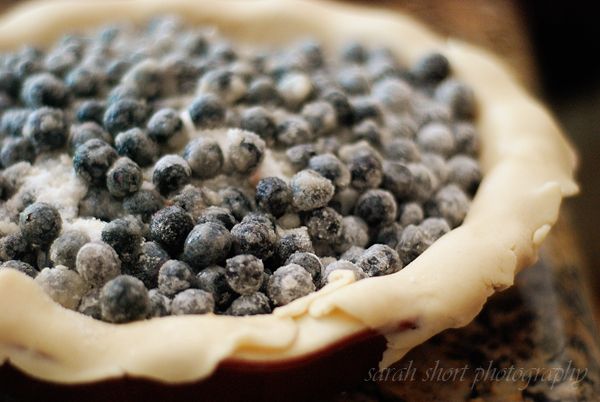 Dot with two tablespoons of butter. I love butter. Always and forever.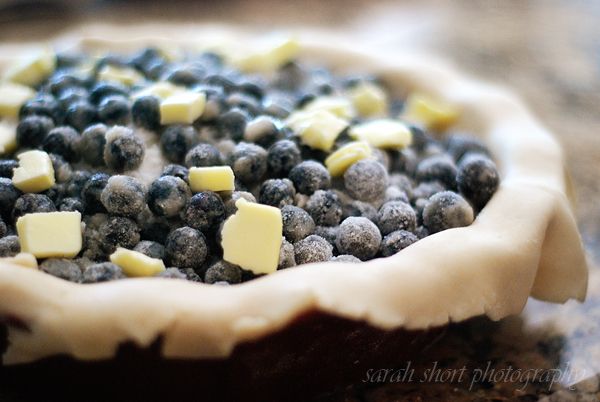 I mentioned yesterday that I have a trick I use when baking pies. Here's where it comes in.

Pie crust can be finicky. Really finicky. That's why it intimidates so many people. It still intimidates me sometimes. Well, when I put the top crust on this pie, it broke. Cracked and totally misbehaved. And, the top of my pie had a big, unattractive hole in it. This time it was on the edge of the pie - sometimes, it's right in the middle.
Here's how to turn that hole into something really pretty.

Using a scrap of pie dough (I always have scraps from trimming some off of the edge before rolling the edge under), and roll it out onto a floured surface. You don't need much, just a tiny little ball of dough.

Using a knife, make leaf shapes in the dough. Then, using the same knife, make a gentle score mark right down the center of each leaf.
Then make little vein marks in the leaves - right along the center score mark. Using the tip of the knife, slowly peel the leaves off of the surface.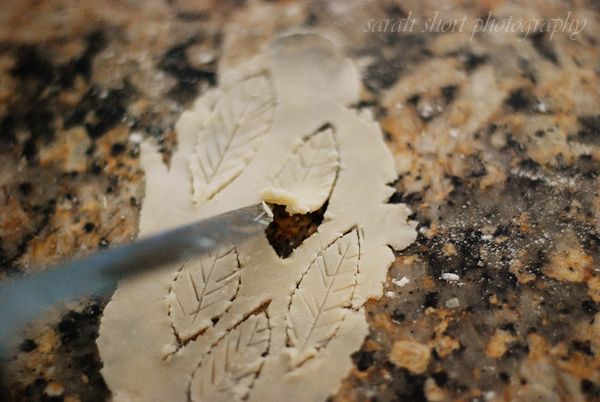 Place the leaves in whatever design you want to cover up the hole. Sometimes I make 2-3 large leaves. Sometimes a bunch of little ones. (Just whatever makes you happy and covers the hole. (I've been using this same trick for years - whenever I make a pie. Here's my Chicken Pot Pie. In the photo on that post, a big ol' tear was right smack dab in the middle!)

One of my leaves started to come apart - no big deal, I just put it back together. Just fudge and move them around - it's not a perfect science. At all.
Goodbye, mess up. Hello, happiness.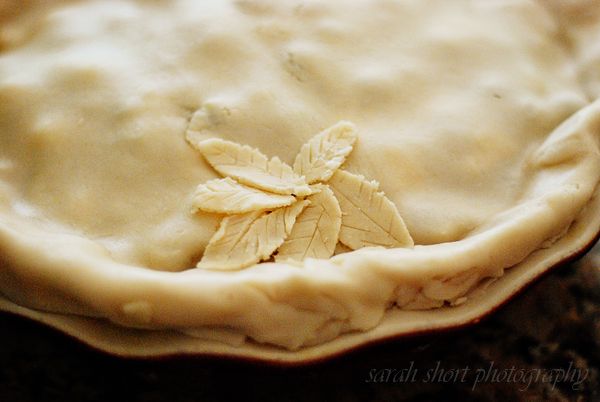 Score the pie with the knife in four areas around the pie. Flute the edges. It's almost ready to go in the oven.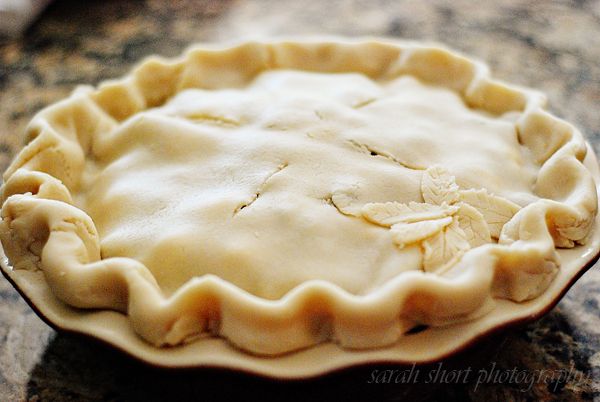 Before baking, place strips of foil around the edge to keep the edges from getting to brown.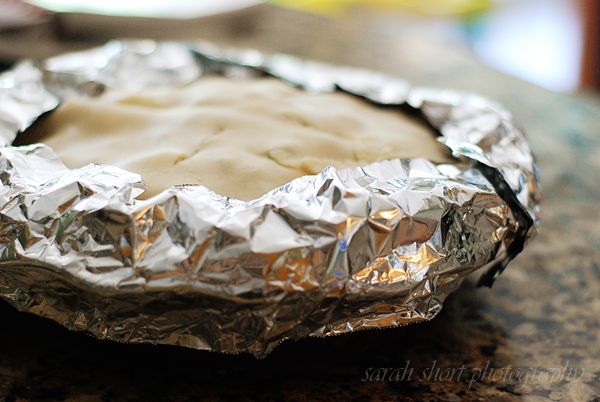 After baking for 40 minutes, this is what it looks like!

Isn't it beautiful? And, how easy is that?
Before.
After.
The only thing better than the beauty of this pie - the pie that had a hole in it from uncooperative, finicky crust...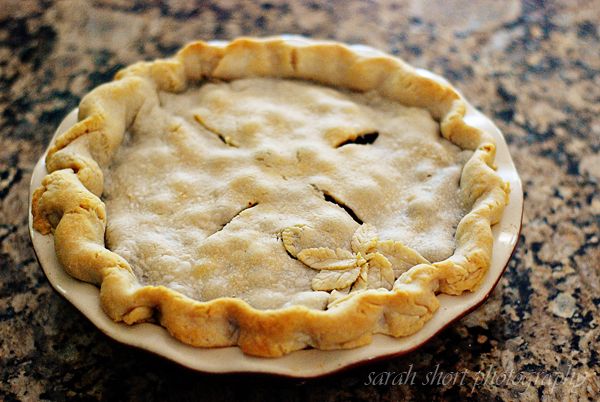 ...is how it tastes.

It is SO good. So fresh. So...blueberry!

If you serve it warm - 15 minutes out of the oven, the filling will spill out slightly. This is how I like to eat this pie.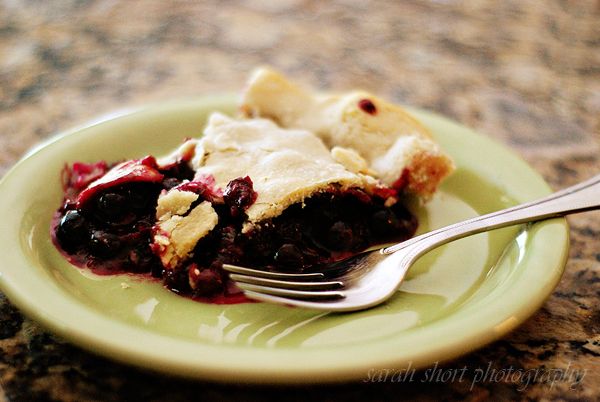 If you wait until it completely cools - about 2 hours, the filling firms up and you will have a neat little slice.

Fresh Blueberry Pie. It's perfectly sweet. Perfectly easy.

Perfectly summer! Enjoy!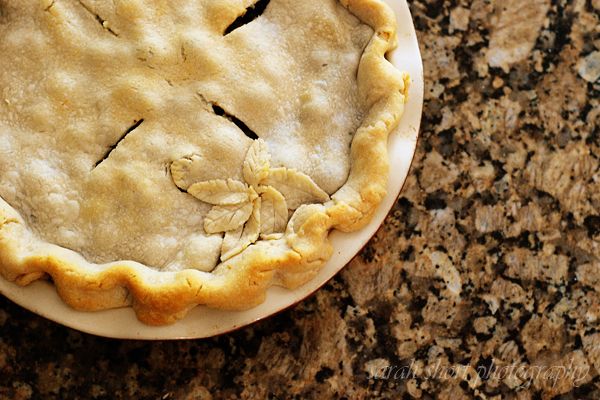 Fresh Blueberry Pie
adapted from Betty Crocker Cookbook...

1 (double-crust) pie crust
3/4 cup sugar
1/2 cup flour
6 cups blueberries
juice of one lemon (about 2 tablespoons)
2 tablespoons butter

Prepare pie crust. Place bottom crust in pie plate. Set aside.

Preheat oven to 425 degrees.

In large bowl, mix sugar and flour. Stir in blueberries. Spoon on top of crust-lined pie plate. Sprinkle any remaining sugar mixture over blueberry mixture. Sprinkle with lemon juice. Cut butter into small pieces and dot over blueberries.

Cover with top pastry; trim edges, seal and flute. (And, if you've got some holes, make some pretty leaves!) Cover the edge with 2 to 3-inch strips of foil to prevent excessive browning.

Bake 35 to 45 minutes or until crust is golden brown and juice begins to bubble through slits in crust, removing foil for last 10 minutes of baking. Cool on cooling rack at least 2 hours, or serve warm.