My boys go to a year-round school. We have a choice of sending our children to a traditional school (end of August - June) or to send them to a year-round school - where they get traditional holiday breaks, but instead of one long summer break, they get four (three-week) breaks at various times throughout the year.

We have chosen to send our kids to the year-round option for a variety of reasons. It is HOT down here in the summer, so having our children home for long breaks during the fall, winter, and spring months when the weather is much more pleasant is one of the things we love most about this schedule.

Also, because my husband works from home, trying to keep our kids entertained and out of my husband's hair for 12 weeks straight (in the heat of summer) would make us all a little coo-coo.

And, we love having them home throughout the year. As soon as I start to really, really miss them, they come home for a few weeks. And, they get a great time of refreshment before heading back.

It just works for us - all the way around.

Well, guess who started Kindergarten this week?

Our Max.
Last Monday, he went to his first day - an assessment day with five of his other classmates to determine his class placement. Then he had to wait all week long - while Jack started his first week of first grade. (Jack is in FIRST grade this year. WHAT?)


While my heart can hardly believe that my little baby boy with those chubby cheeks is now starting Kindergarten - all day, five days a week - I am so happy and excited for him.
Max is so happy and excited. How could I not share in his joy?
We went as a family to take Max to his assessment day, and we went as a family to his first official day of school this morning.

We are crazy about these two little boys.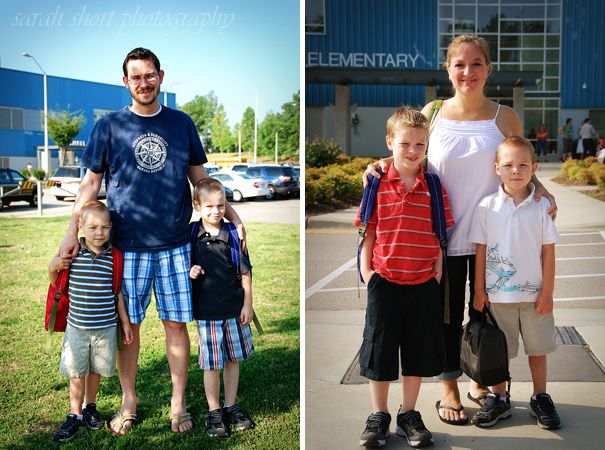 Jason walked them in today while I waited with Lincoln and Whit in the car.

Max skipped. He is so ready.

Jack played the big brother and led the way.

I am happy. I am. But, can I be a bit heartbroken, too?
As they stood on our front steps this morning, I couldn't help but think that life is as it should be. These two are together, again.

They wake up together.
They play together.
And, now - they go to school together.
But, the icing on their school-shaped cake?

Their cousin, Nathan, is going to Kindergarten at their school with them, too.

Yes. It is just as it should be.

Sniff.