Are you sitting down?

Because this recipe - which isn't really a recipe, but an idea and method - will make you weak in the knees.

This is one of those desserts that you make just once and then stare down in awe at its simplicity and ask:

WHERE IN TARNATION HAVE YOU BEEN ALL MY LIFE?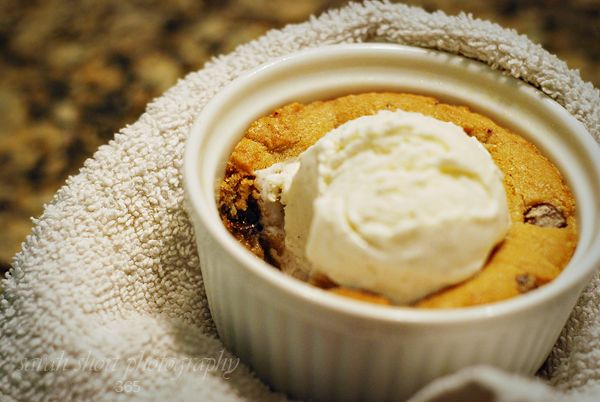 That right there is a Pizookie - a pizza-cookie. Pizookies first originated at BJ's Brewery and Restaurant in Chicago and they're still served at BJ's locations throughout the West and Midwest.

But, who has time to travel there? And, who wants to wait?

Let's just make our own!

A couple of things:

1. You can use any kind of cookie dough - as long as it makes a soft cookie. I used Mom's Chocolate Chip Cookie Dough both times I've made these - the first time with chocolate chunks instead of chips. LOVED the chunks. Made this especially awesome. (But, you can use any dough - oatmeal raisin, peanut butter chocolate chunk, snickerdoodle, sugar cookie. The possibilities are endless.)

2. You need some ramekins. If you don't have ramekins, you can use a small skillet or other small, oven-safe dish, but ramekins (which are cheap - like $2 each cheap - like these) work best.

Using an ice cream scoop (for uniformity), scoop a large hunk of cookie dough into each ramekin.
Press the dough down into the ramekins - evenly distributing the dough.
Place all of the ramekins onto a cookie sheet or jelly roll pan and bake at 350 degrees for about 15 minutes. (Times may vary depending on what size ramekins you use, how much dough you stuff in there, etc.)
OH. MY. WORD, right? I mean, a deep dish chocolate chip cookie? Where have you been all my life, dollface?
You could stop there. You could hack into this thing right away, but that just wouldn't be right.

You MUST do this. Must. Must. Must.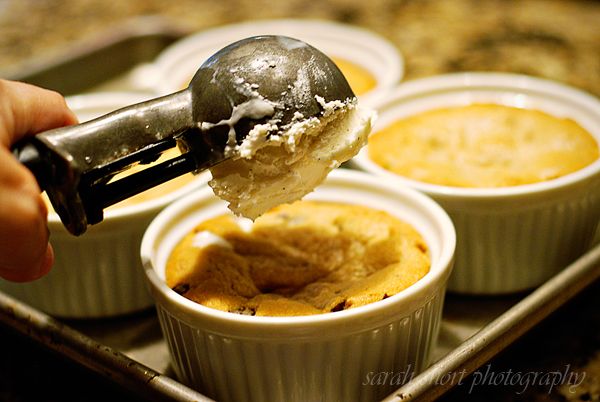 Wrap your pizookie up in a towel, because that ramekin is HOT. Which is how it's supposed to be when you dig in. Because as soon as that cold vanilla ice cream hits that steaming hot deep dish cookie, it will begin to melt right down into it. And, with every bite you get a soft, gooey, chocolatey cookie topped off with melting vanilla ice cream.

Life. As it is meant to be lived. Right here, man.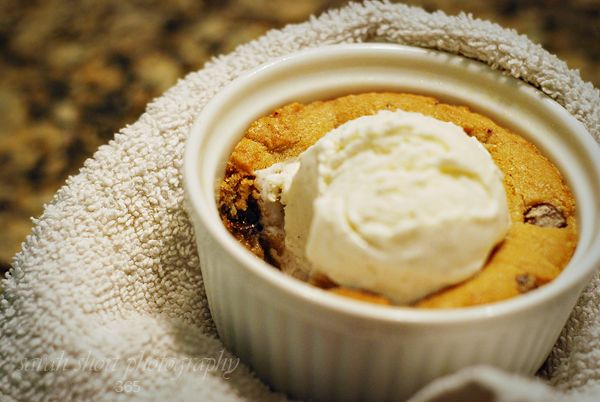 See that gorgeous gal smiling up at you from her spoon? That's my sister - happily hacking into the pizookie that I made for her last night.

She loves me. Probably more now.
Make some pizookies of your own.

With your favorite cookie dough. Or with mine.

Experiment. Play. Make some new friends and have them over for dessert.

This is the good stuff of life - share it!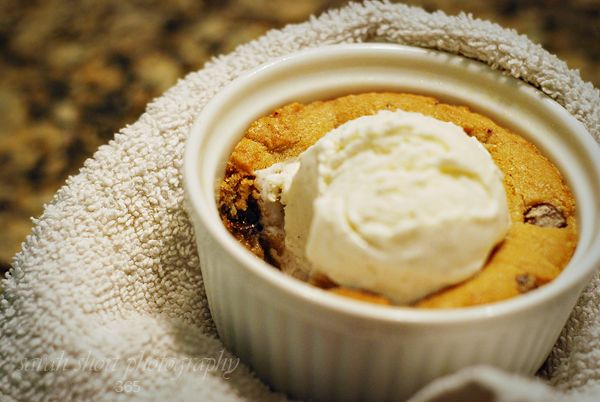 Deep Dish Chocolate Chip Cookies (Pizookies)
originally seen here...

dough from Mom's Chocolate Chip Cookies
4″ (or so) ramekins (or other small baking dish)
Vanilla Ice Cream

Preheat oven to 350 degrees.

1. Fill ramekins 1″ deep with raw cookie dough. Place ramekins on sheet pan and put in middle rack of oven. Bake 12-18 min., or until top starts to turn golden brown. (remember you want them slightly undercooked, but not too doughy in the center.)

2. Remove from oven and place each ramekin on a napkin or towel (this allows you to hold the hot dish as you eat your dessert delight.) Top with a scoop of ice cream (or two). Grab a spoon and enjoy.