*If you're here for the first time from the Diptacular, welcome to Short Stop! I'm so glad you stopped by!*

Today is BooMama's Diptacular '11 - an event for sharing favorite dip recipes since - WOO HOO! - football season is FINALLY upon us, again!

I have gotten some great dip recipe ideas from the Diptacular in the past, and can't wait to scroll through all the recipes posted in this years edition.

I'm sharing one of my favorite dip recipes here on the front page of Short Stop, but I'll link up some of my other favorites, too. I love dips - all kinds. Fresh dips, cream cheesy-dips, Mexican dips, dips with BACON!

Or one of my new favorites - a cream cheesy dip WITH bacon!

For today, one of my favorites - Roasted Garlic Artichoke and Spinach Dip. This recipe is better than ANY artichoke or spinach dip you can get at the chains, and you'll love how easy it is!

If you're looking for some other great dip recipes, here are a few of my other favorites here on Short Stop:

{Homemade} French Onion Dip - Caramelized Onions. Cream Cheese. Bacon. You will weep for its goodness.
Pineapple Pecan Cheese Ball - a creamy, spreadable Southern favorite. You'll love the match-up of flavors in this one!
Black Bean and Corn Salsa - one of the most popular recipes on Short Stop.
Spicy Black Bean and Corn Chicken Chili - I top this with cheese and serve it as a dip with tortilla chips.
Vidalia Onion-Cheese Dip - a creamy, smooth sweet onion dip that will disappear at any party!

If you're looking for all kinds of great ol' party food, check out the Appetizer Section of Short Stop! Some of my favorite football grub hangs out in there!

Happy Dipping, everybody!

============================================================================


Roasted Garlic Artichoke and Spinach Dip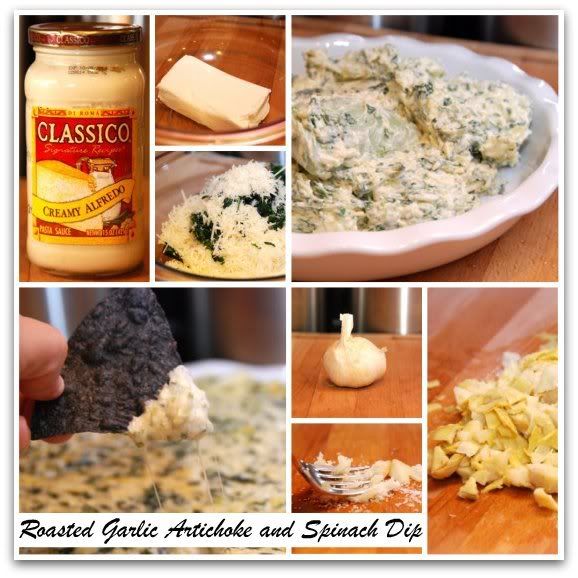 You wanna know something kooky about me and this dip?

I don't like artichokes.
And, I don't like cooked spinach.

But, I cannot get enough of this dip. Somehow, when you combine spinach and artichokes, they taste like chocolate and peanut butter. Well, I mean...

Oh, nevermind.

I suppose if anything was swimming in Alfredo sauce, cream cheese, mozzarella, and Parmesan cheese - well, it would be living the good life.

This dip is crazy good. Crazy, crazy good. And, very easy to make!

Combine all manner of cheesiness: Alfredo sauce, cream cheese, mozzarella, and Parmesan.

(Classico Creamy Alfredo is my absolute favorite. You can make homemade, egg-free, Alfredo sauce if you prefer - like the one I use in *this dish. *Just double it.)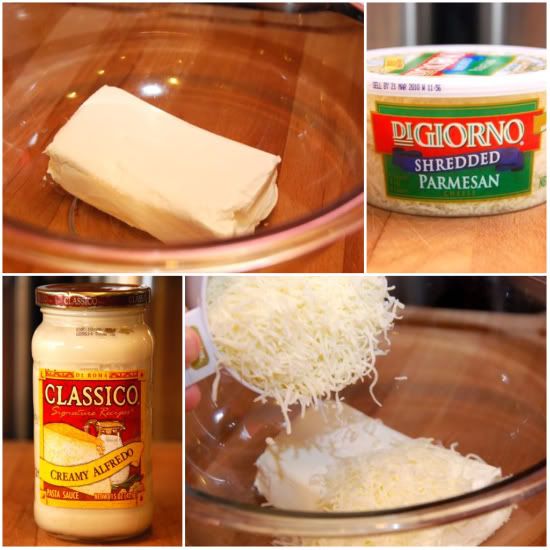 (I hide the spinach underneath the Parmesan cheese. It's a little trick I play on myself.)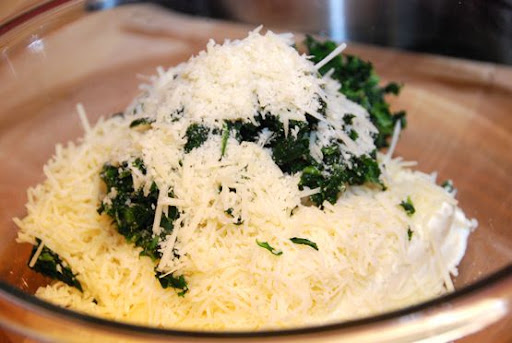 Then, drain and chop a can of artichoke hearts. I chop the artichoke hearts very small. My husband likes them chunkier. Do whatever you like!

Add a few dashes of crushed red pepper. This gives the dip a little zing.
During this time, I've been roasting a few cloves of garlic. After roasting for about 20 minutes, they get all mushy and nutty and delicious. I put them on my cutting board, add 1/2 teaspoon of salt, and create a roasted garlic paste.

It's out of this world in this dip!
Add the roasted garlic paste and some black pepper, and stir it all together.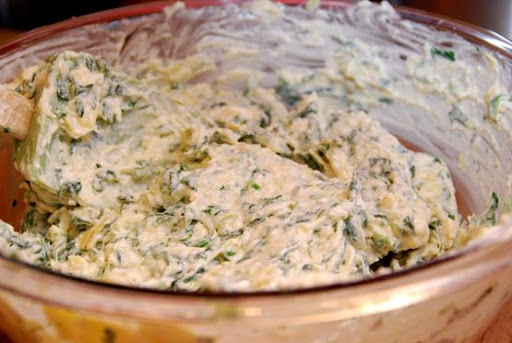 Spread the mixture into a pie plate, and bake, covered, for 30 minutes.
I remove the foil for the last 5 minutes or so, to let it get a little more bubbly and a bit firmer on top.
Someone help me. Once I start eating this, I just can't stop. (But, I eventually have to. I've got jeans to fit into. We do leave the house at least once a week.)

I serve this dip with blue corn tortilla chips. The blue chips make it look so sophisticated.

Stringy, bubbly, cheesy, creamy dip (with some artichokes and spinach hiding in there giving you the veggies you need to grow big and strong. Just like Momma said.)
There are SO many variations you can do to this one:

1. Add pancetta. Or ham. Or BACON!
2. Lather on your favorite sandwich the next day.
3. Stuff this in mushroom caps. Bake.
4. Stuff inside a chicken breast. Or lather on top. Cover and bake.
5. Wrap some ham or roast beef around pretzel rods. Have guests dip them in this. (You'll be a star!)

Whatever you do, make this one. If you try it, tell me! I love hearing about the creative ways you all make these recipes your own. You all have some of the best ideas!

Happy Monday!

Roasted Garlic Artichoke and Spinach Dip

5 cloves garlic
1 (8 ounce) package cream cheese, softened
1 cup shredded mozzarella cheese
1/2 cup grated Parmesan cheese
1 (10 ounce) package frozen chopped spinach, thawed and drained
1 (14 ounce) can artichoke hearts
1 (15 ounce) jar Alfredo sauce (I prefer Classico Creamy Alfredo)
1/4 teaspoon crushed red pepper
1/2 teaspoon salt
1/2 teaspoon freshly ground black pepper

Preheat oven to 350 degrees.

Place unpeeled garlic cloves on a baking sheet. Roast at 350 degrees for 20 to 30 minutes, until soft.

While garlic is roasting, chop artichoke hearts. In a medium bowl, combine spinach, artichoke hearts, Alfredo sauce, mozzarella cheese, Parmesan cheese, cream cheese, crushed red pepper, and freshly ground black pepper.

Remove the garlic from the oven when finished roasting. Carefully remove outer peel (hot!) and place on a cutting board or mat. Add salt. Using a fork, mush garlic and salt into a creamy paste.

Pour mixture into a pie plate or medium sized baking dish.

Cover with foil and bake at 350 degrees for 25 minutes. Remove foil and bake for 5 additional minutes.

Serve with tortilla chips or cubed Italian bread.

*If you don't have fresh garlic (or are too lazy to roast it - like I am some days), you can use 2 teaspoons of garlic powder instead of the roasted garlic.