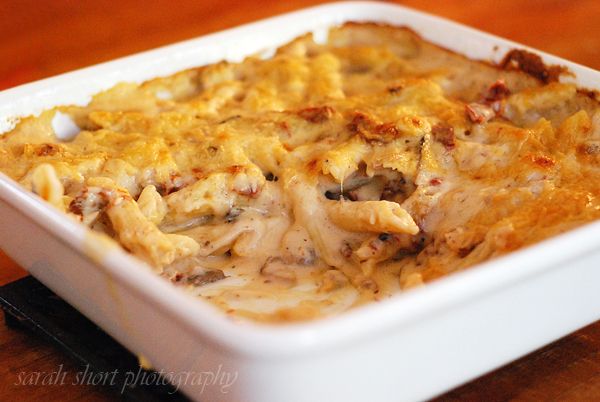 What if I told you that you could make an ENTIRE dinner for your family with ONE chicken breast?
Well, you can! And, it's SO good and filling and you'll probably have leftovers.
The photo I showed you last week - a cheesy, chicken and penne dish full of sun-dried tomatoes - requires just
one
chicken breast.
FOR THE ENTIRE dish!
BUT.
To make life even easier
, the recipe as written makes two pans of this dish -
one for tonight, one for the freezer
.
Two chicken breasts. Two dinners.
Let me show you easy it is to make:
First, you make a simple, buttery, garlic cream sauce with butter, flour, garlic and milk.
Easy, easy
. Then you add in a jar of sun-dried tomatoes and some sliced mushrooms. (
*The mushrooms help make this dish hearty. If you don't like mushrooms, or if you like them but your children cringe and stick up their noses at the mere sight of a mushroom, you can add one extra chicken breast
.)
Turn off the heat and add 2 cups of Monterey Jack cheese.
This sauce is dreamy.
Add one sliced/chopped chicken breast to the sauce. (You can use roasted chicken breast or leftover chicken you've shredded. Here is how I roast chicken breast every week!)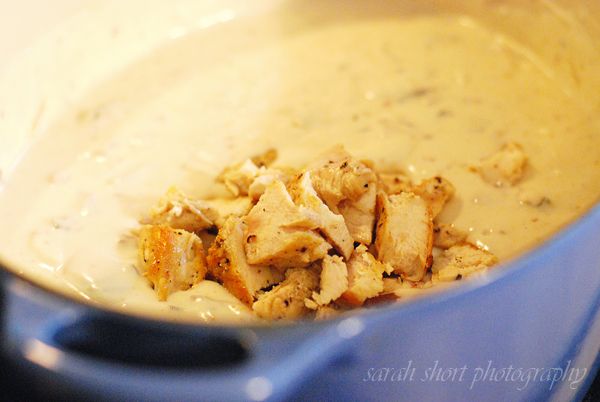 And, one pound of cooked penne pasta.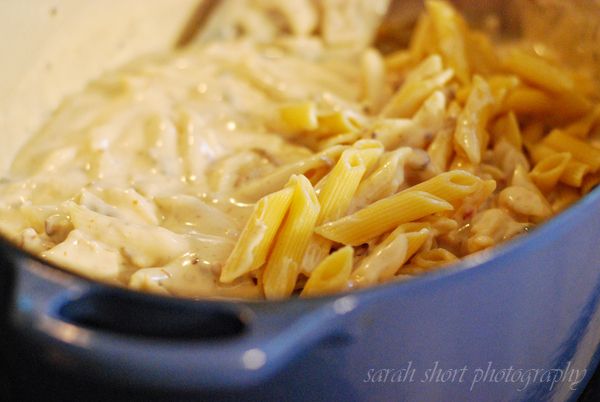 I started eating this right out of the pot. Don't do that. You won't be able to stop. And, baking it takes it to a whole new level. (You will probably also use the proper cooking utensil like a stirring spoonula and not a "pancake flipper".)

But, look at this. How good does that look?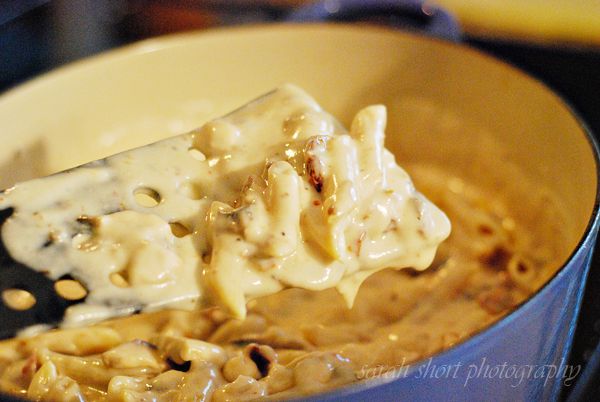 But, then.

But, but, but, then...

As if this sauce wasn't already delicious and amazing...

You do this. Add one cup of white wine. Or more. Whatever suits your fancy. If you're like me and love the flavor white wine gives to sauces, you might just look away and forget that you're pouring in white wine to your cheesy sauce and end up with 2 cups.

It's totally up to you.
This will make your husband so happy. He will smell that wine hitting the cheesy sauce and come running. Prepare to be frisked. Which is why I always have my dish towel handy to whack him as he's walking away.

Is this thing on? Hello? Anyone?
As I mentioned up top, this recipe makes TWO pans. I made one in my favorite, white casserole dish, and one in a foil pan to put the freezer. How much do we LOVE recipes that make TWO dinners?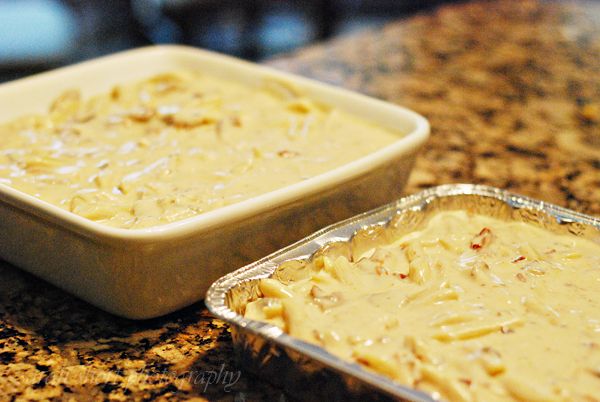 Top both pans with Parmesan cheese. Bake one for tonight. Freeze the other one. (For the freezer meal: Cover with plastic wrap. Then foil. Then write on top with a sharpie the baking directions and what's under there.)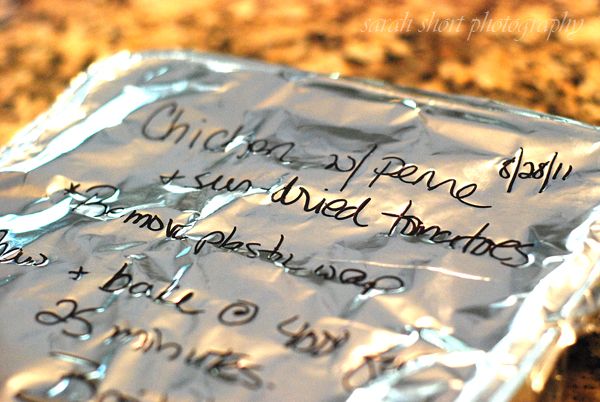 Voila!

Twenty-five minutes later, out comes this bubbling, golden chicken penne with sun-dried tomatoes and mushrooms and CHEESE GALORE!

This dish is fantastic. Hearty, interesting, different - my husband and children all loved it.
Make this one. Then have it another night when you just don't wanna cook. Or, take one to a friend when she has her sweet little baby.

Enjoy, friends!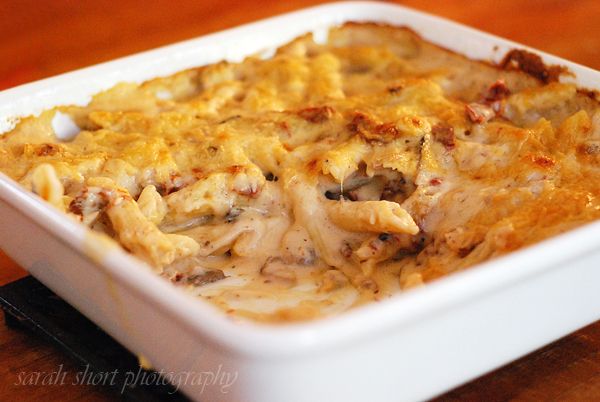 Baked Penne with Chicken and Sun-Dried Tomatoes
adapted from Martha Stewart...

6 tablespoons butter
1 pound penne
1 tablespoon olive oil
2 boneless, skinless chicken breast halves
salt
pepper
1/2 cup plus 2 tablespoons flour
4 garlic cloves, minced
6 cups whole milk
10 ounces white mushrooms, trimmed and thinly sliced
1/2 cup oil-packed sun-dried tomatoes, drained and thinly sliced
2 cups shredded Monterey Jack cheese
1 cup white wine (more to taste)
1 cup finely grated Parmesan


Preheat oven to 400. Butter two shallow 2-quart baking dishes. (I used one baking dish and one 8 x 8 foil pan). In a large pot of boiling salted water, cook pasta 3 minutes short of al dente; drain pasta, and return to pot.

In a large nonstick skillet, heat oil over medium-high. Season chicken with salt and pepper; cook until opaque throughout, 3 to 5 minutes per side. Halve each piece lengthwise, then thinly slice crosswise. (You can also use already cooked chicken. Here is how I roast chicken breast every week.)

In a Dutch oven or heavy pot, melt butter over medium heat. Add flour and garlic; cook, whisking, 1 minute. While whisking, gradually add milk; bring to a simmer, whisking frequently. Add mushrooms and sun-dried tomatoes; cook 1 minute. Off heat, gradually stir in Monterey Jack cheese and 1/2 cup Parmesan.

Add chicken and pasta to pot; season with salt and pepper. Stir in white wine. Divide pasta mixture between baking dishes; sprinkle each with 1/2 Parmesan.

Bake, uncovered, until top is golden and bubbling, about 25 minutes. Let stand 5 minutes before serving.