We took a little road trip this past weekend.

Which means:

1. My van looks like a typhoon hit it.
2. Translation: A three year-old with a bag of Cool Ranch Doritos turned them into confetti somewhere along I-95.
3. There are suitcases in my entryway that will probably remain there for days.
4. There is likely a lost sippy cup full of milk in the van somewhere that I'll have to sniff out by Thursday when we open the door and almost pass out from the smell of rotten milk.
5. I am singing Disney songs that have been stuck in my head from the 14-hour backseat moviethon.
6. And, so on and so forth.

But, we had a great time. We celebrated my oldest sister's 50th b-day and I got to see 4 of my 5 sisters. It was delightful.

I was looking through my photos of the party this morning, and I remembered a photo I'd taken years ago.

When I knew nothing of photography.
When I had a simple point-and-shoot camera.
When it didn't matter - because I still loved taking pictures. Good or bad, photos of our memories are so precious to me.

Here are my first three boys and my sister Anna's boys.

In March 2008. (Lincoln was just two months old. And, clearly disgruntled by the morning sun blasting him in the eyeballs.)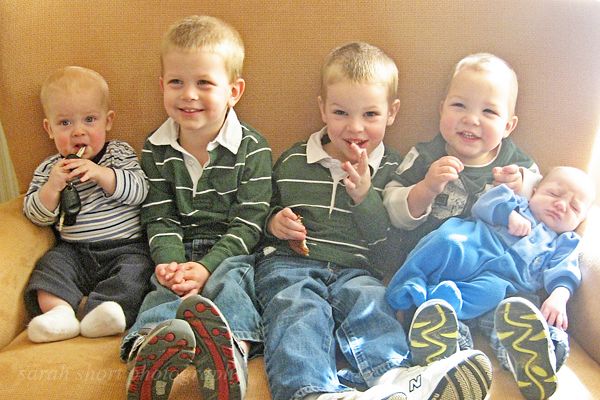 Here they are at my sister's party this past weekend - 3 1/2 years later.
These five little boys are the very best of friends.

I hope they grow up knowing how blessed they are to have each other.