When it comes to dinner, sometimes I like to go all out and make a labor-intensive, make a grand mess of the kitchen, really spoil my family meal.

I love to cook. I really do. And, I love showing love to my family through the meals I make for them. Especially my sweet husband - whose eyes light up every time he comes to the table set with a really good home cooked meal.

I love loving him that way.

But, those meals are the exception. They grace our table on Sunday afternoons. (When it's not football season. Ahem. Priorities.) All-out happens occasionally. It's not the norm around here.

In this stage of life - raising tiny ones that by dinnertime have drained almost everything I have to give right out of me - I want good meals that are easy.

I don't want boiled hot dogs.
I don't want my Mom's go-to quick meal from the early 80's - fish sticks, Kraft Mac & Cheese, applesauce.
I don't want chicken nuggets.

That's OK sometimes. Sometimes.

But, what if I can make and serve my family real food - meat, potatoes, rice, fresh vegetables in the same amount of time it takes to prepare pre-packaged frozen food?

I've been working on this lately - maximizing my pantry and mixing in good, whole foods and meats to create meals that are ready in - say - half an hour.

This recipe for Peachy Pork Chops is just that kind of meal.

These were delicious pork chops - browned until golden, then simmered in a peach, brown sugar and ginger sauce. I used canned peaches, which came alive in this recipe. The ginger and brown sugar simmered with the peaches create this really interesting flavor that is a perfect complement to the pork. (In the summer, I'm sure fresh peaches would be so good.)

I served them over rice with some fresh green beans, and that was our dinner. That night, we had Butterfinger Nutter Butter Cheesecake Bars for dessert - and it was a perfect meal.

I doubled the original recipe (to 8 chops) to feed my family and have some leftovers (which I delivered to my sister who was caring for sick littles at home) - but you could halve it if there are just two of you.

Quick.
Easy.
Fresh.
REAL FOOD.
Not frozen.

My kind of dinner. And, even time and energy for a special dessert.

Enjoy!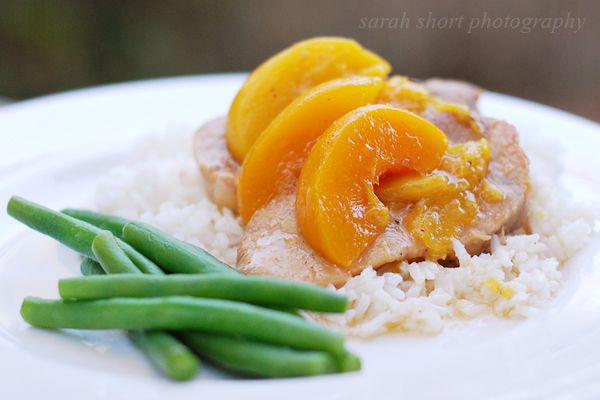 Peachy Pork Chops
adapted from Southern Living Easy Weeknight Favorites...

8 (1 1/4 inch) thick boneless pork chops
salt and pepper to taste
3 tablespoons vegetable oil
2 (29 ounce) can sliced peaches, drained and syrup reserved
2 tablespoons corn starch
6 tablespoons brown sugar
2 teaspoons ground ginger

Heat oil in a large skillet over medium heat. Trim all visible fat from chops and season with salt and pepper to taste. Brown chops in vegetable oil.

Combine reserved peach syrup, corn starch, brown sugar and ginger. Pour over chops and bring to a boil. Add peaches and cook, uncovered for 15 to 20 minutes or until liquid is reduced to half and thick. Turn chops occasionally to insure even cooking.

Serve over rice.

*If you'd prefer, you can substitute chicken breast for the pork in this recipe.