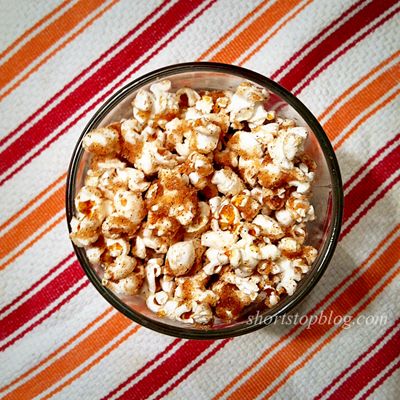 ***Warning: This stuff is crazy addictive.***

This is my favorite way to eat popcorn. And, it just might become yours, too.

My kids LOVE cinnamon toast. Heck, I LOVE cinnamon toast. One day, while my husband was out of town and we were lookin' for a movie snack, I made a batch of this for me and my little buddies.

WE DEVOURED IT!

Cinnamon, sugar, and butter - melted together then drizzled over the top of plain popcorn, then baked for 10 minutes - just to bind it all together.

It's so easy. It's so inexpensive. It's so good.

If you're looking to make any last minute homemade Christmas gifts - but don't have time for cookies or candy or anything else fussy, you can make batches of this popcorn, put it into tins , and I promise you - not a kernel will be left at the bottom of those tins when you're friends and family are finished with them.

*Gift idea: We LOVE our Stir Crazy Popcorn Popper. It is one of the BEST kitchen appliances we own. It makes fresh popcorn (which is so much better and so much cheaper than microwaved popcorn), and the kids love watching it pop. One of these and a tin of Cinnamon Toast Popcorn would make a great gift for anybody!

Cinnamon Toast Popcorn. It's that salty sweet perfection we all love.

Enjoy!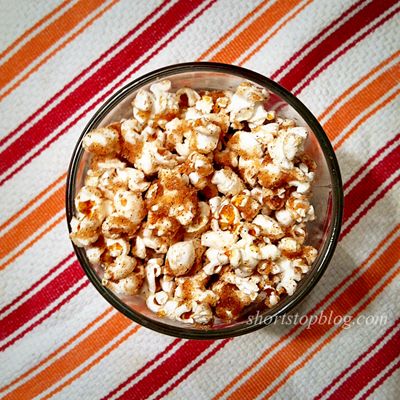 Cinnamon Toast Popcorn

8 cups popped popcorn
1/2 cup (1 stick) salted butter
1/2 cup sugar
1 tablespoon cinnamon

Preheat oven to 300 degrees. Place popcorn in a large bowl.

Combine butter, sugar, and cinnamon in a microwave safe bowl. (You can also do this on the stovetop, but the microwave is so easy.) Microwave on high for 1 minute. Stir. Microwave an additional 2 minutes. (Mixture should be bubbling. That's good!)

Pour mixture over popcorn and toss until popcorn is coated.

Place popcorn on jelly roll pan and bake for 10 minutes. Remove from oven and allow to cool.

Store in an airtight container.

ENJOY!