February 10, 2001. His parents house. He invited me to dinner.

We walked up the driveway into the house and before he even closed the door behind us, he said to me, "Since I have to work on Valentine's Day, I thought we'd celebrate tonight. I made you dinner and need to finish a few things, so you can just relax for a while, OK?"

I comfortably settled onto the sofa...for a few minutes. And, then I started scrutinizing the situation.

Problem #1: The table was not set. No plates or silverware or glasses or candles or flowers or any of the things that might make for a romantic dinner for two. Or eating even possible.

Problem #2: He was wearing his winter coat and going back and forth to the backyard. Out of sheer curiosity, I finally took a quick peek out the back door while he was "working" in the kitchen, and noticed some sort of fire.

Yikes. Panic. It was February and freezing, and I had visions of him thinking that S'mores might be a romantic way to celebrate Valentine's Day.

I sat back on the sofa and decided that no-matter-what he had "planned", I would put on a good face and enjoy our TV tray dinner. AND my S'more.

I didn't know what was waiting for me. And, that made what was about to happen so much more special.

He came in to get me and took me to the living room. And there it was. A beautifully set table for two. Complete with red roses and candles AND eating utensils.

The menu. My favorites.

Filet Mignon (that he had charcoal grilled...outside!)
Twice baked potatoes
Steamed broccoli
Caesar Salad

We had the best time together...with lots of laughter.

The details of Jason's proposal are written in my journal and on the diary of my heart, and I'd like to keep them there.

But, that night, my Jason spoke four precious words that I had been longing to hear.

"Will you marry me?"

And, my left ring finger got a makeover. A sparkly one.

Ten months and five days later, I would pull into church and dart up the stairs. Only this time, it would be my wedding day...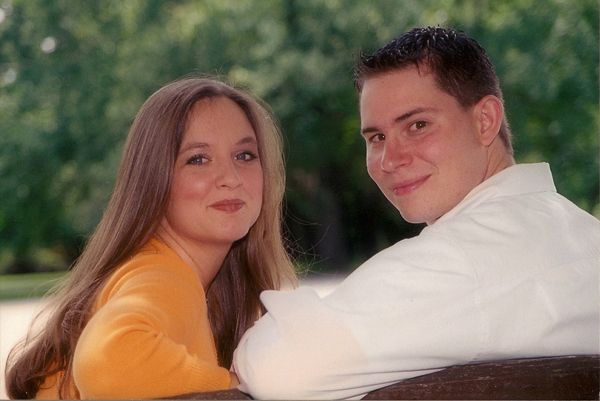 (Our engagement photo)