Ten years ago today. December 15, 2001. Our Wedding Day. I always wanted a Christmas wedding.

As I prepared to post about our wedding day, I realized that it is quite impossible to post how I felt that day. And, as I flipped through the pages of our wedding album (and through 400 proofs), I realized that it would be similarly difficult to choose just a few pictures to share with you.

So, I'm going to share one very special story about that day, and a few pictures. Well, maybe more than a few...but, some of my favorites, and a few that will help tell a picture story of our day.

So, here it is. Our Wedding Day...
============================================================================
A Story
As a little girl, I had always dreamed of my Dad walking me down the aisle on my wedding day. So, when Jason and I got engaged, I was excited to share the news with my Dad and laugh with him about how fun it would be to take that walk together.

Unfortunately, my Dad got very sick in the months leading up to my wedding. As he and I were talking on the phone a few months before my wedding, he told me that he didn't think he'd be able to walk me down the aisle, and doubted he'd even be able to attend.

I was devastated. But, I understood.

Jason called me a few minutes after I finished that conversation with my Dad. I was inconsolable as I told him through oceans of tears that my Dad not only couldn't come to our wedding, but that my dream of my Dad walking me down the aisle was shattered.

Jason responded, "It'll be alright, SG. I'll come and get you, and I'll walk you down the aisle."

And, that he did. On my wedding day, as the doors in the back of the church opened, Jason came and got me, and walked me down the aisle. And, my Dad was well enough to watch from the front pew!
============================================================================
Getting Ready
This is Jason's favorite...
But, this is how I really felt...
"Do I really have to wear a piece of jewelry for the rest of my life?" Our wedding bands are both engraved with the same phrase..."for the hand that holds my heart"...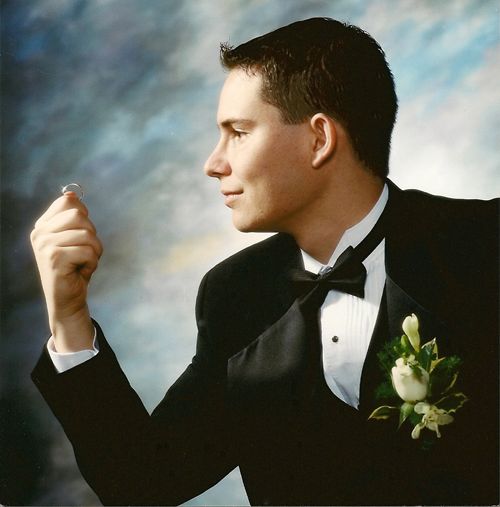 The girls. I am still great friends with every one of them! (Love you guys!)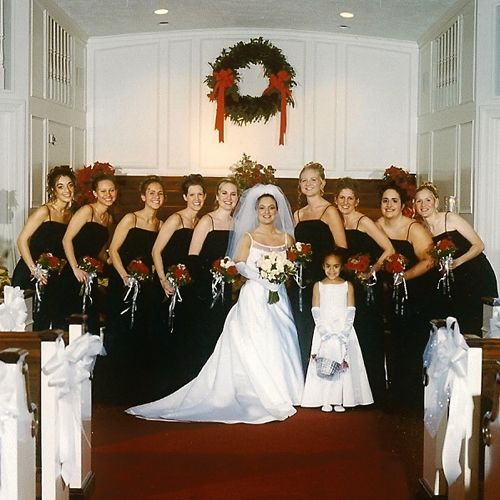 The Ceremony
Jason coming to get me...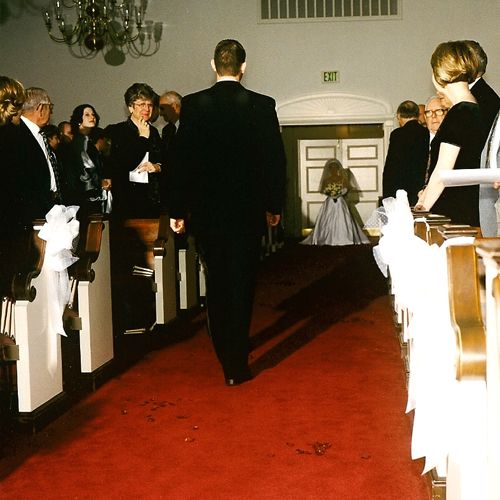 Walking down the aisle together...
By candlelight. The way I'd always dreamed.
Vows.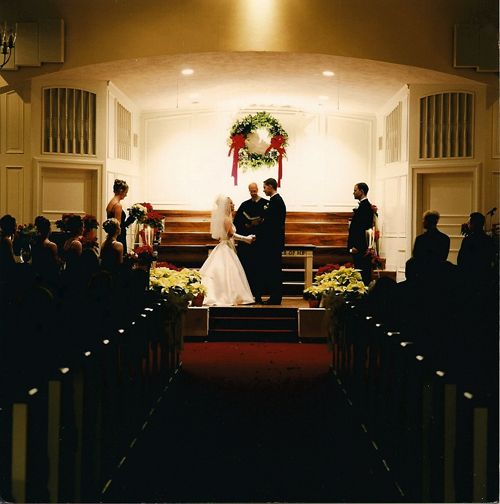 YAY! Finally married!
Two of my favorites...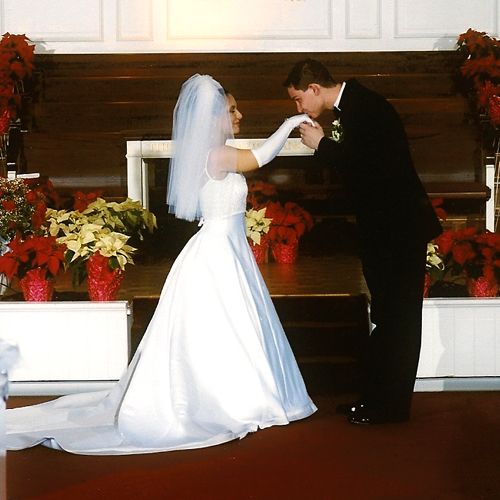 Our photographer took a photo of everyone who attended our wedding. I love this keepsake. So many of these people are SUCH an encouragement to us and our marriage! (Click on it and it'll get bigger.)
Our Reception
We rode to our reception in a white stretch limo. We loved having time - just us - to laugh and just relax together before heading into our reception.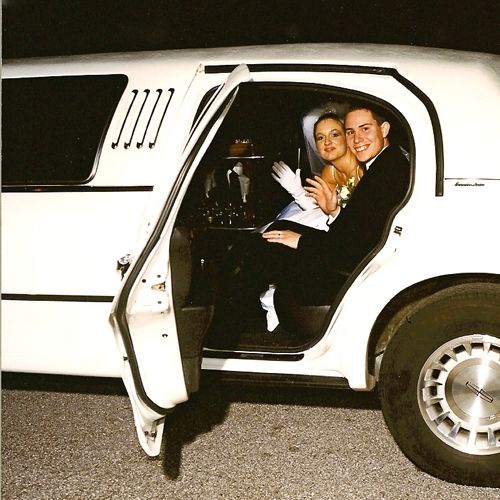 Our cake. A wrapped present!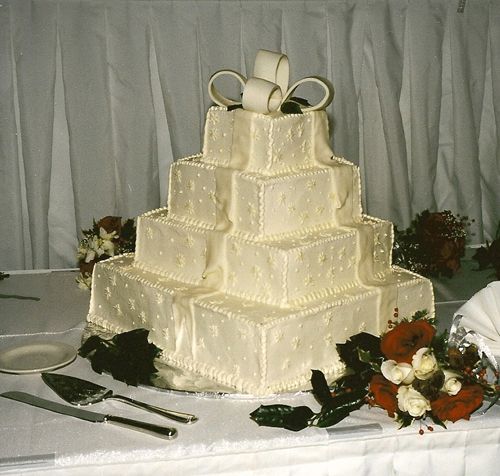 We had the most delicious mocha filling inside of our cake. (I think the Lord knew to start caffeinating us early cause he was about to send us FOUR boys. LOL!) No cake face-smashing. Today? He'd cream me. Guaranteed.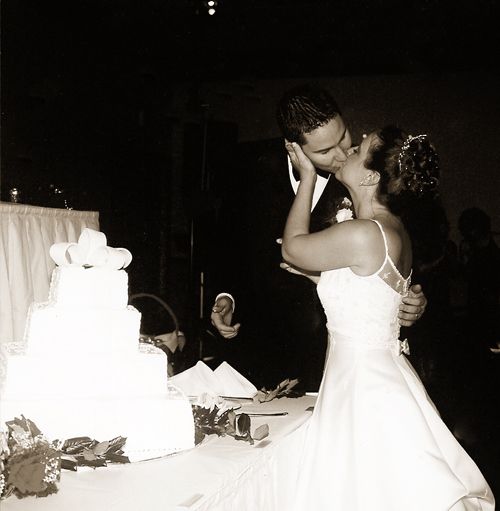 Our first dance was to "Never Will I Leave You", by Michael Card. We took three weeks of ballroom dancing lessons while we were engaged and our instructor choreographed a dance for us. That is my Dad looking on...one of my favorite pictures! (I miss him so much. I'm so glad he was there that day.)
Jason had a big ol' time with this. I remember thinking, "Ack. EVERYONE we know is watching you" just as he removed my garter. This photo also shows the sneakers that I wore. There was no way I was spending this day that I had waited almost 5 years for in uncomfortable shoes. So, I wore platform sneakers. I decorated them with rhinestones, and shimmery silver ribbon for shoelaces. I LOVED them! (And so did Jason!)...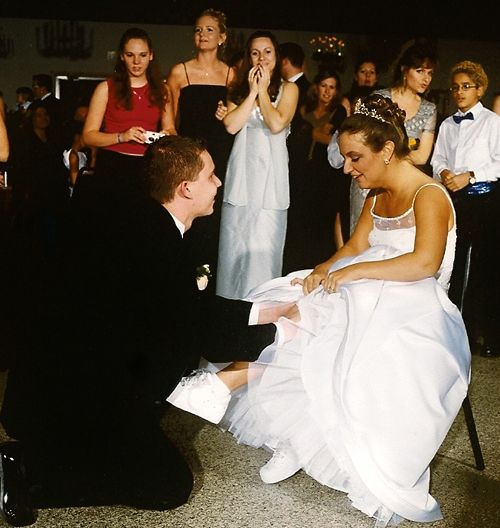 And, we were off to begin our happily ever after.

It was everything I dreamed it would be. It really was. It wasn't perfect or lavish or expensive. But, it was our day. And, I'll never forget how I felt marrying the one God chose for me.
Happy 10 years, my dear Jason.

You are such a gift to me.