My husband LOVES Buffalo wings.

He became smitten in college. He and his roommates would pack into one of their tiny little Civics and head to Bill Bateman's Bistro - the best place in Baltimore for wings.

Bill Bateman's is also the best place in Baltimore for Southwestern Egg Rolls. But, we've been through that already.

I love a big ol' platter of Buffalo wings, too. Every once in a while. I love spicy food and wings are about as spicy as spicy gets.

But, here's what I don't like about eating wings:

1. The greasy skin. I love the flavor of the buffalo sauce, but all that greasy skin is just not my thing.

2. The mess. Oh, the mess. All over my fingers. In my hair as I try to get it out of my face with my buffalo sauce painted hands. You need a roll of paper towels and a fire extinguisher before your hands surrender the orange paint they're covered in.

3. The bones. Give me boneless chicken breast any day over chicken on the bone. It's just so much work for so little reward. (And, I'm from Maryland. I pick crabs. I get it.)

I came up with this recipe one night after we made our first batch of Buffalo Chicken Tacos: Diced, roasted chicken breast, bathed in hot sauce and butter, chopped celery, a cool, creamy sauce, and Mozzarella cheese all layered in a crispy taco.

We devoured them and we love them. They've become a favorite around here.

But, since I love party food and I love to entertain, there is nothing I like more than coming up with appetizers that are crowd-friendly. So when I remembered that we had some Tostitos Scoops in the pantry, the appetizer-loving foodie in me did a little dance.

Buffalo Chicken Bruschetta Bites. BOOM!

Tostitos Scoops are perfect bases for bite-sized appetizers. They are essentially little tortilla cups - ready to hold whatever you want to build on top of them.

This recipe is all of the goodness of eating a platter of fried Buffalo wings - but in hot 'n spicy, cool 'n creamy, crispy, crunchy, minus-the-grease, bite-sized portions.

No mess. No orange on your fingers. No greasy skin.

One perfect little bite. And, boy are they good.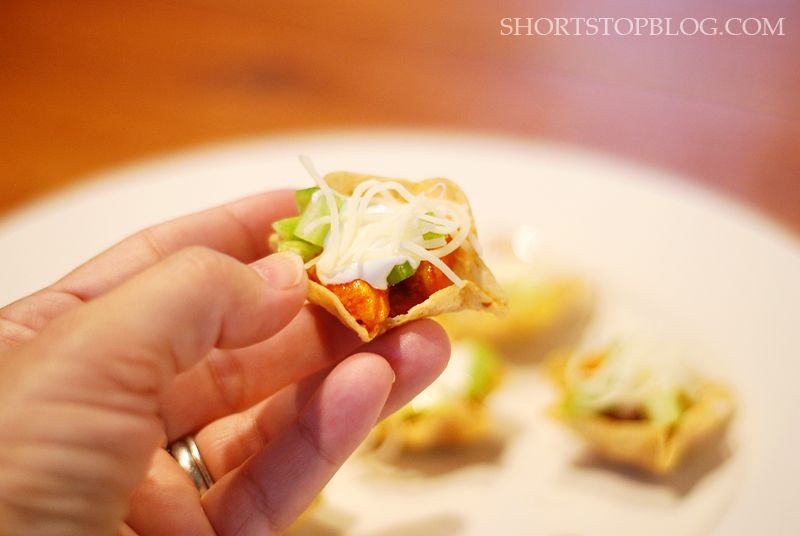 This is so incredibly easy, you can hardly call it a recipe.

One Tostito Scoop.
Diced buffalo chicken.
Chopped celery.
Ranch sauce.
Mozzarella cheese. (If you like blue cheese, you can use that instead. I don't like it, so I use Mozzarella.)

Repeat 10 times. Or a hundred times. Make as many or as few as you want or need.
This is perfect party food.

Perfect March Madness food for sittin' in front of the TV watching the games.

Perfect for takin' to a friend's house and noshing on all night long.

Perfect "WE LOVE BUFFALO WINGS, but would like to keep our hands from turning a bright shade of orange, thankyouverymuch food.

Well, unless you're a Syracuse fan. Then, orange on up, friend.

Hope y'all love these as much as I do.

Enjoy!
Buffalo Chicken Bruschetta Bites

One bag Tostitos Scoops
2 boneless skinless chicken breasts, roasted and diced
3 tablespoons butter
1 cup hot sauce (I like Texas Pete)
3 stalks celery, chopped
1/2 cup ranch dressing (You could also use blue cheese dressing)
1/2 cup sour cream
8 ounces Mozzarella cheese, shredded

Combine diced chicken, butter, and hot sauce in small sauce pan. Simmer until butter and sauce have melted together and chicken is coated - about 5 minutes.

Mix ranch dressing and sour cream until combined.

To make bites, layer:

One Tostito Scoop.
1/2 tablespoon buffalo chicken.
1/2 tablespoon chopped celery.
1 teaspoon Ranch sauce.
Mozzarella cheese.

Arrange on platter and serve.

*Tip: If taking to a party, you can keep all ingredients separate in stackable storage containers. When you get to the party, assemble bites when ready to eat.