Today, I'm dusting off an old post from three years ago - when my big boys were mere BABIES toddling around with a basketball almost as big as they were.

They've changed and grown so much since then. We've since moved from the Midwest down to Tobacco Road and a basketball hoop lives out front and two basketballs have taken up permanent residence in our front yard. Basketball has become an everyday part of their lives.

But, this prayer - my three year-old prayer for my little boys - remains exactly the same.

Have a great weekend, everybody!

___________________________________________________________


When I was in college, I fell in love with this boy.
He was always carrying the same accessory. A basketball.
Everywhere he went. Under his arm. All around campus. And, I'd sit and watch him play pick up games. And, I'd swoon.
He still carries that same basketball under his arm. Only now...
He's not on campus. He's at a park. Playin' with his boys. Our boys.
Teaching them the fundamentals.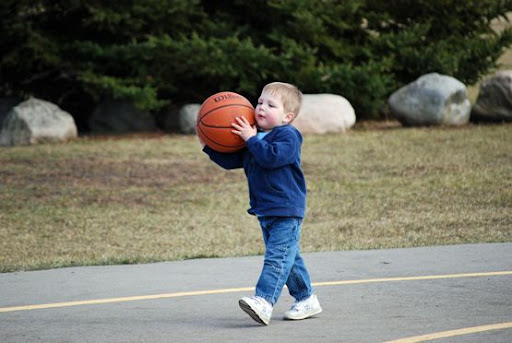 Hoping that they're getting it.
And, I watch him - watching his boys learn to love the game that means so much to him.
And, I sit on the sidelines and pray.
Please, Lord. Let them love basketball.
But, no matter how good they are...
Please don't let them want to play for Duke.
It would be too much for this Momma to bear.