You know that fence?

The one I wrote about the other day? The one that beckons me to look over and want, want, want, what I don't have, have, have?

Well, my baby helped me see something the other day.

He toddled across the family room with his sippy cup dangling from his right thumb, turned the corner, and burst through the doors of my husband's office.

You see, my husband works from home. And, he travels as much as he does because his work takes him out of our home.

But, many days, he is here. Just a toddle away and through a set of french doors. We get to hear his voice as he paces back and forth on the phone and he often eats lunch with us. It's a tradeoff we made when we packed up everything we owned and moved to Raleigh, leaving our life of five years back in the Midwest.

Work from home. Travel more. Bittersweet.

Isn't life like that for all of us, though? We make tradeoffs all the time - one set of "Oh, this is gonna be GREAT" coupled with its counterpart: "I wish this could be different." We want it all. We want Eden in a broken world. In big and little ways. Every day.

I got up from the sofa and turned the corner to head into my husband's office to fetch my little conference call disturber.

And, there they were.

Ten tiny little fingers - tapping on the desk in perfect form as they imitated the larger set in front of them - four times their size.

And, there they were.

A set of blond curls - sweetly nuzzled into my husband's chin.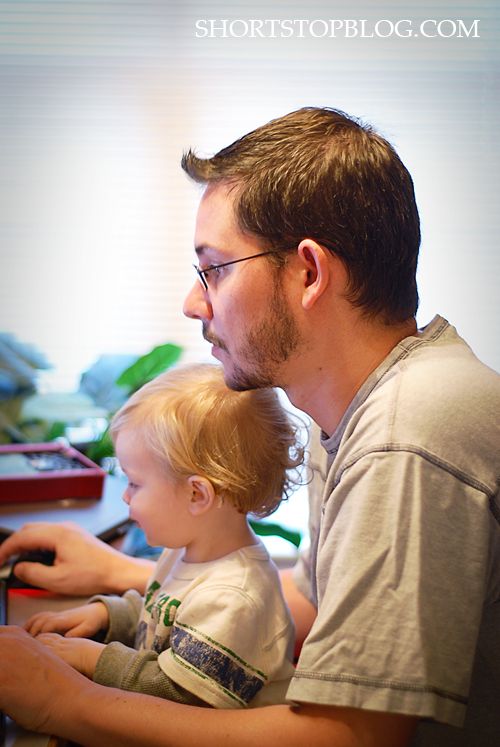 And, there they were.

My first and my last.

'round about noon.

On an ordinary weekday.

In the middle of March.
And, my eyes scan this side of the fence and I'm freshly compelled towards thankfulness:

Indeed, Lord.

You've given us a beautiful shade of green.