*I wrote this post several years ago, but I relive it every year.

As I contemplate another Christmas - the joys of today, the sorrows of years past - I pray that God's grace continues to heal the broken places in me, and that I live with thankfulness overflowing for His redeeming love.

This is my prayer for you, too.

________________________________________________________________________

I always feel nostalgic this time of year.

I suppose everyone does to some degree or another. My dreams and daydreams and quiet moments, rare as they may be, are flooded with memories.

I remember my first Christmas as Jason's wife. Life was new, again. I woke up with my best friend next to me, and yet, he was a stranger. I'd only known him as my husband for 10 days, and I couldn't get enough of how wonderful and new he was to me.
I remember my Dad. Over and over, again. I remember my Dad.

I remember the first Christmas I spent with a broken heart. Everyone around me wore happy, plastic faces, and I wore grief. I was an unlikely Grinch, only my heart had been trampled on and refused to grow, and I desperately wanted to sing with the Whos. I couldn't find my song.

I remember the year I got a baby carriage. It's the first Christmas I remember. I wore my Chatterbox nightgown, perfect attire for me at age six and still appropriate at age 34, as I pushed my new baby doll around our house on Sherman Avenue. It snowed that year.

I remember Christmas 2004 - my first as a mother. Jack was my world. He was the baby in every manger I saw, and "For unto us a child is born; a son is given" made my heart cry out a thousand thanks to God every time I heard or sang or read it.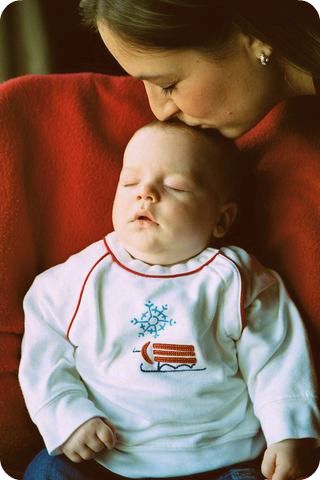 I remember my Playdoh Fun Factory, and my hand sewn Cabbage Patch Doll because a "real" one couldn't be found. I remember my first pair of Guess jeans and my karaoke machine. I remember the mixed emotions of Mom's new engagement ring and our new Atari and all of it blends together in one big mental montage of Christmases past.

While we decorated our Christmas tree this year, I sat and wept for what had been. I wept for my Dad, whom I miss so much. I wept because I now have three sons, and they are the best gifts I've ever gotten. I wept for the beautiful sacrifice my parents made to give us a toy-filled Christmas each year. I wept for my broken heart 15 years ago.

I wept because, given the choice, I would never go back, but I want to close my eyes and relive the moments and gifts that took my breath away.

I opened my computer today to share with you some pictures of my family decorating our Christmas tree.

But, as this memory-filled montage plays over and over this morning, this week, this Christmas season - this one picture so tellingly illustrates my heart's prayer:


Lord, change my focus.

Allow my memories of the past,
the joy and sorrow of yesterday,
to fade into the background.

And, bring into perfect focus in my heart and mind,
Your blessings of love and laughter,
that fill my home today.