Fact: Sometimes, hyperbole is needed.

Like yesterday, for example.

After school pickup, we headed to the airport to baggage claim the Daddy/Husband/KNIGHT IN SHINING ARMOR ON WHITE HORSE ARRIVING IN THE NICK OF TIME TO RESCUE ME WHILST I HUNG BY A THIN, THIN THREAD from a few days of mothering that about whipped me sideways and upside down and sent me to Crazytown.

Because his flight was delayed (Dreaded news to a crazed Momma hanging on by sheer molecules of her sanity), we played at the Aiport Observation Park and watched planes come and go and counted down the minutes until "Sir Knight Rescue" landed in all of his back-up parenting splendor.

This is the trademark end of summer Carolina sky. (*all iPhone photos today) After years of being spoiled by it, I am still amazed as I watch it roll in. It is usually followed by a morning rain and it is simply breathtaking when the sky does this.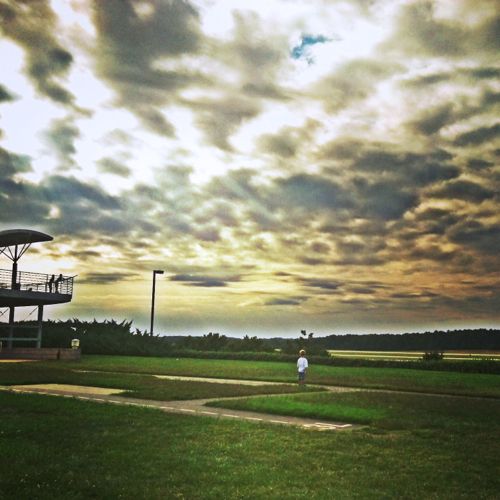 Before we headed to the airport, I scurried around trying to find bits and pieces of costumes and dress up stuff so that we could have a fun night out.

Because.

It was INTERNATIONAL TALK LIKE A PIRATE DAY!

And, there was somethin' goin' on that we HAD to do.

This sign? I am CERTAIN they have it in Heaven.

"Oh, Heavenly Host of Angels - the HOT NOW sign is on at Krispy Kreme." And, they fly their way over and break into song and the trumpets sound and the Gospel choir can't sway and clap loud enough.

That's how I imagine it anyway.
It went like this:

Dress like a pirate. Get ONE DOZEN donuts.

ONE. DOZEN!

So, in the parking lot of the Airport Observation Park (Hi, cameras!), my littles rolled up their jeans, changed into white t-shirts, and donned all manner of randomness I found around the house to become:

A little misfit band of pirates.
That scored us:

FIVE DOZEN KRISPY KREME DONUTS!!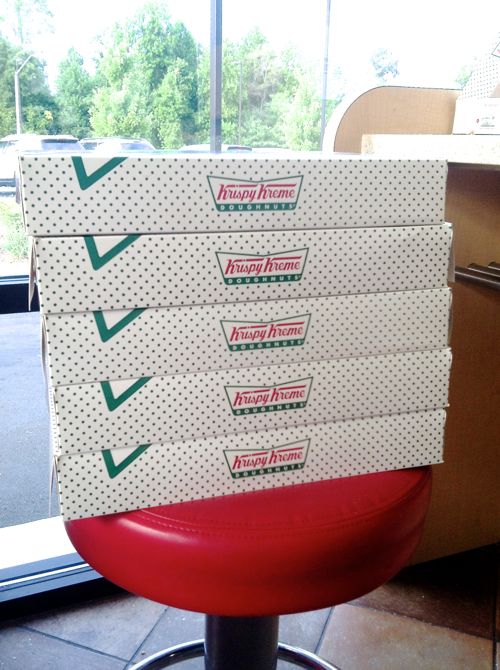 Donuts for dinner? Yes, please.

Afterwards, we used Raleigh as our personal Costo sampler and drove to Moe's because they were celebrating their 10th anniversary and having Free Queso night.

Chips and queso for dessert? Yes, please.

This is my little Whit's happy place. Mine, too.

Jack: Mom, enough with the pictures.

Max: Arrrgghhh! (He's our Jim Carrey. Never out of character).

Lincoln: And, so, in conclusion, this is why I should have another donut in the car. (District Attorney Child: Always giving closing arguments on some injustice he's experiencing. Thin, thin thread, people.)

Whit: Nom. Nom.

(Side note: I was feeding Holly under cover and when I pulled her out, the lady behind us (not so discreetly) gasped to her friend: "OH MY GAWD, the last one's a GIRL!!" Why, yes. She is. And, I CAN HEAR YOU!)
And, so.

SIX bowls of queso.
FIVE dozen Krispy Kremes.
FOUR over-sugared little buddies.
THREE hours of "Let's make a mess not in our house!"
TWO parentals who stayed up late horking down Krispy Kremes.
ONE misfit band of pirates.

Total cost: FREE.

And, so with that, our little pirates along with their parents, ALL declared:

BEST. DAY. EVER!