It's finally feeling like fall down here in Dixie.

Don't you just love this time of year? The weather hadn't gotten the memo here in the South until today - we've been in the mid-80's for a few days.

So, in celebration of cooler temps and pumpkins and apple trees and bouquets of sharpened pencils (LOVE! Fave movie.), I'm sharing my recipe for Homemade Applesauce. This is the perfect time of year to make and freeze applesauce to have all year round.
Homemade applesauce on a cold January day when apples are a fortune to buy?

YES, please!

Homemade applesauce with:

Beef Roasts?
Pork tenderloin?
Oatmeal?
Chicken Casseroles?
Steak?
Basically every main dish on earth?

YES. And, YES!

Today I'm sharing my recipe for Homemade Applesauce - along with some tips for storing and freezing, how to customize your applesauce to your liking, and how to get your kids involved in the process.

If you've never made homemade applesauce, it is so much more delicious than what you buy pre-made in the store. It's wonderful served warm, next to a roast and some potatoes (or any of the above), or alongside your favorite sandwich (which for me happens to be a BLT!) And, it's a great snack for kids.

PLEASE let this inspire you to try making your own homemade applesauce at least once this fall. I promise it'll become a favorite in your house!

Here are a few tips:

1. Buy a box of gallon or quart-sized freezer bags. Triple or quadruple this recipe. Place the applesauce into family-sized portions into the freezer bags and save for the winter. Or give away to family and friends!

2. The type of apple you use will determine how much sugar you need. The amount of sugar I have listed should work great for three pounds of any type of apple, but you many want more or less depending on how sweet you like your applesauce. Honeycrisp apples are very sweet, and require less sugar than Granny Smith's - which are much more tart. I like to use a mix of tart and sweet apples - today, I used Granny Smith's and Paula Reds. Here they are starting to cook down: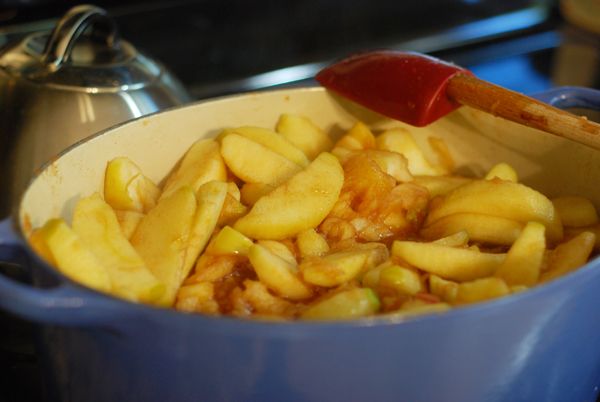 If you'd like to control the amount of sugar, start out with half, and add sugar to your liking as the apples cook down. (I used 1 1/2 cups of sugar for this mixture of tart and sweet apples, and tripled the recipe. This is less than what the recipe below calls for. Just taste test as you go along - that's the reward of homemade cooking anyway, right?)

3. Have it the way you like it. I love chunky applesauce. But, many people prefer it smooth. If you want smooth applesauce, place it into a food processor or blender and pulse until smooth. This is also a perfect way to make applesauce for baby food - just eliminate the lemon peel and sugar. I used to make this applesauce only with lemon, but one day discovered how much I LOVE it with orange peel. SO delicious. I really love it both ways.

4. This is a great activity for kids. My boys LOVE to work my apple peeler/corer. (HUGE timesaver when making large batches of anything apple.) Look how little they were in these older photos! Little buddies. Growing up so fast.
Kids can also wash the apples and add ingredients to the pot. My boys love to use measuring cups to help scoop the applesauce into the freezer bags. And, tasting as they go along is part of the fun!

I hope you'll try to make homemade applesauce this fall - even if only once. It's such a delicious treat to have ready in your freezer all winter long.

Enjoy!
Homemade Applesauce

3 pounds apples, peeled, cored, and chopped
4 slices lemon or orange peel
2/3 cups sugar
1 cup water
1 tablespoon cinnamon
pinch salt

Wash, peel, core and chop apples. Place in a medium stockpot.

Using a potato peeler, remove four sections of peel from a lemon. Add lemon peel to stockpot. Add sugar, water, cinnamon, and salt to pot and bring to a boil. Simmer for 20 minutes, stirring occasionally, until apples are soft and have broken down. Remove lemon peel and discard.

Using a potato masher or whisk, bring applesauce to desired consistency. For smooth applesauce, place applesauce into a food processor or blender and process until smooth. For chunky applesauce, leave applesauce as is.

Serve warm or cold. Sprinkle with additional cinnamon when serving, if desired.