I am slightly obsessed with dips.

Hot, cheesy dips, french onion dips, creamy, cold dips - anything you can take a tortilla chip and use as an edible spoon - I'm THERE!

For the past few weeks, this Cold Buffalo Chicken Dip has been my new obsession.

This dip was born out of my love for cream cheese and Buffalo wings. Buffalo wings are such a hot mess with kids above, under, and all around me at all times that unless we're out on a date, no to the Buffalo.

And, cream cheese? What can I say? We've been in a hot steamy love affair for many, many years.

This dip is so easy that my nine year-old can make it.

BUT, it is KILLER good. Like that freaky "Where has this been all my life?" good.

If you can boil water, you can make this dip.
If you are a guy, you can make this dip. (Sorry, dudes. But sometimes y'all need help in the kitchen. Stereotype? I know.)
If you are a living, breathing individual, you can make this dip.

So, now that we've covered everyone, here's how easy it is:

4 layers:

Cream cheese/sour cream/ranch cocktail.
Diced chicken, hot sauce, melted butter.
Chopped celery.
Shredded Mozzarella.

That's it.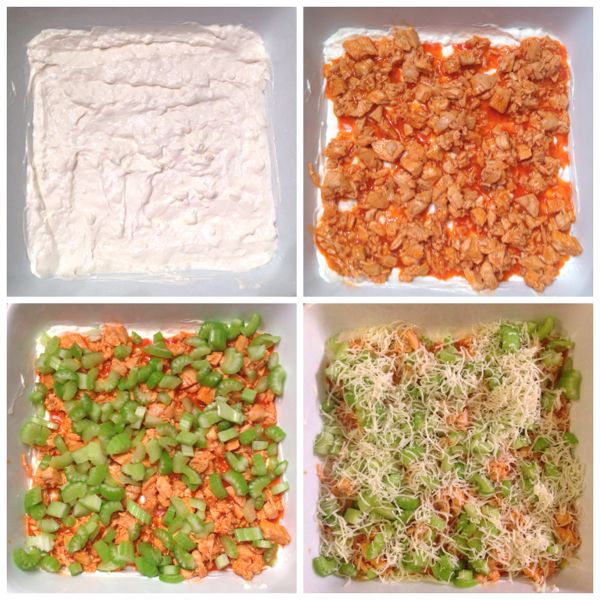 Break open a bag of tortilla chips and you've got the BEST cold dip EVER!

I kid?

No.

Best. Cold. Dip. EVER.

Well, at least for this week. Try this one. If you love wings, you will LOVE this dip.

Make it for the Super Bowl. And, watch it disappear!

Sincerely,

Happy To Be Sharing A New Recipe Again!

------------------------------------

Cold Buffalo Chicken Dip
*This recipe is for an 8"x8" pan. Double if using a 9"x13" - which I recommend if there are more than 2 of you.

2 chicken breasts, roasted and diced (You can use a rotisserie or leftover chicken from a bucket of fried chicken, etc.)
1 cup hot sauce (Texas Pete or Franks are my favorites)
4 tablespoons butter
1 block cream cheese, softened
1/2 cup sour cream
1/4 cup Ranch dressing
2 ribs celery, chopped
4 ounces shredded Mozzarella cheese

Combine diced chicken, butter, and hot sauce in small sauce pan. Simmer until butter and sauce have melted together and chicken is coated - about 5 minutes. Set aside.

In a small bowl, combine cream cheese, sour cream and Ranch dressing.

Spread cream cheese mixture in bottom of 8"x8" pan.

Top with Buffalo chicken.
Top with celery.
Top with shredded Mozzarella.

Eat immediately. Or keep in fridge until ready to serve. (Allow to soften slightly if it's been in the fridge.)

Enjoy, y'all!