And, so.

I glanced over at that mountain, coffee in one hand, other hand resting gently on my hip and wondered:

Will it ever end?

And, all of these questions pop into my head as I flip through this mental Rolodex of motherhood and wonder:

Will these dishes EVER be finished?
Will I ever fit into those clothes, again?
Will I ever really know if jeans should go over my baby-made, flesh-colored fanny pack or do I muffin-top it the rest of my life?
Is there ever, like maybe, just once, a last load of laundry?
Does jelly come out of silk throw pillows?
Will I ever sleep, again? Ever?

Do only mothers wonder everything and anything - all at once?

A wise friend once told me:

You can have a clean sink, Sarah.
Clean laundry, clean counters, clean pillows...

And no children.

Or you can have a messy sink,
Dirty, Mount Vesuvius rivaling laundry piles,
Dishes caked on, stacked up and jelly-stained pillows...

And, have your family.

Wouldn't you always, every minute, choose the latter?

Well.

Of course. I would. They are my family.

Sarah, she said:

You have a family.

So, for the Moms with dirty sinks - who wonder if it will ever end. Who scrub three day-old "pasketti" sauce off of white porcelain plates. Who stand, achy feet and weary heart, over a sink full of yesterday and the day before and the day before that. You have a family.

For the moms with laundry piles that aren't really piles because the gathering and sorting and lugging from this room and that means no piles, but instead life strewn memories dropped all over and everywhere of backyard football and front yard toddling into melting snow piles and peanut butter sandwich lunches and Oreo dunkfests. Who, arms heavy with memories, gently gather what is dirty so life can dirty it, again. You have a family.

For the moms who wonder if a baby-made pouch of flesh-colored I carried you here should be stuffed beneath a too tight waistband or left to hang out above. Who wear birth scars and thigh dimples and yoga pants and Things Just Aren't Where They Used To Be. Who sweep their hands over the heads of the ones they once carried and feel those tiny hands wrapped around dimpled thighs and I love you, Mommy embraces. And, muffins and dimples could never carry more weight than this love. You have a family.

For the moms who turn off the lights, well after midnight, when the work isn't finished, and walk upstairs with But, there is so much more to do. Who climb into bed, unshowered and unselfish, and climb out of bed, again, for one last peek and one last forehead kiss. Who know that unfinished is the theme of this season but who will fight tired so that sleepy-headed children know love. You have a family.

For the moms who pack and unpack, sign and date and who marvel at stacks of papers wearing Froot Loop rainbows and backwards n's and new math and Great Job stickers and who wonder if there will, maybe one day, be a system that works that doesn't feel like imminent Death By Paper Drowning. Who throw away and save and throw away and save and can't quite keep it all straight. You have a family.

For the moms who give. Every day. You have a family.

For the moms with mismatched sock bags and dirty sinks. You have a family.

For the moms who wonder - Am I enough?

"But he said to me, "My grace is sufficient for you, for my power is made perfect in weakness." Therefore I will boast all the more gladly of my weaknesses, so that the power of Christ may rest upon me."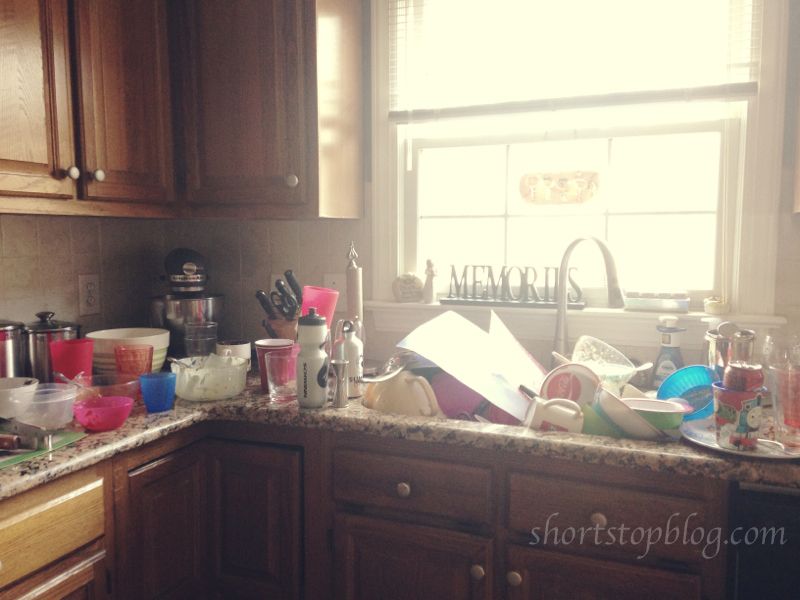 For the moms, in every season, in a thousand ways, who wonder if they are big fat failures - too fat, too tired, too much laundry, too many dishes, too little patience, too little Playdoh, too much coffee and chocolate, too many kids and just Not Enough Me To Do It All.

This truth:

God gave you your family. Knowing you are not enough. Knowing you can't do it all alone.

So, He gave you Himself, Jesus - full of grace and mercy and power in every day, every moment, every failure.

You have a family. And, you are not enough.

But, He is.

Rest on this grace today, my friends.

We aren't enough.

We never have to be enough.

Because He is.